The first-ever Futures Cup sprung to life on the opening day of action in Plymouth, as individual senior final places were booked and the first medals were handed out in the team event. 
British Olympic duo Grace Reid and Noah Williams were among the eye-catching performers during a packed Saturday off the springboards and platforms - and they will be hoping to sustain that form on Sunday, when each of the finals will be comprised of only four athletes per event.
In the senior Women's 3m Springboard contest, Reid seemed to be carrying her momentum from February's British National Diving Cup - when she completed an individual 1m-3m Springboard double - as the two-time Olympian put in a confident display across the combined senior-junior prelims and then the senior-only semi-final. 
The Dive London competitor, representing Scotland in this overall team competition, saved her best Saturday effort until last, scoring 69.75 points for an impressive Forward 3 1/2 Somersaults Pike (107B), pushing her overall tally after prelims and semis to 626.85.
That was enough to leave her top of the rankings before the scores are scratched for the final and the four finalists begin from zero again. Canada A's Mia Vallee was next on 623.85, with Vallee's teammate Margo Erlam rounding out the top three on 580.50. Yasmin Harper (GB, City of Sheffield) took the last final spot ahead of day two at the Plymouth Life Centre.
Evie Smith, meanwhile, led the junior qualifying ahead of that section's semi-finals on Sunday.
Williams has set his stall out ahead of Sunday's finals after leading from the front in the Men's Platform contest. If his preliminary performance was solid, the FINA World Series and European medallist's showing in the senior semi-final was outstanding, capped by a stunning Forward 4 1/2 Somersaults Tuck (109C) to close out his day that earned him 99.90 points, and an overall tally across the 12 dives of 974.60. It was reminiscent of his display to claim National Diving Cup gold at this venue back in February.
Williams' total was well clear of Britain teammate Matthew Dixon, whose semi-final showing was a step up from the prelims and hinted at his form ahead of the all-important showpiece. Dixon's standout moment was a fine Back 3 1/2 Somersaults Pike (207B), worth 86.40 from the judges, on his way to 877.30 overall.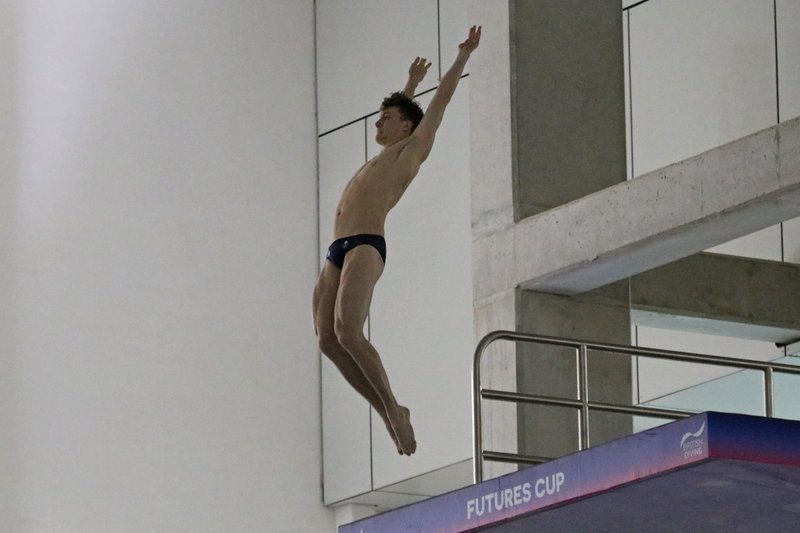 Benjamin Tessier of Canada B rounds out the top three senior qualifiers on 838.05, with his teammate Matt Cullen (818.30) also into the final. Another Canada B diver, Carson Paul, was the top-ranked junior after the prelims. 
Gemma McArthur and Emily Martin matched each other dive for dive throughout the first day of action in the Women's Platform event, with little to separate them after the morning's combined prelims and the senior semi-final in the afternoon.
Edinburgh Diving Club's McArthur - representing Scotland in this unique team competition - narrowly qualified as the highest points scorer, courtesy of an overall tally of 610.95, with Britain's Emily Martin (Dive London) following close behind on 597.50. Both women showed fine composure to close out their lists with a couple of their best dives of the day. 
Canada B diver Kate Miller (529.55) was behind them in third after the semi-final stage, with Robyn Birch (on the England team here in Plymouth) completing the four-berth final line-up.
In the junior section, Hannah Newbrook of Dive London was top of the prelims standings for the British team.
Yona Knight-Wisdom finished well clear after the Men's 3m Springboard semi-finals, with an all-international final on its way on Sunday. 
Knight-Wisdom - who trains under coach Jen Leeming in Edinburgh and dives for Jamaica - barely put a foot wrong across his 12 dives to finish on 851.45 points. That tally was boosted by his round three dive in the semis, a Forward 2 1/2 Somersaults 2 Twists Pike (5154B) that was worth 81.60.
Joining him in the event's senior final are Canada A duo Cedric Fofana (763.65) and Bjorn Markentin (718.16), as well as Jake Passmore of Ireland (712.15). Leon Baker looked good to top the junior prelims rankings.
Rounding out day one was the team event, which saw four divers - one junior and one senior from the women's side, one junior and one senior from the men's side - all completing one individual dive and then a mixed synchro dive apiece.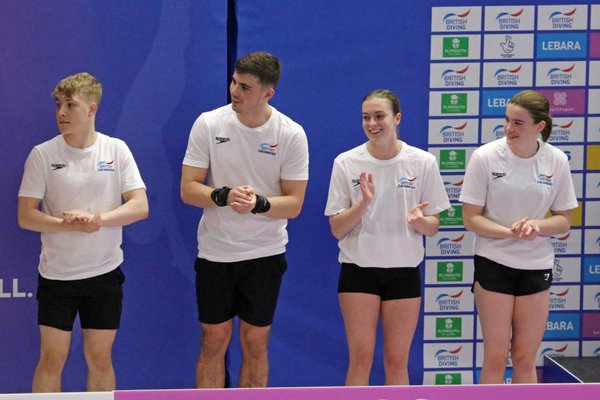 Team Canada A were consistent throughout to secure the first title of the weekend, thanks to an overall score of 418.35, with Team Canada B (414.75) just behind them and making it a Canadian one-two on the podium. Team USA A scored 367.20 points to take bronze, with the British quartet of Hugo Thomas, Matthew Dixon, Emily Martin and Amy Rollinson (pictured, right) just finishing off the podium in fourth, on 358.35. 
The Futures Cup was primarily devised to provide a strong international competition opportunity for the junior cohort across Britain, the Home Nations and the other countries involved - and the junior divers will very much take centre stage for the first half of Sunday's proceedings.
The junior semi-finals get the action underway tomorrow, with their finals following straight after in session five. Session six then serves up the men's and women's senior individual finals, before the curtain comes down with the four synchronised events. 
Tickets are still available for every session on Sunday, so make sure to get hold of yours here.
If not, you can watch every minute of action on the British Swimming YouTube channel, with Rio 2016 Olympic diver Freddie Woodward on commentary duties.