Grace Reid completed the women's individual springboard double and Noah Williams smashed his personal best en route to victory from the 10m platform to round out the British National Diving Cup 2022. 
The first National Diving Cup in three years had its curtain brought down with the Men's Platform event – and even in the preliminary stage, there was reason to avoid missing a moment of this contest.
European medallist Williams, who trains at Dive London Aquatics, put in a near flawless qualifying display across his six dives, with every single score in the 80s and 90s bringing him a final score of 530.70 from the judges. That tally eclipsed his previous PB and made him the man to beat in the final.
The Tokyo 2020 Olympian began the showpiece strongly too, but a couple of dropped efforts in dive three and four meant he had to nail his Forward 4 ½ Somersaults Tuck (109C) last up to beat teammate Ben Cutmore. Cutmore had ended his programme in stunning form to close out the competition on 439.00, thanks in part to 83.20 points for his Back 2 ½ Somersaults 1 ½ Twists Pike (5253B).
Williams, though, showed admirable nerve to do what was required, scoring 8s and 8.5s from the judges to pick up 88.80 for his closing effort and take the gold medal on 448.50 points.
The podium was a Dive London full house, Cutmore taking the silver and Kyle Kothari collecting a bronze for his final score of 413.05, which was just ahead of Plymouth Diving Club's Euan McCabe, who began the contest in sparkling form and ended on 404.85 points. Kothari, meanwhile, saved his best for last, notching 91.80 points for his closing Back 2 ½ Somersaults 2 ½ Twists Pike (5255B).
As for Noah, he is not only taking the Men's Platform gold and a new personal best mark home with him from the Plymouth Life Centre – there were plenty of valuable learnings too.
"It's gone well today. It's a good learning experience, I experimented a little and changed my dive order. That obviously worked really well in the prelims, but I was feeling a little fatigued in the final," said the FINA Diving World Series gold medallist.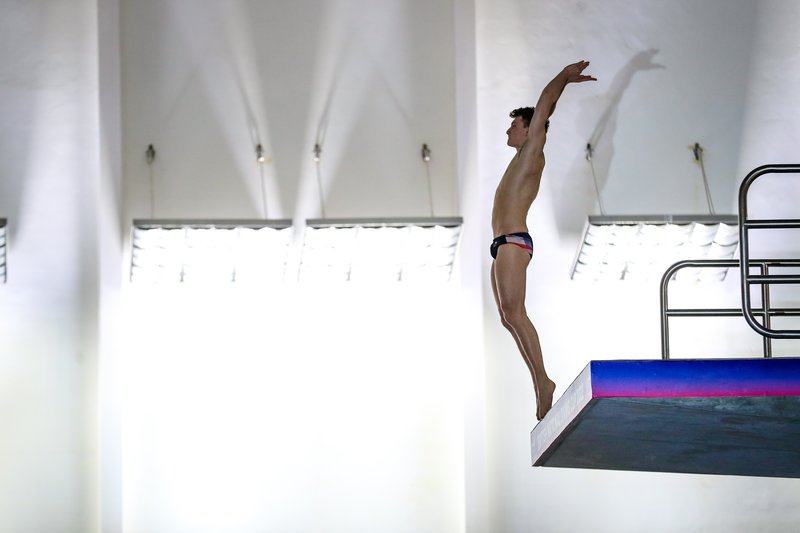 "It's great to come away with first, but it wasn't as good as that prelim. Because I got a PB there, there was so much adrenaline going, and after that, it dies off a little. You obviously have to come and do it again in the final, so it's a good learning experience for me so I know that when I do well in the prelims, I have to stay calm to be able to deliver again and do it in the final.
"In terms of that final dive, even in the prelim, I was setting myself other goals before my last dive, aiming for a score and trying to make sure I broke 500. It's the same – it's just that instead of a score, I'm trying to beat someone. I'm always trying to make sure I put myself under pressure, even if there's not pressure from the field, just so I can always perform."
On the return of a senior national diving event for the first time in two years, and the volunteers and officials who help to ensure such events go ahead, Williams added: "We're really grateful. The last few years, we haven't had many competitions because of COVID, and with COVID still fairly bad and us not being able to have spectators back yet, it's just great that we have people who help out so we are able to compete and do what we love."
Earlier in the day, Williams' Dive London training partner Grace Reid capped a memorable few days by winning the Women's 3m Springboard crown, adding it to the Women's 1m Springboard gold she won on Friday and the 3m Synchro bronze she picked up, alongside Scarlett Mew Jensen, on Saturday.
By her own admission, Reid's display in the individual 3m prelims was off her usual best – but she crucially did enough to book safe passage into the final.
From there, the double Olympian – who began her diving career at Edinburgh Diving Club before the move to London – was down to business, showing consistency throughout to land scores in excess of 63 from four of her five dives.
The pick of the lot, when Reid knew she was potentially diving to wrap up the gold, was her closing Forward 2 ½ Somersaults 1 Twist Pike (5152B), which secured a vital 66.00 points and saw her past the 300 mark to finish on 312.60.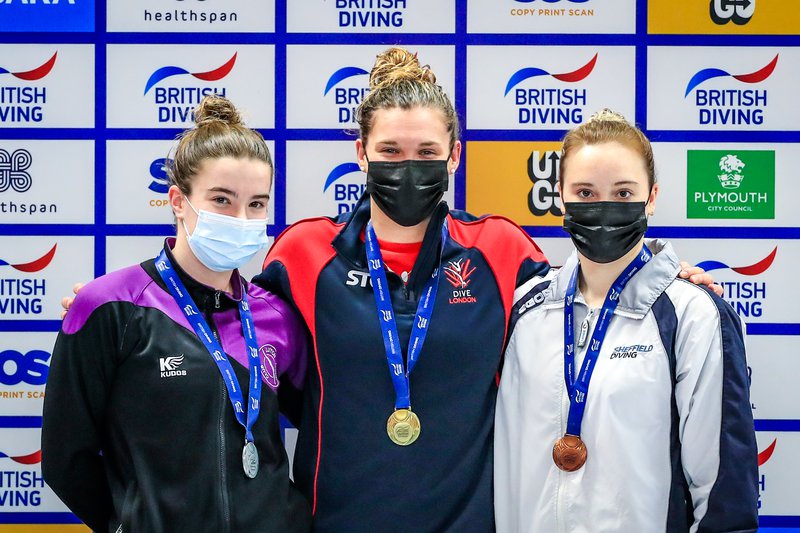 Luton Diving Club's Amy Rollinson – who won the 3m Synchro competition, alongside Desharne Bent-Ashmeil the previous day – was Reid's closest challenger by the final round, and after a solid list, she took silver with 291.40 points to her name. The bronze went to Yasmin Harper (City of Sheffield) on 285.00.
So how did Reid reflect on her performances across the final day of competition?
"There's a big sigh of relief at the moment. That afternoon performance is definitely reflective of the training I've been doing, this morning was just not where I've been and I was really frustrated by that," she said.
"I just had to reset, come back and just relax and enjoy myself out there this afternoon – and I got the result I was really after.
"Resetting is about getting it out, whatever you are thinking and feeling, just get it out. I think things that are left inside are never great, they just fester. So I had a bit of a shout, had some coffee and some food, and then I came back in and you start afresh, just like everyone.
"For me now, I think the consistency is definitely getting there, it's about the details, sharpening up the finishing touches. My confidence is what I really want to work on over the next few months, to build on this, use this as a stepping stone and perfect the next little bits."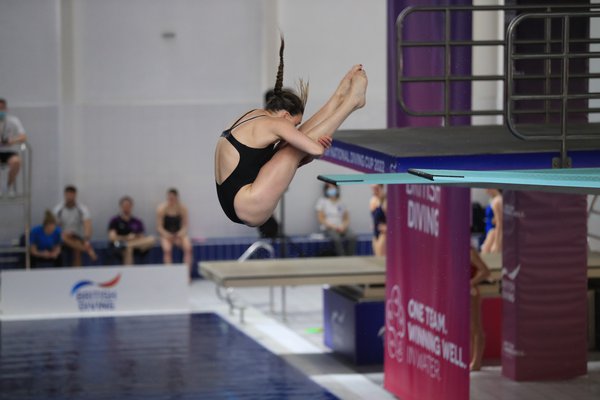 With the British National Diving Cup now wrapped up for 2022, Reid also took a moment to appreciate the unity of the diving community.
"Diving is such a small sport, so we know everyone, and that's incredible. We are such a close family anyway. So to be back competing, and we've done it safely, is just incredible – hats off to everybody who has made that possible," she added.
"For Dive London in particular, the team have just been amazing, and that is testament to the people who are putting in the work behind the scenes, the coaches, all the divers. Everything we've come through in the last six months in particular, they're an incredible group of people."
For the full results from across the British National Diving Cup, click here.