16 year old Andrea Spendolini-Sirieix secured a brilliant bronze medal in the Women's 10m Platform on day four at the European Aquatics Championships.
Having taken silver alongside Noah Williams in the Mixed 10m Synchro two nights ago, the rising star picked up where she left off with another medal winning effort.
Rounding out the evening session at the Duna Arena, the Women's 10m competition was a closely fought contest, with Spendolini-Sirieix and Lois Toulson knowing they'd have to up their game to be in the medal mix, having barely got out of second gear in the prelims earlier in the day.
Diving first was Toulson, who showed the consistency she lacked this morning, whilst Spendolini-Sirieix nailed her Inward 3 1/2 Somersault Tuck (407C) in round two, amassing 76.80 from the judges, meaning at the halfway stage they sat second and third respectively.
Going head to head with Russian's Anna Konanykhina and Iuliia Timoshinina, it would all come down to the fifth and final dive. Toulson was up first, an extremely solid 68.80 would see her finish on 321.10 and leave her with a nervous wait.
Konanykhina put gold beyond doubt with a stunning effort, but Crystal Palace's Spendolini-Sirieix showed maturity beyond her years to put in a great final dive to win bronze, as her burgeoning career continues to go from strength to strength.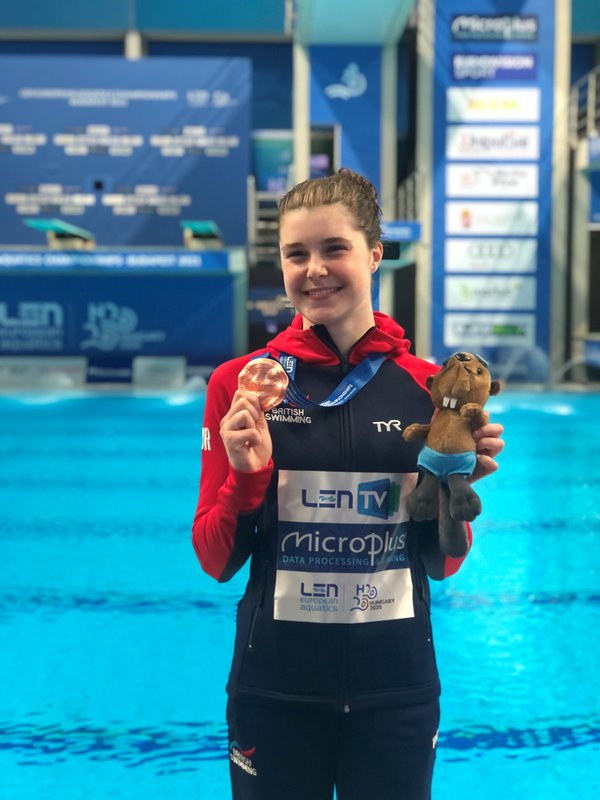 Naturally delighted with her performance, the youngster said:
"It means so much. Even with a shaky start, you can always pull through. I took it one dive at a time. Just because you do one bad dive, it doesn't mean that the rest of your dives are going to be bad. It's just about breathing, taking your time and remembering that it's a competition; you're here to learn, you're here to grow and to do better in every dive that you do.
Of her hopes of qualifying for the Olympics, she added:
"I want it more than anything, it's my dream. It's every athlete's dream to go to the Olympics - and I want my dream to come true."
A strong series saw Leeds' Toulson finish fifth, just five points shy of the rostrum. She'll be back in action tomorrow evening in the synchro event.
The Men's 3m Synchro got the evening session on day four underway in Budapest, and fresh from success in Japan, Jack Laugher and Dan Goodfellow lined up amongst the favourites.
The last pair to dive in the order, the Adam Smallwood coached duo were immediately into the medal positions thanks to a brace of well executed required dives, and a 80.58 scoring Inward 3 1/2 Somersault Tuck (407C) put them second at the halfway point in the competition.
However after gold at the FINA Diving World Cup last week it wasn't to be their night, as errors from Laugher and Goodfellow on subsequent dives meant they finished up in sixth place.
Naturally disappointed, Goodfellow concluded:
"We did so well at the World Cup, and off the back of that, going from one major to another and adjusting with the jet-lag has been quite difficult. Diving is a sport where when you're not feeling 100% it won't go your way. Me and Jack are doing the biggest dives in the world, so if you're not feeling 100%, they're going to be hard work to do.
"We're lucky our training centre was opened so early and we've been training really hard. We had a good performance last week in Tokyo and we're really happy with that, but we're obviously really disappointed with that today. I think we'll spend the next two months focusing on synchro and try to get it in the best place possible so we can put on a show for you guys in Tokyo."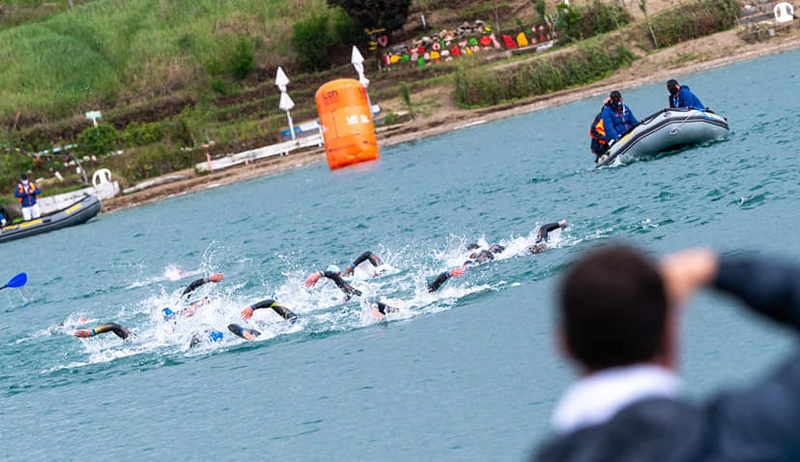 Hector Pardoe continued his preparations for next month's Olympic marathon swimming qualifier with a top-10 finish in the Men's 10km event, contested in Budapest's Lupa Lake. 
Teenager Pardoe - who placed seventh at the Doha leg of the FINA Marathon Swim World Series in March - rose through the field from the halfway stage onwards, sitting third after 7250m and looking to keep pace with the medal favourites.
While he could not quite stick with the late pace of champion Gregorio Paltrinieri, Pardoe still finished strongly amid the frantic home-straight battle, touching eighth to show he is well placed to challenge for one of the Tokyo 2020 qualifying spots in a few weeks time. 
Compatriot Tobias Robinson, who trains at the Loughborough National Centre, was one of the early pacesetters, jostling to be at the front until after the halfway point. He was dragged back into the bunch from there, ultimately finishing 19th in the 33-strong field.
In the women's event, Emily Clarke showed impressive consistency across the 10km race, fighting her way up from 20th to stay 16th for the majority of the two-hour contest. She eventually improved on that late on, touching 15th.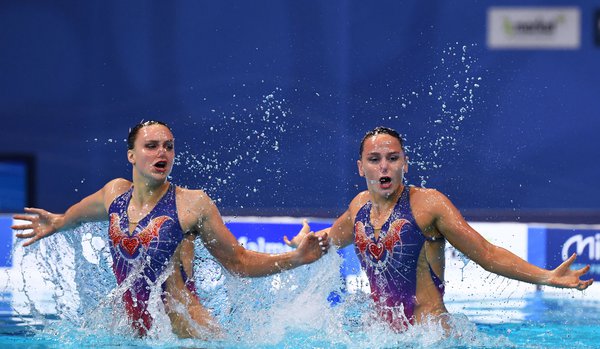 Across in the artistic swimming, an eye-catching week for Kate Shortman and Isabelle Thorpe continued in the Tech Duet final, which was rescheduled after technical difficulties beset Monday's competition. 
With Shortman having improved on her personal best in Wednesday's Free Solo finale, the Bristol-based pair showed their class among Europe's finest with this new, vampire-themed routine. 
The quality of the performance - in which the pair pulled off all five required elements with class - was clear to see with their reactions at the end, as well as that of coach Paulo Basso. 
The score of 84.9244 was a big jump on their tally at the 2019 World Championships in Gwangju, earning them seventh place in a strong final.
Follow all the action from the European Aquatics Championships, with details of how to tune into upcoming live stream coverage HERE.