Olympic Championships Jack Laugher and Chris Mears took silver in the Glasgow 2018 European Championship Men's 3m Synchro Final with a score of 430.62.
The Leeds-based duo were in contention throughout for a podium-topping finish and after the required dives were ranked second with 98.40, just shy of the magic 100 point marker.
Rounds three through to the end the British and Russian pairs jostled for the gold medal with Russia eventually coming out on top.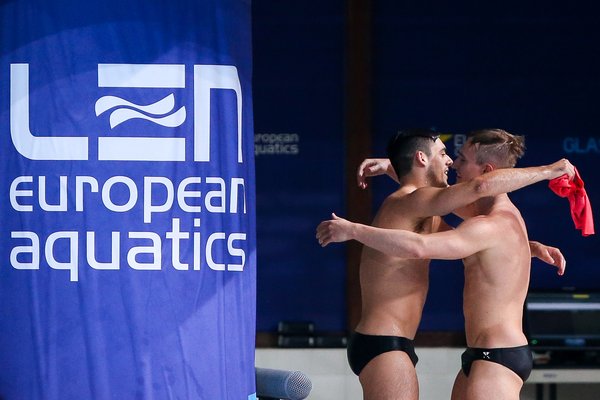 Laugher and Mears' best dive came in the fourth round, their Inward 3 1/2 Somersaults tucked (407C) earnt them a healthy total of 85.68.
After the silver medal was confirmed Mears said, "We were leading at the end of round three and that was a really good position for us to be in but naturally adds a little bit of pressure. I didn't quite hit my last dive but I really enjoyed the home crowd, the environment and especially having lots of my family.
"It's always great to dive alongside Jack and I'm happy, I'm happy with that result.
Laugher added, "It was never going to be an easy thing going up against the world-class Russians, there's a lot we can learn from these championships and a lot we can take into next year. They were very difficult opposition and I think we did a cracking job."
The GBR Synchro pair joined the gold medallists Evgenii Kuznetsov and Ilia Zakharov of Russia (431.16) and bronze medallists Patrick Hausding and Lars Ruediger of Germany (394.77) on the European Championships podium.
Click here to view the full results and final scores of the Men's 3m Synchro final.