British Swimming swept the awards board at the Team GB Ball on Thursday night, as Tom Daley, Matty Lee and David McNulty were recognised for their contributions to a memorable Tokyo 2020 Olympic campaign. 
The annual event saw Olympic athletes, coaches and staff joined by fans and partners of Team GB to celebrate a brilliant summer, as well as handing out prizes for the Olympians' Olympian, the Coach of the Year and the Great Britain's Choice Award. 
Four-time Olympic medallist Daley was a double winner on the night. The Dive London Aquatics man was crowned the Olympians' Olympian for 2021 following a vote by his Team GB teammates, at the end of a year that saw him win his inaugural Olympic title in the Men's 10m Synchro, alongside Matty Lee. He also won individual Men's 10m Platform bronze, to add to the bronzes won at London 2012 in the same event and with Dan Goodfellow in the 10m Synchro at Rio 2016 - all after an Olympic debut at Beijing 2008, when Tom was only 14 years old. 
Daley would have been joined on stage at the event by synchro partner and friend Lee to receive the Great Britain's Choice Award - if Matty was not currently in a castle in Wales, competing in I'm A Celebrity. 
The diving duo won the Choice Award as recognition for that stunning synchro gold on day three of the Games, when a sublimely composed final dive saw them beat their Chinese rivals by less than 1.5 points. 
In between the awards for Britain's outstanding divers, Bath National Centre Lead Coach McNulty was crowned Team GB Coach of the Year. McNulty was a key member of the coaching team that oversaw a historic performance by Britain's swimmers in the Olympic pool, with three of his athletes becoming Olympic champions. Tom Dean won a breathtaking Men's 200m Freestyle gold, before combining with James Guy as part of the victorious Men's 4x200m Freestyle triumph. Freya Anderson, meanwhile, took gold at her debut Olympics in the Mixed 4x100m Medley Relay, an event that saw Guy pick up his second gold, before going on to claim Men's 4x100m Medley Relay silver on the final day.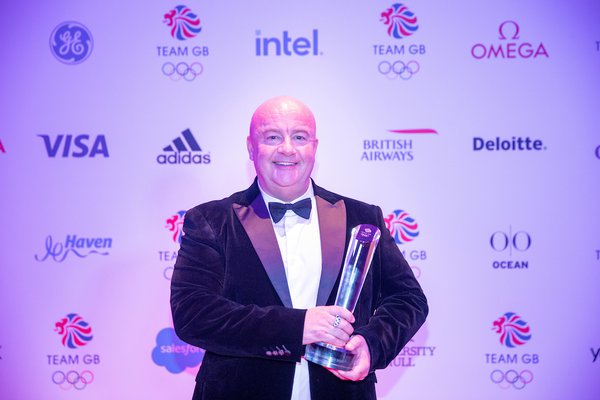 McNulty has now coached medallists at four consecutive Games, with Jazz Carlin, Siobhan-Marie O'Connor, Michael Jamieson and Jo Jackson among his previous Olympic podium finishers. This time was unlike any other, though.
"It was very different. What was going on in the world, it was a five-year journey instead of four, which made it incredibly hard," said David after accepting his award.
"There were so many people in the background who kept us on the straight and narrow and allowed me to coach as I want to, to coach for high performance. To get there and, as a team, for everybody to deliver the goods and come back safe and sound was unbelievable. A massive shout out to the people behind the scenes to help the coaches do what they have to do.
"For British Swimming to get eight medals at an Olympics was just amazing."
Images courtesy of Sam Mellish/Team GB