Simon Rothwell says being awarded LEN Honorary Membership is an honour for both himself and British Swimming.
Former British Swimming Board member Rothwell was the newest Honorary Member named by the European aquatics governing body at the recent LEN Congress in Antalya, Turkey.
The award was made for his services to European aquatics over the past two decades, including four terms as Chair of the LEN Masters Committee between 2004 and 2020. 
Reflecting on the news, he said: "I consider it a personal honour, but I also consider it an honour to British Swimming as well, as I am only the third person from British Swimming to receive LEN honorary membership - and the first two were much more esteemed gentlemen than me!
"The first was Norman Sarsfield, LEN's Honorary Secretary and a FINA member for a period of time, and the second was Alan Clarkson, a former international swimmer himself who carried on into administration, taking places on the LEN Technical Swimming Committee and then the LEN Bureau.
"So I do consider it an honour to both the organisation and myself. I also consider myself very fortunate to have been asked to be Chair of the Masters Committee when I was, and I was in that position for 16 years. I felt it was right that I stepped down in 2020 because I do think you need to renew and refresh committees, boards and such groups, that's important and has always been a philosophy of mine."
Simon being awarded the LEN Honorary Membership is just one of many recent positions that have gone to British Swimming and Home Nations personnel across recent months at the European aquatics governing body. 
As well as British Swimming Board member Graeme Marchbank being appointed to the LEN Bureau, multiple world champion and two-time Olympian Liam Tancock was elected to be the inaugural Chair of LEN's new Athlete Committee, while Maria Ramos is the new Vice Chair of the LEN Artistic Swimming Committee and Melanie Beck has taken on positions as Honorary Secretary for both the FINA Technical Diving Committee and LEN's new Technical High Diving Committee.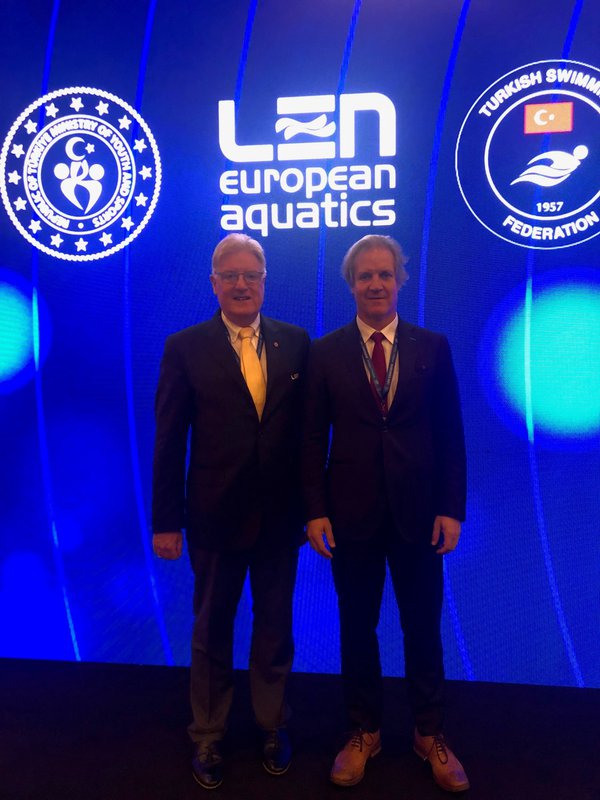 And if Simon can help people in those other positions in any way, he is keen to collaborate and offer support.
"I would certainly be pleased to support anyone in any way that British Swimming thinks I can going forward," he added. 
"Craig Hunter (Chair of both the LEN and FINA Technical Swimming Committees) and I, being a similar age, we've trodden different paths in LEN and FINA, but we've always kind of been together and been able to help and influence where we can. I was there when Liam was a top swimmer, I remember when he was retiring as an athlete but was showing an interest in the Athletes' Commission, which FINA had started but now also exists with LEN. Seeing him in that role is very satisfying.
"I have always deemed personal commitment and exposure in these positions as essential, so that nobody feels isolated and everybody shares in a common vision for the future of aquatics."