James Wilby and Alice Tai secured a couple of stunning Commonwealth titles on the third night of finals at Birmingham 2022, as the British pair delivered on a thrilling evening at the Sandwell Aquatics Centre. 
In total, the medal count across the Home Nations was boosted by six, with Wilby and Tai's golds in the Men's 100m Breaststroke and Women's S8 100m Backstroke respectively supplemented by bronzes apiece for James Guy (Men's 200m Butterfly), Lily Rice (Women's S8 100m Backstroke), Medi Harris (Women's 100m Backstroke) and the quartet of Freya Colbert, Tamryn van Selm, Abbie Wood and Freya Anderson in the Women's 4x200m Freestyle Relay.
In the outstanding race of the evening, Loughborough Performance Centre man Wilby took his first senior international 100m Breaststroke title. The contest was taken out by reigning champion Adam Peaty, the multiple Olympic champion leading to the wall in his first final back from a broken foot.
Wilby's race plan was executed to perfection, though, as the world and Olympic medallist picked up the pace during the final 25m to surge past Adam and to the front, touching first to claim the gold before celebrating with sheer elation in front of a raucous home crowd.
Peaty ultimately touched fourth, with Scottish duo Ross Murdoch and Craig Benson right behind in fifth and sixth respectively.
Reflecting on a moment of personal history, Team England man James – coached by David Hemmings – said: "I love racing, and racing alongside Peaty is always so much fun. I was able to execute my race the best I could. We're both great racers, we all know what Adam is capable of, we'll both be back to race each other again and it's always going to be an exciting one. That one was really fun. It's about taking your opportunities and I'm so thrilled with that. There's more to come, there's always more races and I'm really looking forward to them.
"It's special. I truly believe this, I'm enjoying myself and that's the most important thing. I'm having a lot of fun, and regardless of the results and exact times, I'm putting in good races and that's all that matters. The results are coming to me, it's so fun, so enjoyable – the 200m was a special night and I'm carrying that energy forward. I'm loving it at the moment."
Peaty also gave his thoughts following what was his first individual race back following an injury, as he gave a bit of insight into his preparations for the event.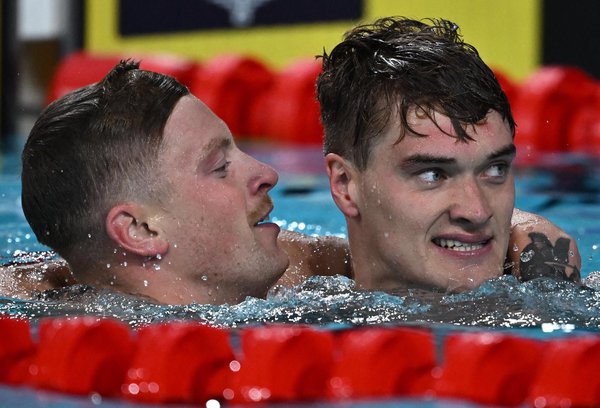 He said: "Sometimes a race doesn't go to plan. I was hurting from the 50m but that's lack of training and lack of racing. It is what it is, I can't overthink it. I had that discussion with Mel, do we go for Commonwealths, but I'm a fighter. Sometimes you have to have these moments to keep on fighting."
Earlier in the evening, it was Alice Tai who picked up the British gold-medal baton carried on day two by Ben Proud and Duncan Scott, as she brought the house down with a magnificent win in the Women's S8 100m Backstroke final.
The Ealing swimmer, competing for England, laid a good platform in the opening 50m, doing well to keep pace with New Zealand's Tupou Neiufi to the turn, before powering down the final length to soar past the leader and enjoying a victorious surge to the wall for the title.
Adding to the celebrations, it was Wales' Lily Rice who also managed to finish on the podium, as she did well to break away from the chasing pack to take the bronze medal.
Tai was overjoyed after the race, as an incredible few months that also featured a Worlds silver last month, continues. She said: "It's a bit surreal. Having surgery, having to pull out of Tokyo, then having an amputation in January. I had to relearn to walk this year, so getting back in the pool was a bit of fun.
"I can't even believe that I am in Team England. There was a time where me and my coach said it's not even worth trying as we weren't going to make it. I saw the New Zealand girl after the turn and swam for my life!
"For where I am with my training, I am so happy with my time and so excited to build on it going into Paris. Everything I've done this season, like my silver in World Champs a few weeks ago, it means so much more. I've achieved a lot in my career but I've been through so much these past 12 months, so to come back on top and doing what I love despite everything is so special and I'm just excited to get back into training in September."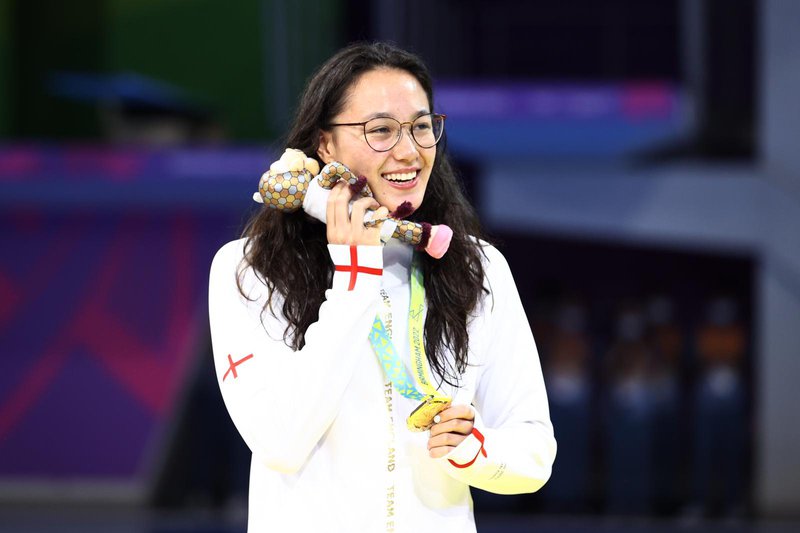 Opening up the session, half of the field in the Men's 200m Butterfly final hailed from Great Britain, with Team Scotland's Duncan Scott and Team England's Mason Wilby, James Guy and Jay Lelliot all vying for a place on the podium.
A brilliant contest saw Guy get a scintillating start, as he kept up with top seed Chad le Clos down the first 100 metres at the front, touching second at halfway. The field began to charge and level up the Brits as the last length approached, with Lewis Clareburt of New Zealand coming through the field to take the gold. Le Clos did enough for second but Guy was not to be denied another medal on his individual list, securing the bronze, a tenth of a second ahead of Scott, who brought himself through the field well. Wilby and Lelliot finished sixth and seventh respectively.
"I had a few doubts this morning off the heat swim but I thought that the slower you try to go out, the harder it is. So I said to myself 'you know what, let's see what we've got tonight'. I've been doing a lot of work on my 100s which contributed a bit but let's see how it goes tomorrow," said James after the race.
"Walking out and everyone's cheering for you is amazing. I was at Worlds in Budapest two weeks ago and having the crowd cheer their favourites is unreal, yet tonight that is for us. It's an amazing crowd and they definitely spurred me on down the last 25."
The Women's 100m Backstroke final supplied another GB medal, with Medi Harris picking up her maiden international medal for Wales with bronze.
In an event that also featured England's Lauren Cox and Scotland's Katie Shanahan, it was Harris who got the better of the trio after the breakout phase, keeping up with the leaders to turn in second place at the halfway mark.
The race came alive in the second length as she stayed on the shoulders of the two leaders in the centre before coming home in third, never dropping outside the top three for the duration of the contest. Cox, meanwhile, finished just half a second behind Harris in fifth place to clock a third personal best of this event in Birmingham, with Shanahan in eighth.
On her bronze, Medi said: "I would have never thought I would be on this podium with these girls, if you'd have told me I would be on the podium with them when I was watching the Olympics last year, I wouldn't have believed you at all.
"My dad and my sister came to watch me at Worlds, they hadn't seen me since before lockdown so I'm so happy they were here tonight."
As on the previous two nights, the Sunday medal haul was rounded out by the Women's 4x200m Freestyle Relay, as England's foursome of Colbert, Van Selm, Wood and Anderson combined well to place third in a spread out race.
Australia set a new world record on their way to the title, but the English quartet focused well on their own races, with youngsters Colbert and Van Selm laying a solid platform to put the team fourth at halfway. From there, Wood produced a strong third leg to move England up to the medal spots in third, with Anderson's now-compulsory anchor performance bringing them home with ease for the bronze.
Colbert said: "I was on the lead-off leg and I was very happy with my split, and then watching the girls bring it home was such a nice feeling. I'd done my part and got to relax for the rest of the race! It was so nice, it's my first Commonwealth medal and to do it with these girls as a team is amazing. We get on so well, it's been a great experience and with my family in the crowd, my parents, my sisters, my home coach, my coach from when I was younger and some family friends here, waving in the crowd, it was surreal, the crowd is so loud, it's amazing."
Van Selm added: "We knew that Australia would be hard to beat, so we just tried to focus on our own race and have fun as a team, and I think we did that because I really enjoyed it. I'm very proud of us."
In one of the night's other finals, Molly Renshaw agonisingly missed out on a medal in the Women's 200m Breaststroke showpiece, finishing fourth.
The Loughborough Performance Centre athlete was third at the turn and looked for her long, strong strokes to keep her in a podium slot. The final 25m ultimately decided where the bronze went, as she was narrowly edged out.
The Women's 50m Freestyle final saw double Team England representation in Anna Hopkin and Isabella Hindley. With what was an Australia full-podium finish, Anna and Isabella put in solid performances to keep themselves within the following pack. It was Hopkin who got the better of Hindley, the English duo – medallists together in the Women's 4x100m Freestyle Relay the evening before – placing fifth and sixth respectively.
There was heavy British representation in the Men's 100m Freestyle semi-finals, with the first of the two seeing the three Team England members of Lewis Burras, Tom Dean, and Jacob Whittle up on the blocks.
A superb swim from Dean saw him go well under his previous personal best, a new mark of 47.83 the first time he had dipped inside 48 seconds and seeing him through second-fastest overall after the semis.
Whittle also did what he needed to do, placing fourth in semi-final one and seventh-fastest into the final. Burras missed out in 13th overall.
Semi-final two brought qualification for the busy Duncan Scott, the Team Scotland man following up his 200m Butterfly final with a solid effort to secure a lane for tomorrow's 100m Freestyle final, sixth fastest overall. Matt Richards missed out by a single spot, ninth on the day.
The Men's 50m Backstroke semi-finals had opened the night at the Sandwell Aquatics Centre, and there was representation from all three Home Nations. In what was a very tight contest, Team Scotland's Scott Gibson did the best of the trio as he managed to touch in third place in his semi-final to qualify in fifth overall for the final. Team Wales' Joe Small was just behind him, and he will also be back tomorrow for the final in seventh place. Joe Litchfield (England) came up just short as he finished in ninth place overall.
The second semi-final saw representation from Team Wales in Liam White and Team Scotland from Martyn Walton. The pair both touched close together as White came fourth to Walton's sixth, just a tenth behind. This sees the pair also just miss out on the final, with White in 10th and Walton in 12th.
Rounding out the British action for day three, Harriet Jones (Wales) got her name on the startlist for the Women's 50m Butterfly final with an assured splash-and-dash in the semi-final, qualifying seventh-fastest. Keanna MacInnes was 13th. 

Click here for full results and schedules. 
For full information on how to follow every big moment from the pool in Birmingham, visit our Birmingham 2022 guide here.