Somewhere on an alternative timeline, the swimming programme at Tokyo 2020 would be less than a month away, but as it is, the postponement of the Olympic and Paralympic Games means we are nearly 13 months away from that day.

However for World, European and Commonwealth champion James Wilby, that delay is being viewed in one way - as a "huge opportunity".
"When it became clear the Olympics couldn't take place this year, we as a group - and when I say as a group, I mean the National Centre and Dave Hemmings' squad specifically as well - were very quickly able to cope and get over that," he said.
"As a group, we had an absolutely incredible year last year, and we were really ready to surprise people and do some special stuff at the British Championships in April, some really amazing stuff we'd been working on behind closed doors. It was disappointing not to be able to do that.
"But we came to this realisation that having this extra year, all it presents is an opportunity - and the opportunity is to do the whole Olympic year all over again, but just a little bit better.
"We know that if we are able to do exactly the same, then we are going to be in an incredible position. But if we do just a little bit extra, tiny tweaks here and there, nothing radical or completely out of the blue, then it could make for an even more amazing British Champs and Olympics.
"We are really excited. We see it as a huge opportunity, and that's obviously the best way to look at it. A positive outlook on something like this is very useful to keep yourself motivated and to keep yourself ticking over, day in and day out.
"There's not a single person in Dave's group who has said, 'I'm not sure about this or that'. We are all really excited to maximise that opportunity."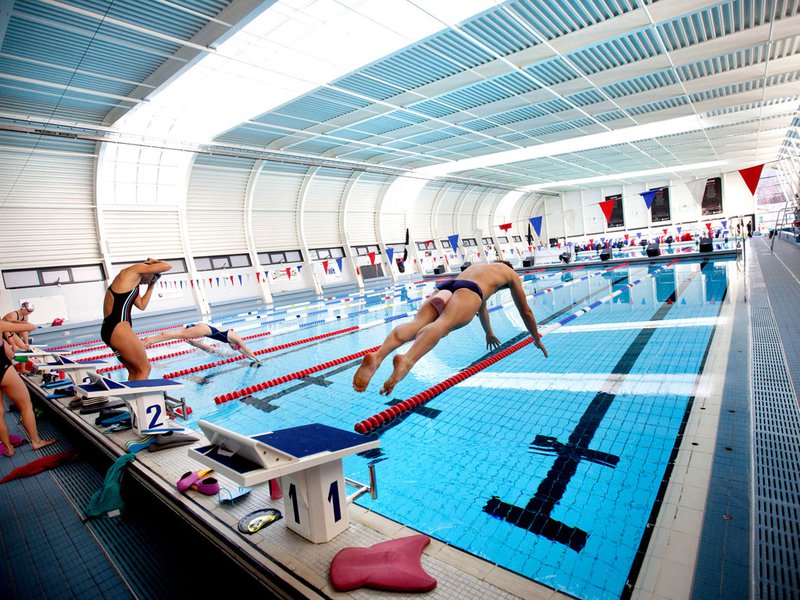 James is one of a select group of athletes who have been able to return to the pool in recent weeks, in line with the DCMS 'elite return to training' guidance.
The UK Government last week announced that pools and leisure centres in England are not set to be reopened as part of the latest relaxation of coronavirus measures on 4th July, which led to Swim England launching their #OpenOurPools campaign, while swimmers in Scotland and Wales were finally able to get back into the water this week.
The importance of reopening pools at the earliest opportunity - and when safe to do so - is a subject Wilby feels strongly about, with the Loughborough athlete keen to see more people back in the water.
"I think it is very frustrating. When you look at the list of venues and places that are able to reopen in England, it is difficult to understand how some of the places were picked over gyms and swimming pools," added the breaststroke star.
"There is the idea that there's an increased risk at swimming pools and gyms. But the reality of it is that when you actually look at the processes we have developed for the elite training group that have returned to the pool, and also some of the guidelines that Swim England are working on, I think it's entirely possible that a safe return to the water can take place.
"It's great that an elite training group have returned to the water - but for the others, it's incredibly frustrating, and therefore I find it incredibly frustrating. In my career, I haven't always been at the top, and one of the things I genuinely like to see is more and more people getting involved in swimming.
"I've said many times that we're an island nation surrounded by water, so swimming is really important. Now in this particular situation, the priority is on health and well-being, and I think the benefits of swimming and exercise in general are really hard to overstate.
"People obviously need to be patient - but using your voice and contacting your MP and doing all that sort of stuff really does have an impact, not just now but all the time.
"As a swimming community, we showed incredible ability to come together when the announcement was made, and that's great. I think it's something that we just need to keep hitting on, keep banging that drum, because when it's done correctly, it is safe and it can offer huge physical and mental health benefits.
"It's something I'm quite passionate about, that swimming is super important all the time. But in this current situation, this global pandemic, I think the benefits of swimming, now it can be reintroduced, can be even more beneficial to so many people."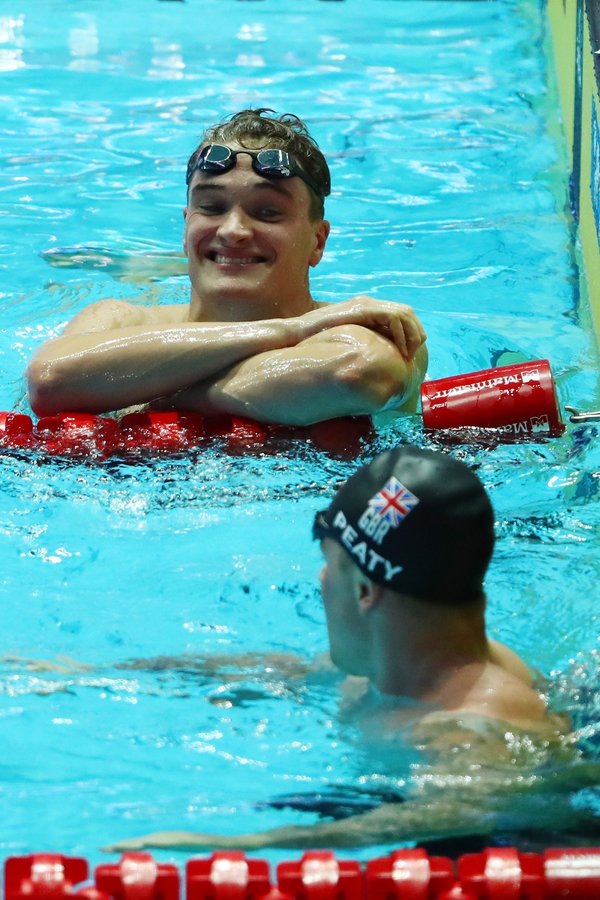 Having experienced what post-lockdown training at the National Centre in Loughborough looks like, Wilby is in a good position to talk through the changes that have taken place to make things as safe as possible.
And the man who claimed three medals at last year's World Championships in Gwangju has been impressed by the setup.
"It's very different, it's very thorough and has been incredibly well thought out by the team behind it," he said.
"It does take a bit of getting used to. Before lockdown a few months ago, we'd turn up at the pool, walk in, get changed, do pre-pool and then get in.
"Now, there's much more of a process to it, to make sure that everything is safe, within the guidelines and that we are minimising any risk of infection, both within the pool and when we go back to our homes and so on and so forth.
"The best athletes across the world are the ones who are able to be adaptable and control what they can control effectively.
"Obviously this is something we need to do. So building into the new routine, I know that I need to leave the house five minutes earlier so I get to the pool five minutes earlier and then have that time to go through everything.
"It's all something that takes a bit of getting used to - but in the end, it's not there to prevent us from doing swimming, it's there to protect us while we do swimming. It's very effective at that, and that's how we plan to continue until things change nationally."
Before James was able to get back in the water at the end of May, he kept himself busy during the lockdown period with plenty of fitness work on the Wattbike, as well as involving himself in his new hobbies of DIY and computer networking.
Like Bath National Centre compatriot Tom Dean, something else Wilby discovered - or perhaps rediscovered - across a 10-week period out of the pool, is just why he loves being in it so much - and he is intent on never taking it for granted.
"One thing I learned about myself during lockdown, and something I'd encourage others to do, is just explore things that interest you. Just try new things - it's quite fun to see what you enjoy," the 26-year-old explained.
"More broadly speaking, I also learned that I am so, so fortunate and lucky to be able to do what I do.
"I ended up doing all my training in my garage, on a Wattbike and with the weights that were lent to me - but I missed swimming so much, and I missed the ability to socialise with my friends. Some of my closest friends are people I swim with, and there's also some of the stuff in normal times like we're able to go away, abroad or to different locations.
"I missed all that stuff, and it made me appreciate that when I am able to get back to that, it's not something I'm going to be taking for granted."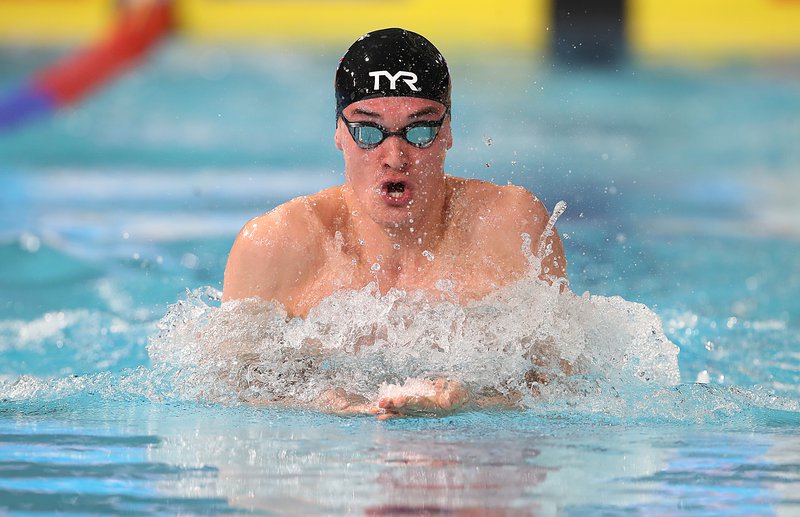 As for getting back in the pool, you may expect it to feel completely natural to someone whose senior international debut came for Team England at the 2014 Commonwealth Games. Or not. Indeed, James' words may be insight to those returning to the water in the coming weeks. Expect it to feel different.
"The first session back, it was crazy. Obviously all the procedures had to be followed and we had to make sure we were doing everything correctly," he recalled.
"But then that moment of getting in the water was a bit surreal, it was a very weird experience, almost feeling like what I was doing was completely new or different, even though it's something that I do.
"I hadn't done it for so long, it's a moment of, 'wow, I'm back in the water, I'm not sure what I'm doing'. Then it very quickly got back to normal.
"Still, there was a fun moment, 25 metres of almost having a bit of an out-of-body experience, trying to work out what's going on again."