We are turning back the clock to relive the careers of some of British Swimming's most successful figures of recent times in our Splashbacks feature - with the help of the stars themselves.
In the first of this series, double Olympic champion Rebecca Adlington reflects on those golden triumphs in Beijing, standing on the London 2012 podium and the joy of team training camps during her time as a competitor. 
---
It is nearing 12 years since Adlington's stunning performances in the Women's 400m and 800m Freestyle finals at Beijing 2008 saw her become the first Briton in a century to win multiple golds in the pool at the same Games, immediately securing her place as a household sporting name. 
Yet all this time on, and with two subsequent Olympics having taken place since those halcyon days in the Water Cube, the former Nova Centurion can recall every single detail.
"It's actually a bit crazy that something which happened 12 years ago is something I can still remember so vividly," says Adlington. 
"I remember everything, from how nervous I was before the race, the pain I felt during the race and how I just pushed my body to the limit.
"I remember all the celebrations afterwards, I can just remember it all so clearly - and I'm so glad I do. It was a life-changing experience for me, so I'm very glad I have those memories and that they are amazing times I can look back on for the rest of my life and get to talk about for the rest of my life too!"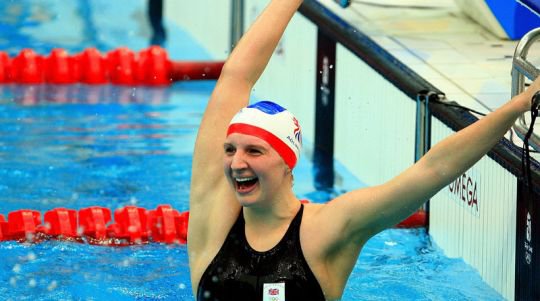 The first of those golden moments, in the 400m Freestyle showpiece, was made even sweeter by the fact that Adlington's compatriot Joanne Jackson joined her on the podium after winning bronze. 
All such unforgettable successes, of course, are the finishing touches applied at the end of years of training, preparation and dedication. 
And while that can mean a lot of hard work and commitment, Adlington also values those times as among her favourite as a swimmer.
"My favourite swimming memory would obviously have to be Beijing - it was my career highlight, and getting two gold medals was just beyond my wildest hopes and dreams," she adds.
"But some of my other favourite memories from the sport were all the training camps. They were the fun times that now, with all my mates, we look back on and share funny stories from.
"That time, even though we were working really, really hard, it was just so much fun. Being around all your mates for it was like the best thing ever." 
So can Becky pinpoint the moment at which she realised she was willing to commit to all those lengths and early mornings in a bid to become an elite athlete? 
"I can remember going to the Commonwealth Games in Manchester in 2002, being sat in the stands and just being in awe of everything that was going on," she says.
"It was that first real moment of realisation, of 'oh my gosh, I'd love to do this'. That grew and grew and grew over time, and then when I got to my later teenage years, I thought 'this could definitely be possible' - and I just had to keep working really hard. I was very glad it did work out!" 
It is fitting for somebody whose drive to become a top-level swimmer was piqued at a major meet on home soil to have enjoyed her final moment in the Olympic spotlight at a home Games.
In the London Aquatics Centre at London 2012, Adlington swam to two bronze medals, in the same events that had brought her unprecedented success four years earlier. 
Just like the Beijing memories, those highlights from the summer of 2012 will be cherished forever by the four-time Olympic medallist.
"Winning a medal at a home Games was just something I'm so grateful for. I'm grateful I even had the opportunity to compete at a home Games," she notes.
"It's amazing to win a medal at an Olympic Games, but then to win it at home means I had all the support behind me, everyone at the pool was chanting "Becky, Becky!". It was such an overwhelming, emotional, incredible, proud and amazing feeling that is so hard to put into words, because it meant so much.
"The crowd cheered whether you came first or last, and the support shown to everyone was just incredible." 
Adlington's time in elite competition came to a close in London, although she continues to be closely involved in the sport - including promoting learning to swim with Becky Adlington's Swim Stars.
So reflecting on her spell at the top of the aquatics world, and with the current stars of British Swimming looking to emulate her in the years ahead, could she pick out one piece of advice that helped her more than any other?
"The best piece of advice I was given was just to stick to my individual plan. Whether that was with training or racing, it was just knowing that I was doing all I could and what worked for me.
"Every single athlete is different, and I think sometimes it is hard not to get sucked into what other people are doing and thinking, 'should I be doing that, they're doing this...'
"I think you just have got to trust and know yourself and what works for you. It definitely took me a while, but I got there in the end and I learned what I needed to work on, my own strengths and weaknesses, we developed my own training plan around that and didn't replicate anyone else."
It is safe to say, that approach did not work out too badly... 
Keep checking back to the British Swimming website and social media channels, as we bring you more features, interviews, memorable moments and activities to get involved with over the coming weeks.