A quartet of young athletes fresh from Britain's record-breaking performance at the recent European Aquatics Championships will form part of the squad heading to next month's European Junior Championships in Rome. 
Twenty-four swimmers have been selected to a British team that will head to the Stadio del Nuoto looking to put in season-best swims, compete for medals and gain valuable race and arena experience as they build for the future. The event takes place from 6th-11th July.
Among those who were part of the senior setup in Budapest in May and will board the plane to Italy are Tamryn Van Selm (Millfield) and Evelyn Davis (Bromley), who both secured gold medals as part of relay successes last month, while Katie Shanahan (City of Glasgow) reached the Women's 200m Backstroke final, where she smashed her personal best.
Northampton's Ed Mildred is also doubling up on European appearances for the year after some promising efforts in Budapest.
The full team has been named following the close of the selection window and the final domestic racing opportunity at the British Swimming Glasgow Meet, which provided the biggest return to racing opportunity yet for juniors since the first UK lockdown.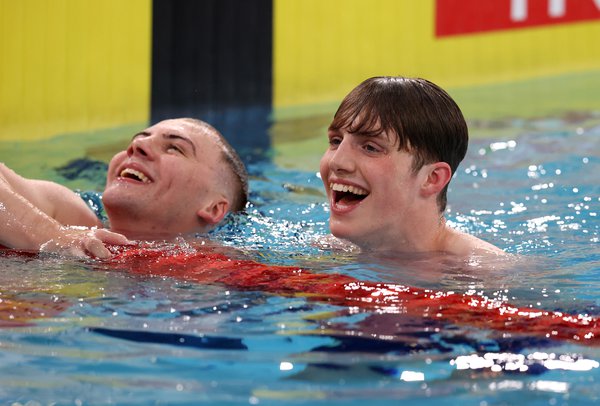 Ahead of the Championships, Team Leader Alan Lynn said: "As the world comes to terms with the ongoing recovery from the pandemic, we are very grateful for the opportunity to compete in Rome. High-quality racing, outdoors, in one of the most iconic pools in our sport will be a great learning experience for our young team.
"My expectations are that the swimmers will race hard, soak up the competitive challenge and emerge from the Eternal City as better swimmers than when they arrived." 
British Swimming team for the 2021 European Junior Championships, Rome (6th-11th July):
Edward Mildred, Northampton SC
Harvey Freeman, Northampton SC
Angus Allison, Warrender Baths Club
Evan Jones, Millfield School
Mark Ford, City of Glasgow Swim Team
George Smith, Ellesmere College
Will Ellington, Millfield School
Sam Greenbank, Cockermouth
Joseph Deighan, Millfield School
Henry Baker, Hamilton Aquatics, Dubai
Evelyn Davis, Bromley SC
Harriet Rogers, City of Newcastle SC
Tamryn Van Selm, Millfield School
Freya Colbert, Nova Centurion
Katie Shanahan, City of Glasgow Swim Team
Rachel Saunders, Warrender Baths Club
Isabelle Goodwin, City of Leeds SC
Lucy Grieve, South Ayrshire Swim Team
Sophie Freeman, Plymouth Leander
Sienna Robinson, City of Sheffield SC
Erin Little, Mount Kelly
Eva Okaro, Sevenoaks SC
Ella Dyson, Wycombe District SC
Leah Schlosshan, City of Leeds SC