British Swimming were the big winners at the inaugural PLx Awards as they received two awards, one for 'Collaboration and Team Working' and the other for 'Practitioner who has made a special impact on High Performance'.
At the heart of the British High Performance Sport system is sustained success, which is about valuing people who have the skills, passion and commitment to excellence to contribute to medal winning success that inspires the nation.
To acknowledge this UK Sport launched their inaugural PLx awards, with the purpose of recognising the individuals, teams and sports who have made a significant contribution to the GB High Performance Sport system.
The first nominee was Analysis Lead: Biomechanics, Skill Acquisition and Race Analysis, Olly Logan, who was up for 'Support Staff/Practitioner from any specialism who has made a special impact on High Performance'. Working with swimmers across the UK to improve their skills, Olly has played a key role in driving up performance, a key example being work on Adam Peaty's start, which played a role in him breaking the world record again this summer.
Up against experts from Judo and Sailing, Olly came out on top, afterwards commenting:
"I am tremendously proud to win an award that is nominated and voted on by my peers. There are so many examples of excellent work going on across the high performance system so to be recognised in this way is quite an achievement.
"However, the work that I do is just a small part of the excellent support team of sports science and sports medicine practitioners, in collaboration with coaches and athletes, so I feel that this award represents the team input and not just my own. I am fortunate to work as part of such a diverse and positively challenging environment where we have a real drive to improve performance, but at the same time enjoy the challenge to get there. I am really looking forward to the next eight months in the lead up to the Tokyo Olympics Games, where I know this group are capable of great things."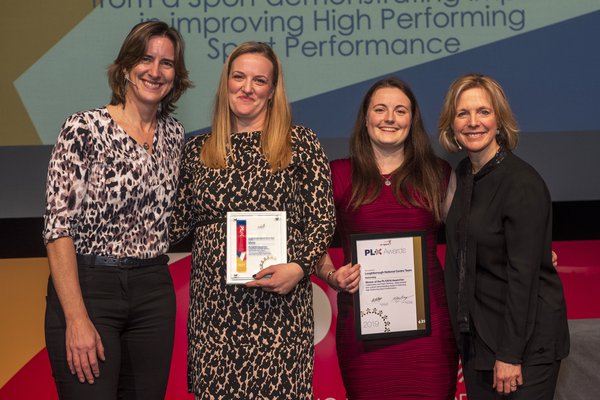 The organisation had two nominees in the 'Collaboration and Team Working – best practice from a sport demonstrating impact in improving High Performing Sport performance' category, the British Para Swimming team and the Loughborough National Centre team, with the latter coming out on top on the night.
Reflecting, Head of Sports Science and Sports Medicine, Matt Ashman, said:
"Loughborough National Centre completely deserve this award and the recognition that comes with it. Collaborative performance is often talked about in high performance, but achieving it requires excellent people aligned around a common purpose, and that is what Loughborough demonstrates. There are multiple examples of how this collaboration had impacted performance, including the excellent medal haul at the recent World Championships in Gwangju."
On Logan's individual award, Ashman added:
"Olly has made a massive impact on British Swimming and has revolutionised the world of race analysis and biomechanics within the GB World Class Programme. Olly has excellent credibility within the British Swimming system and his services are in high demand from our most experienced coaches and athletes. His work is performance focussed and has resulted in medal winning impact involving athletes across the breadth of the World Class Programme."
Loughborough National Performance Centre swimmer, James Wilby said: 

"The team and the environment of everything that we've got going on here and how everyone works together is probably one of the best in the world so to have it recognised by UK Sport, both as a team collaboration and for Olly Logan as an individual, it's almost like recognition for what what been happening here for the last couple of years.
Without a doubt the staff here are fundamental to everyone's performances. When you're on the camera in the competition environment all you might see are the individual swimmers but behind that there's this big team, it's all part of a big machine and without them we would not be doing what we're doing at all."