Adam Peaty, Holly Hibbott and Duncan Scott seal individual victories on the second day of the International Swimming League meet in London.
With points at the top of the standings tight after an exciting first day in London, the duel between clubs Energy Standard and London Roar continued right down to the wire for triumph in the European-derby.
London Roar team captain Adam Peaty was an early contributor to his clubs assault on the lead, mustering up the first win by a British athlete of the weekend at the London Aquatic Centre, touching the wall first in the men's 100m Breaststroke. Peaty commented:
"I'm pretty tired I knew that. I knew my strengths and weaknesses but I went out there today to enjoy it, enjoy the crowd and come back with a win."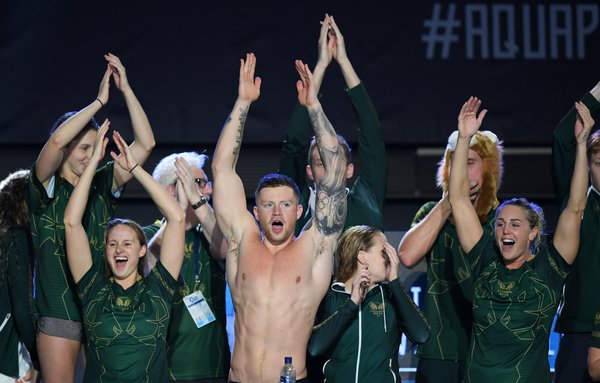 In the very next race teammate Holly Hibbott stepped up to win the Women's 400m Freestyle, matching her result from Dallas earlier in the ISL series and delivering a short course personal best over the distance, whilst James Guy took second in the Men's 400m Freestyle and Sarah Vasey contributed to the Women's 4 x 100m Medley relay third place finish as London Roar moved top at the first break.
Duncan Scott (London Roar) who finished fourth on the overall London match MVP standings, then added victories in the Men's 200m Individual Medley and Mixed 4 x 100m Freestyle relay before finishing his programme with third in the Men's 50m Freestyle Skin Race for a personal tally of 40 points - the highest of any British athlete.
There was further top three finishes for Hibbott and Guy in the 200m Butterfly, however Energy Standard's success in both of the triple point scoring Skins events reestablished their position as victors of the London match, with both clubs qualifying for next months final in Las Vegas. Team Iron who had British representation from Breaststroke specialist Ross Murdoch moved up to third overall in the European-derby standings, overtaking Aqua Centurions.
Missed it? Re-watch the stream of the International Swimming League Day 1 and Day 2 on the BBC iPlayer.
Final Point Standings, London
Energy Standard, 467.5
London Roar, 458.5
Iron, 369.5
Aqua Centurions, 335.5