A clean sweep of qualifications were secured by Freya Anderson, Abbie Wood and Alicia Wilson during Monday evening's heats session at Tokyo 2020.
Anderson and Wood were returning to the pool after their involvement in the British record breaking 4x100m Freestyle relay quartet on Sunday morning, whilst former World University Games champion, Wilson, was making her debut appearance in the Olympic arena.
Having won European bronze in May, Anderson looked relatively comfortable throughout her 200m Freestyle heat, finishing within a second of her personal best to claim a spot in the next round.
Pleased with her first individual swim of the meet, Anderson commented:
"Obviously it was a good way to start as a relay, and it's pretty good to get my first individual out of the way. It's now just about getting faster each round, but that was good enough for a heats swim."
Heading onto the women's 200m Individual Medley, Abbie Wood and Alicia Wilson lined up in heat three of four, with the objective of ranking within the top sixteen for a place in the semi-finals.
Of the two Wilson went out quicker over the opening strokes and touched the wall first at the 150m mark, before Wood displayed her freestyle strength down the final length to claim the victory in the heat – both women subsequently producing a time to progress onwards in the competition.
With a second swim confirmed, Wilson said:
"I was happy with that - I hadn't been to a senior meet before this year so it's definitely a big step up and that's probably the most nervous I've ever been before a race as it's my only event here, so that's a good way to start for me."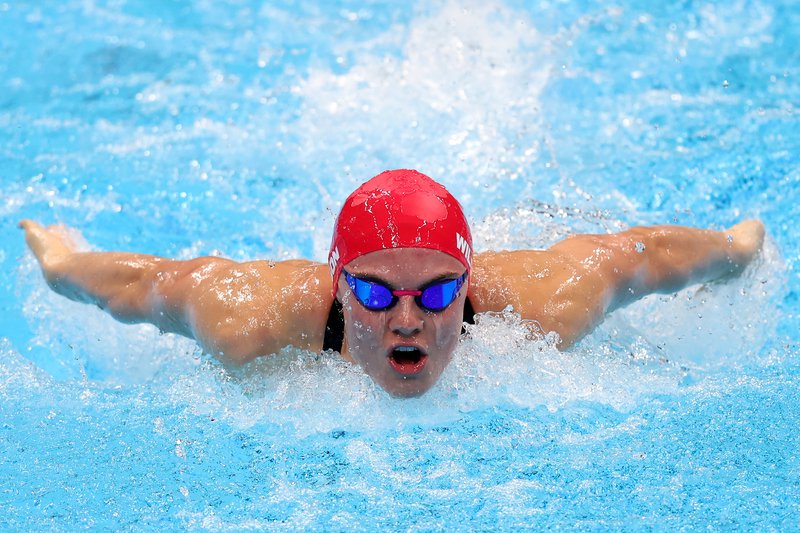 Wood adding:
"It was nice to get the first individual out the way, just so you know where you're at. I feel like hopefully ready to build through the rounds and every race that I'm in - I think that's what I'm best at doing rather than looking at times going on around me, so yeah tomorrow I'll just race my semi-final and see where that time gets me."
The qualifying trio will be back in action in the morning session (2.30am BST start) in a scheduled programme featuring Tom Dean and Duncan Scott in the Men's 200m Freestyle Final and Kathleen Dawson in the Women's 100m Backstroke Final.
Full results and upcoming start lists can be found on the Tokyo 2020 website here. To find details of upcoming British action and where to watch visit our 'What's on?' page.