Duncan Scott was the pride of London Roar again as the new International Swimming League season continues in Naples - with five British athletes claiming victories over matches five and six. 
Olympic champion Scott, fresh from making history as the first athlete in Team GB's history to win four medals at one Olympic Games, bettered his tally of three race wins from Roar's second match of the campaign, claiming four victories this time around, including three in a breathless run of events on the second day of their match against Aqua Centurions, Tokyo Frog Kings and reigning champions, Cali Condors.
On the way to securing a vital 48 points for his team, the University of Stirling man - who trains under current London head coach Steven Tigg - strung together quickfire triumphs in the Men's 100m Freestyle, 100m Individual Medley and 200m Freestyle events, in a statement of his versatility and eye-opening resilience. The 100m Freestyle also brought with it a new British short-course record for Scott to add to his ever-growing list of British best marks, the time of 51.92 surpassing James Goddard's previous record.
Combined with a brilliantly-paced swim to win the 400m Freestyle on day one of the match, those performances ensured Scott wrapped up the freestyle hat-trick - and there was even a third-placed finish in the 200m Individual Medley, across yet another packed programme for the 24-year-old. 
London Roar's semi-final hopes were further boosted by another dominant display in the Men's 200m Backstroke from Luke Greenbank, the double Tokyo 2020 medallist making his move over the final 50m to overtake teammate Christian Diener and touch first.
The final British victor of match six also represented the Roar. Northampton Swimming Club's Ed Mildred played a crucial part for his quartet in the Men's 4x100m Freestyle Relay, bringing it home on the anchor leg with an outstanding four lengths of short-course freestyle.
In the women's race, Freya Anderson - another first-time Olympic medallist from Tokyo - helped her London foursome to third place, while there were more precious relay points for London on day two's Mixed 4x100m Medley Relay, as Ross Murdoch's breaststroke leg helped his team finish second. 
Meanwhile, a couple of British ISL debutants made their mark with podium placings. Katie Shanahan, another London Roar swimmer, swam well for third in the Women's 400m Individual Medley. The City of Glasgow Swim Team competitor's versatility was shown with other strong performances across backstroke and freestyle events, including a fourth-placed finish in the 200m Backstroke. 
Keanna MacInnes (University of Stirling) is representing the Tokyo Frog Kings in Naples, and she boosted their points total for the match by swimming to third in the 200m Butterfly.
The 2020 champion Condors were beaten on the overall scoreboard by Roar, whose tally of 529.5 points saw them finish well ahead of Cali on 478.5. Aqua Centurions were third on 379.5, just ahead of Tokyo Frog Kings, on 376.5. 
In the previous match, Imogen Clark and Alys Thomas led the way for the Brits by claiming victories for their teams.
Clark was first up, sprinting to 50m Breaststroke triumph for LA Current, before Thomas - who made her Olympic debut earlier in the summer - paced her 200m Butterfly efforts to perfection for a nine-point haul for Team Iron.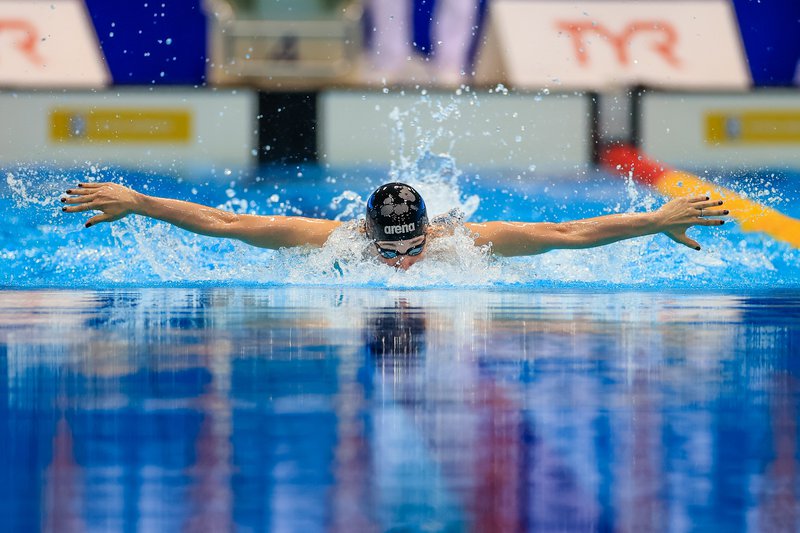 Elsewhere, Olympic champion Anna Hopkin continues to show fine form over the sprint freestyle events in Naples. The Mel Marshall-coached athlete was a key relay component for her DC Trident team this time, securing third-placed finishes in both the Women's 4x100m Freestyle Relay (where she was the third leg) and as the anchor in the Women's 4x100m Medley Relay. A day later, her and her quartet went one better to place second in the Mixed 4x100m Medley Relay. Thomas' Iron team came fourth in that one.
Max Litchfield had a busy and varied programme, touching third in the Men's 400m Individual Medley for Toronto Titans, after also contesting the 200m Backstroke and 400m Freestyle on day one. 
That match was won by Litchfield's Toronto, on 536 points. LA Current (452.5) were second, DC Trident (416.5) third and Iron fourth on 374.0.
Match seven gets underway tomorrow (16th September), with the Brit-heavy New York Breakers facing the Titans, Iron and Condors.