Brodie Williams set his marker to go one-two with Luke Greenbank in their 200m Backstroke semi-final exchange, while Molly Renshaw and Abbie Wood spurred each other on to finals progression in the Women's 200m Breaststroke at the World Aquatics Championships.
That foursome of qualifications into individual finals tomorrow night proved pleasing viewing towards the back end of the session, with Lewis Burras and Medi Harris earlier sprinting to seventh against world-class fields.
Leading the charge for Britain on the fifth night of Budapest finals, however, was Tom Dean, who produced a new lifetime best in the Men's 200m Individual Medley on his way to fifth in his first global medley final.
Dean – who trains under David McNulty at the Bath Performance Centre - set out the opening three quarters of the race with a measured approach before hitting the burners with a surging closing 50m freestyle that was over half-a-second quicker than any of his competitors to stop the clock in 1:56.77 for fifth on the global stage. 
Discussing his race strategy Dean remarked: "I knew I was on good form coming into this week. I went 1:57-low at the trials, so a 1:56-mid or high is the next logical step. I was able to do it tonight, but I think I'm feeling all of those seven races I've done so far now.
"My plan was to work the freestyle leg on this swim here. Dave said, coming into this one that as an Olympic champion on the 200m Freestyle, you're going to have a strong freestyle leg and have to use that to your advantage. I paced it probably slightly better than my 200m Free, but it's all part of the learnings of the event and is always nice to have a strong finish."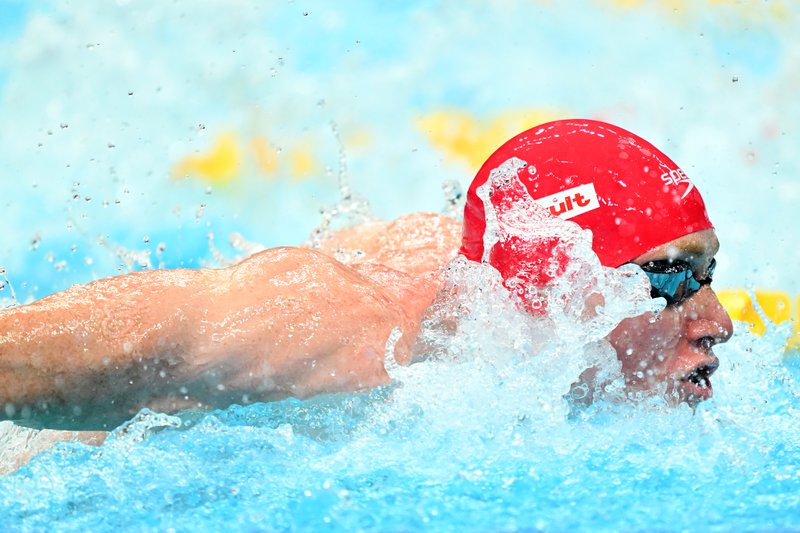 Having opened Great Britain's medal account at these championships, Dean was excited to be taking that result into tomorrow's relay, commenting: "Looking back at that 200m Freestyle, I'm never going to turn down a World Champs medal, an individual World Champs medal is something I'm really proud of. To take that individual 200m Freestyle medal at this point is something I'm really proud of.
"In the 4x200m Freestyle, we are Olympic champions. Unfortunately Duncan [Scott] is back at home resting and recovering, but that gives us a chance to bring in some young talent and give them a taste of swimming on a world stage, just like I did three years ago in Gwangju at my first World Champs. That gave me the tools that allowed me to go to Tokyo and deliver when it really mattered - It's exciting [to have that chance] to step up with the boys again."
Meanwhile, an eye-catching final awaits after Brodie Williams nipped in to take the win in the primary Men's 200m Backstroke semi-final ahead of compatriot Luke Greenbank.
Very little separated the pair throughout as they flanked either side of the central two lanes, going stroke for stroke until, with 10 metres to go, Williams confidently kicked on into the wall to set a new personal best of 1:56.17.
The pair exchanged a thumbs up across the water having almost assured their progression with that 1-2, and only Ryan Murphy (USA) consequently delivered a quicker time in the following race to sandwich himself in the lane between the Brits tomorrow night.
For Williams, a first individual finals berth on the international stage, alongside a new lifetime best, comes with great delight: "It's just what we've been practising in training. The semi-final was about 95 per cent effort, I did lay down a marker there but I still think there's more in the tank, I just need to push that first 100m a bit more.
"Luke went through a similar stage that I went through, that's my first PB in about three years, so I did ask him for advice on that. He's one hell of an athlete, and it's a pleasure to be representing Great Britain with him."
Greenbank, an Olympic and world medallist in this event, was pleased to see Williams' advancement, as he prepares himself to move things on further come tomorrow's starting orders, commenting: "It's a season's best, I can't complain with that. I have to go away, rest, relax, look at the race and where we can improve and then come back ready for the final.
"It's the first time I've had a Brit in the final with me, so I'm really looking forward to that. He did amazingly, and hopefully we can push each other on in the final tomorrow as well."
That display came straight off the back of another two Brits sharing the call room as Mollie Renshaw and Abbie Wood swam side by side in the Women's 200m Breaststroke semis.
Renshaw paced it out with her beautifully long efficient stroke, with Wood spurred to sit on the shoulder of her teammate. The David Hemmings-coached duo finished sixth and seventh respectively at last summer's showpiece Olympic Games and carry the same rankings into tomorrow's world final.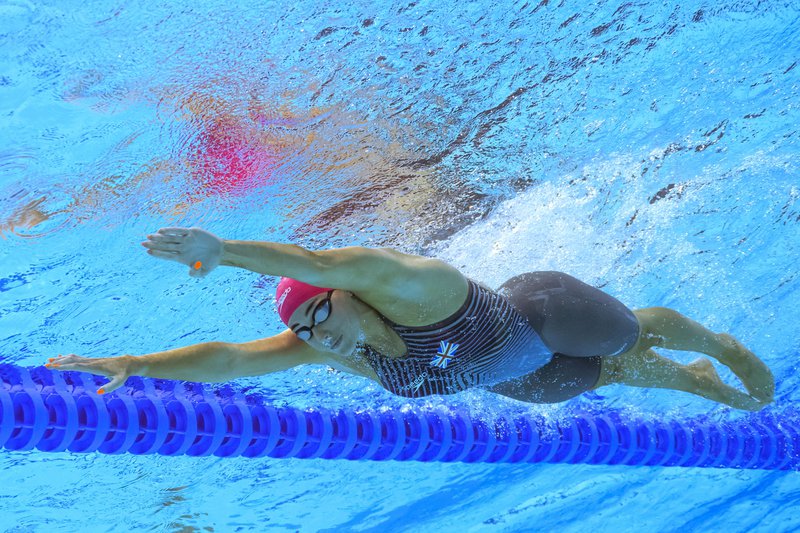 "Me and Molly swim the race quite similarly, so we're good at pushing each other on. We did the job tonight to get into the final tomorrow, so I'm really excited," said Wood

Teammate Renshaw added: "After this morning swim, I was so long that I struggled to pick up the pace down the last 50m, so tonight the plan was to attack it a bit more and see what I had in the last 50m.
"The breaststroke call rooms are always really nice, it's full of loads of lovely girls. We quite like a chat in the call room, so it's nice to have each other and keep each other relaxed - and then like Abbie said, we swim it quite similarly, so to be next to each other is quite nice"
In the men's equivalent, James Wilby attempted to set his stall out early with evidence of his 100m pace off the blocks, but having dropped within the pack by the three quarter mark, a late charge back in the closing metres saw him touch sixth in his semi-final and miss out on qualification in 10th overall.
Following on from a British record last night in thesemi-finals, Lewis Burras arrived for the Men's 100m Freestyle medal contest with an air of calm as he approached the blocks for his first ever individual major final.
Down the first length, the Winchester City swimmer kept within a few tenths of the tempo set by the centre lanes, moving over to left hand side of his lane from the turn to swim up and over the shoulders of the Italian outside him to rank seventh in the world.
Looking back on his race, Burras said: "I'll be able to get away from the arena, reflect on that race and I'll still be very proud of myself. It's the blue riband event, and to say that I'm now one of the fastest 100m Freestylers in the world was something I never thought possible.
"Ten years ago, I went to bed every night just dreaming of getting a national title. Now here we are, chatting after a World Champs final."
With the times set across the field not living up to the sensational semi-finals pace, Burras added: "Something which I'm learning through this meet is it's not so much about the time, you're racing to race the other competitors, who can get their hand on the wall first. Tonight, everyone was a bit slower but people were still getting their hand on the wall.
"It's a world-class field. The only meet greater than this one is the Olympics, and at my first World Championships, I can hold my head high and I'm proud to be swimming under the British flag."
The Tuesday night swim-off exploits of Medi Harris saw her return to line up in lane eight of the Women's 50m Backstroke final. The 19-year-old swimmer has navigated multiple swims across a hectic programme with great maturity, and demonstrated fantastic swim speed after the breakout to record a seventh-place finish amongst the world's top sprinters.
 "I can't complain at all. I was definitely feeling it today, but I was just trying to put it to the back of my mind and just focus on the race, so I'm really pleased with what I could do tonight after all the racing yesterday," said the Adam Baker-coached swimmer
"It helps that everyone here is so nice, it's a great atmosphere to be a part of on the team."
Meanwhile, Anna Hopkin and Freya Anderson were the first British swimmers to step out into the arena on Wednesday evening, competing across the two semi-finals of the Women's 100m Freestyle.
A lightning quick reaction time from Hopkin set the Loughborough Performance Centre athlete off to a superb start among the first eight athletes bidding for a finals spot, but from having sat third at the turn, it ended with anguish as Hopkin touched fifth to ultimately be the only sub-54 swimmer to miss out on progressing.
Anderson subsequently went in the outside lane of the second semi-final, moving on her time from the heats to place 12th overall.
For full results from the finals, click here.
Visit our 'What's On?' page here for a full rundown on how you can watch and listen to every finals swim from Budapest.