A scintillating Men's 200m Freestyle final proved the icing on the cake for a brilliant three days of action at the British Swimming Invitation Meet.
With a stellar line up assembled it was always set to be one of the races of the weekend, and it certainly delivered, as the race went right to the wire. All on his own in lane one James Guy was out quickest, leading at both 50 and 100, but in the centre lanes both Duncan Scott and Tom Dean were lurking.
The tables had turned by the time they made their final turn, Scott now in the ascendancy, with the two Bath men right on his shoulder, as they battled all the way. In the end it came down to the touch, Scott having enough in the tank to get the better of Dean, with Guy bagging third.
Speaking afterwards, Scott said:
"200 Free in Britain is always good fun! I've been doing some race simulations at home, but to come here and race some other guys has been really good. It was just so tight and that's what's so good about it – head to head racing gets a bit more out of you – it's really good looking ahead to trials and the 4x200 relay.
Of his weekend as a whole, Scott added:
"There's still plenty to do and plenty to learn. Some of the times were good but I think some of the execution of skills, there's a lot of room to improve. I'm quite happy with where I am and I've got a final phase now and then into taper, so I'm quite excited for the next block."
Of his weekend's efforts, Dean commented:
"I just wanted to come here and move it on from the Manchester International – that was the main aim. I had a bit of a shaky start to the three days in that 400, feeling a bit tired from training, but to finish off with that is good.
"GB 200 free is just a stacked event and it's always going to be an exciting race when you've got eight top guys going head to head - that only bodes well for trials in a months' time."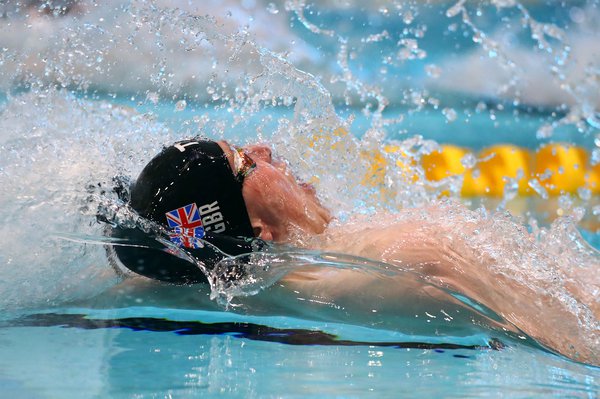 It's been all about the backstroke events this weekend and that themed continued on Sunday evening, Luke Greenbank taking the plaudits once more with a fast but fluent swim in the 100m event, seeing off strong competition from Joe Litchfield and Brodie Williams.
Kathleen Dawson and Cassie Wild delivered another brilliant 1-2 finish for Stirling in the Women's 200m Backstroke final, the race unfolding in a similar way to last night's 100m event, albeit with Dawson way over in lane one after a very controlled heat swim. 
Now second fastest Brit in history over the 100m discipline, Dawson set the pace throughout, with Wild never far away, the pair both setting new personal bests, Dawson going sub 2.10 for the first time in five years, whilst Wild put over 2.5 seconds into her old best.
There were no fewer than three British record swims in the para-swimming events on the final night of action, as Britain's best prepare for the British Para-Swimming International Meet next month, which doubles up as the trials for Tokyo.
In the Women's MC 100m Freestyle, Ellie Challis took down her own S3 record for the second time in the day, slicing another second off her mark set this morning with a 1.53.01 clocking. Zara Mullooly touched first in that one and took the win courtesy of a healthy 894 point haul.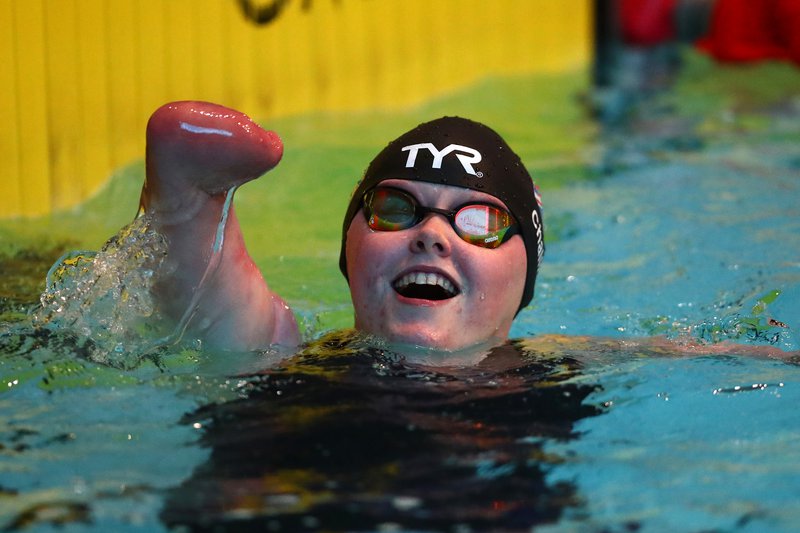 Of that record breaking swim, Challis commented:
"I went in this morning and was feeling a bit heavy in the water but I put out a great time and I knew I could go out tonight feeling a lot better, so I just put everything into play and had a good competition. I was really happy with my swims; my heats were a bit meh and then I went into the final and improved it – I did that all the way through the competition, improving heat to final, which was my goal."
It was a two horse race in the Men's MC 100m Backstroke final, Glasgow's World medallist Lois Lawlor, leading Swansea's Rhys Davies home. Both S14s, it was all about who touched first, with Lawlor winning by just shy of a second as both men were rewarded with points tallies in excess of 850.
The final of those record breaking swims came in the Men's 200m Breaststroke, made even more impressive given it was a solo effort. Whilst not a Paralympic or World event, Scott Quin's swim was no less impressive, a 2.27.83 clocking good for 982 points.
Sticking with that event, James Wilby rounded out a strong weekend with victory, after two runner-up finishes in the shorter breaststroke races. Leading from gun-to-tape, the Dave Hemmings coached swimmer got the better of Ross Murdoch, who also showed good form throughout, the Stirling man hoping to join Wilby on the plane to Tokyo at the trials next month.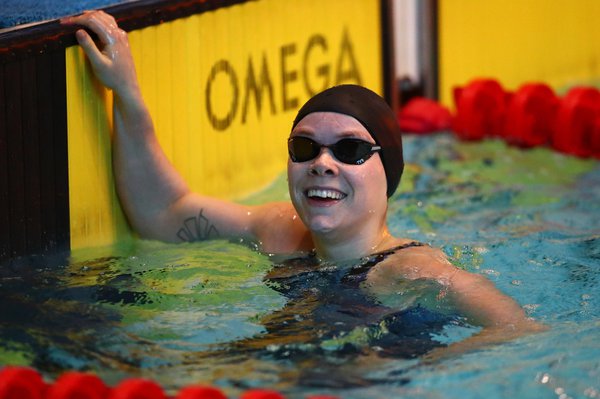 Anna Hopkin delivered a high quality victory in the Women's 100m Freestyle, holding off a late charge from Freya Anderson, with Edinburgh's Lucy Hope also in close contention. Hopkin flew down the first 50m, almost half a second up at the turn, but it was evident the fast finishing Anderson would come back at her. That she did, but Hopkin had enough in the tank, turning on the after burners in the final 10 metres to win by seven hundredths of a second.
Max Lichfield continued his good form throughout this meet, winning the Men's 400m IM in fine style, whilst Aimee Willmott followed up her 400m IM win last night with victory in the Women's 800m Freestyle.
World Champion Reece Dunn looked on good form as he took the Men's MC 200m Freestyle title, whilst Stephen Clegg produced another swim right out of the top drawer in the Men's MC 50m Butterfly, the S12 amassing over 900 points to take the win. Bath's Jacob Peters took the open race by some margin.
Maisie Summers-Newton also rounded out a good weekend's work with a win in the MC 200m IM, the Northampton based World Champion scoring 953 points to get the better of another strong swim from Grace Harvey. Cardiff's Harriet Jones took down the Women's 100m Butterfly final, with National Centre Loughborough's Sarah Vasey doing the same in the 50m Breaststroke.
Full results from all the action can be found here
You can watch all the action live and on demand via the British Swimming YouTube channel