Alice Dearing already has her eyes on more Olympic competition at Paris 2024 after placing 19th on a historic Games debut in the most challenging of conditions for the Women's 10km marathon swimming event at Tokyo's Odaiba Marine Park. 
The Loughborough University swimmer, drawn into the first starting position on the Tokyo 2020 pontoon, positioned herself just behind the bunched field during the early stages of the opening lap, with the leading athletes battling around each other in a congested manner and the race referee's whistle sounding regularly.
After an early lead for German Leonie Beck, Ashley Twichell of the USA took to the front and set a fast pace throughout the second and third laps, with a water temperature in excess of 29 degrees Celsius only adding to the intensity of this top-level Olympic contest.
Dearing – who qualified for Tokyo 2020 through a brilliant swim to fourth in June's Olympic qualifier in Setubal, Portugal – moved past a few rivals as that pace built, again latching on to the back of the leading pack and staying around 15 to 20 seconds off the leader as she sought to stay in touch ahead of the latter laps, an understandable tactic given her impressive back-end speed.
As the speed went up another notch from 5km, though, the 24-year-old – who appeared to miss out on at least one of the feeding opportunities at the starting pontoon – began to drop away from the pacesetting group, with a gap of just over a minute at the 7km mark.
The Olympic debutant showed admirable persistence to keep pushing in brutal conditions and with a classy field beginning pacey surges for the line from a distance out, Dearing coming in around five minutes after eventual winner Ana Marcela Cunha of Brazil, placing 19th overall in a time of 2:05.02.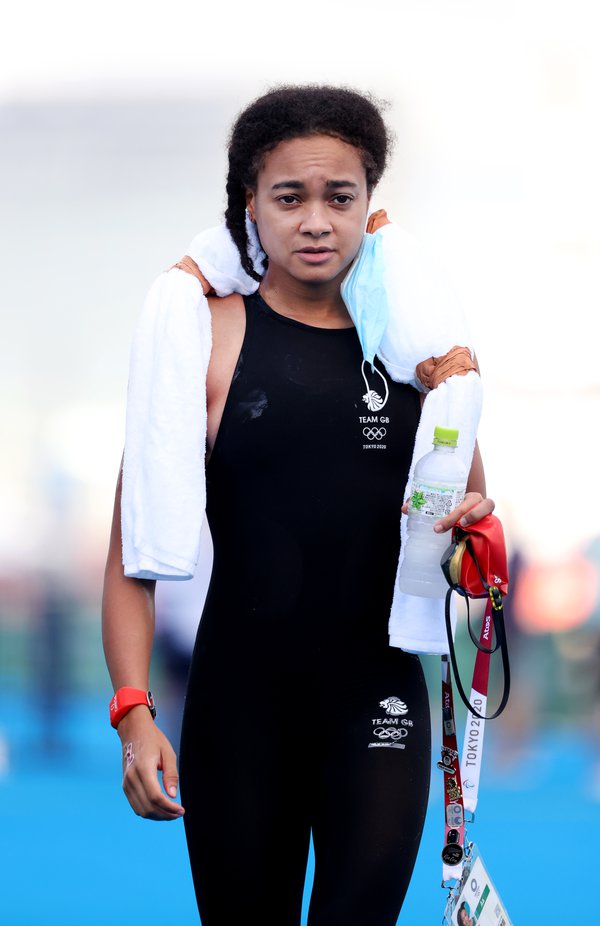 After more than two hours in the warm waters, Dearing admitted to mixed emotions as her maiden Olympic experience drew to a close.
"I'm tired, I'm pretty broken. It was really hard, a really tough race. I'm better than that, I know that, so I'll check over what went wrong and look forward to the next one next year," said the Andi Manley-coached swimmer.
"It's bittersweet for me. It was incredible to race at the Olympics, but I'm really disappointed with the result, I know I can do better. I want to go to Paris and have a better race.
"It was just the pace of it, I wasn't expecting it. I was constantly playing catch up for 2km, swimming at the same pace as the lead pack but not actually with them. That takes a lot out of you mentally and physically, not being in it with them. I've got a lot to learn, each race is a learning curve and I feel there's a lot of experience to be gained from this. I feel I've got a lot to give within the sport."
Regardless of the result, Dearing was always destined to make history in Tokyo after her successful qualification bid earlier in the year. As she dived into the Odaiba Marine Park course, the Oldbury athlete became the first ever Black woman to swim for Britain at an Olympic Games – and she had an inspiring message about the sport to end on.
"I just want people to know that it's open and available to you, regardless of your race or your background," added Dearing.
"If you don't know how to swim, get in and learn to swim. If you want to go to the Olympics, go and give it your best shot, don't let anybody tell you it can't be you. Go and chase your dreams if that's what you want to do."