Great Britain added three more medals to their ever growing medal tally at the European Short Course Swimming Championships on Saturday night, roared on by a brilliant Glasgow crowd.
After gold in the Women's 100m Freestyle last night, which in itself was a real breakthrough performance, Freya Anderson did it again over double the distance, before forming part of the GB Mixed 4x50m Freestyle Relay that stormed to silver. Before all that though it was Siobhan-Marie O'Connor that really got the crowd going as she bagged bronze in the Women's 200m Individual Medley.
For Anderson though, it was another indicator of both her uncapped potential and that she is now mixing it with some of the best senior athletes in the world. Despite only being 18 years of age, she swam a 200m race that belies her experience, finishing quicker than anyone in the race to come through for gold.
In fact the Alan Bircher coached swimmer was sixth with 50m left to swim, before producing a final 50m that was over a second quicker than anyone else in the race to take the title. Timed to perfection, she overhauled Federica Pellegrini with her final few strokes to stop the clock at 1.52.77, obliterating Fran Halsall's British record that has stood for 10 years.
Naturally delighted, she told the media afterwards:
"It's just amazing - I really didn't expect it. Even when I touched the wall and looked around I saw the one by my name I was like 'what!?'. I'm really happy with how I managed to pace my race and come back hard on the last 50m.
"I knew how a few of the others would swim it and thought if I could be with them at around the 150m mark I could make my move. It's a tactical race the 200m Free so I had to keep looking around whilst also focusing on my own race. I've never been good at short course and I've been working on my turns and skills for years, so to finally see it paying off is really rewarding.
"The crowd were amazing and even when I finished and looked up everyone was just so happy, it was really nice to see that. I saw my parents in the crowd, they weren't here yesterday, so today it was amazing to see them up there."
Just 20 minutes earlier Siobhan-Marie O'Connor delivered Britain's seventh medal of the championships so far, a complete performance rewarded with her first international medal since the European bronze she won in this pool last summer.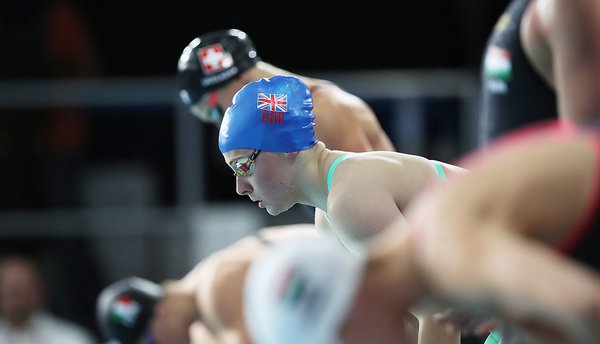 The Olympic silver medallist has been building form as the week has gone on, and in her favoured 200m Individual Medley she put it all together to earn herself a trip to the podium. To the fore throughout, O'Connor was locked in battle with Maria Ugolkova for the minor medals, with it all coming down to the touch. In the end it was bronze, with Siobhan more than satisfied:
"I'm pretty happy with that! It was close at the end, but I'm happy with it and I haven't been under 2.07 for a while. I could really hear the crowd and it was really nice when I walked out – it's that sort of thing that when you look back on your career you'll remember and I've been so blessed that throughout my career I've had lots of opportunities to race in front of a home crowd. It's such a great feeling and it's only when you take a step back that you can really appreciate it."
The third medal of a superb Saturday night at the Tollcross International Swimming Centre came in the final event of the evening, the Mixed 4x50m Freestyle Relay, with a quality quartet of Duncan Scott, Scott McLay, Anna Hopkin and Freya Anderson combining to great effect.
The men led the team off, with all of their rivals taking the same approach, the Stirling duo giving their female counterparts every chance. Hopkin produced an outrageous swim, which would later be confirmed as the fastest female split of the race, to mean Anderson would enter the water neck and neck with her rivals.
With two gold medals to her name already the Ellesmere swimmer delivered, a blistering anchor securing silver to the home crowd's delight. For both Hopkin and McLay this was their first senior international medal, well deserved after breakthrough years and some superb swimming this week.
McLay commented:
"I'm really happy with tonight - we've all come together to produce our best and we're lucky enough to come away with some silverware, so I'm really happy with our performance."
Anna added:
"It's great that we've managed to get a medal in the relay. We've come quite close each day, so it's good to finally get on the podium."
Duncan Scott concluded:
"I think for us to get a medal we all had to produce something quite good and I think we all managed to do that in our own individual legs. Anna was the fastest in the field for the women, Freya produced the same sort of quality as last night and then Scott produced the fastest split he's ever done, so it was just a pleasure to be a part of that team."
Scott had already swum in two semi-finals, the Men's 100m Freestyle and the Men's 100m Individual Medley, a brace of quality swims ensuring he'll contest both finals tomorrow night.
Of his individual swims, Scott said:
"I think I'm potentially feeling it a bit now after several day's races and the last couple of weekends I've had as well. I'm just happy that I've made both of them back and I've another great opportunity to get back in and race against world class competitors."
The second semi-final of the medley featured PB machine Joe Litchfield, who delivered another great swim to ensure he'll join his teammate in tomorrow night's final. Against a strong line-up Litchfield lowered his personal best, set just this morning, further, as he touched fourth to secure the last spot into the final.
"That's another PB – I think I've PB'd in every race other than last night's final! I'm happy with that swim – as soon as I touched I got the thumbs up from my Dad in the crowd so I knew I was through. I don't know what will happen tomorrow but I'm not a million miles away from anyone, so it should be a good race."
After a personal best performance in the semi-finals of the Men's 100m Breaststroke, Ross Murdoch went into the final full of confidence, leaving it all out there as he attacked the race from the gun. In the mix most of the way, the local hero faded slightly down the final length after a poor turn, having to settle for eighth place.
O'Connor returned to the water later in the session to contest the Women's 100m Butterfly semi-finals, which was a tall order after her efforts in the medley and then having to dash to the call room straight from her medal presentation; she couldn't quite do enough to advance. Georgia Davies also went in the Women's 50m Backstroke semi-finals, improving from her swim in the heats this morning but missing out on a spot in the final by a mere place.
With one day of the championships remaining, Great Britain currently sit fifth on the medal table with nine medals; three gold, three silver and three bronze.
Full results can be found here
Tickets for the remainder of the European Short Course Swimming Championships can be still be purchased here (limited availability for some sessions), with live streaming of Sunday's finals available via the the BBC Sport website and BBC Red Button.