The European Short Course Swimming Championships got underway on Wednesday morning, with Luke Greenbank one of the standout Brits in action.
Lining up in the heats of the Men's 200m Backstroke, Greenbank, who won World Championship bronze in this event in the summer, laid down a clear marker to his continental rivals as he broke a 10 year old British record to easily advance.
Lining up in heat two of four, the National Centre Loughborough swimmer took victory by some margin, touching in 1.50.47 to knock a quarter of a second off Chris Walker-Hebborn's mark. Importantly that saw him into the final as third quickest, meaning he'll take one of the centre lanes in the final.
"I'm really pleased – it's always going to hurt swimming a 200m Backstroke short course, so I knew no matter how hard I went it was going to be tough, but I'm really pleased to come out with a PB. I'll go back and review how the race went, look at my turns and maybe my pacing – I don't know what my splits were there but I've got a plan in my head about what I want to do, so we'll go and have a look."
"This summer gave me a huge amount of confidence and a big boost, so I'm looking forward to seeing what I can do this season now."
Also in the 200m Backstroke, Brodie Williams was just squeezed out of a place in the final after a strong swim saw him finish third in heat three, whilst Max Litchfield and Nick Pyle also fell just short. Sticking with the backstroke, Georgia Davies made sure of her place in the next round of the Women's 100m event, winning the third of four heats, meaning she'll swim again this evening.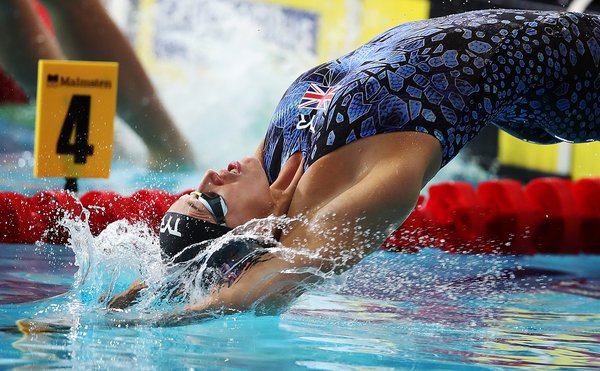 Tom Dean booked his spot in the Men's 400m Freestyle final with a commanding swim in the third of five heats, touching well clear of his opposition thanks to a three second personal best. Looking in complete control as he pulled away down the final two lengths of the 25m pool, Dean will hope to step up his game further this evening.
"That was good. It's always a case of blowing away with the cobwebs with the first one, but to get in there and swim a three second PB and feel really relaxed it bodes well. It's good to be back in Glasgow as my first ever GB team was here, I had a good trials here last year, so it's a good pool for me."
The third set of British finalists from this first morning session were the Men's 4x50m Freestyle relay quartet, who looked in great form as they qualified third quickest for tonight's final. Duncan Scott gave the team the perfect lead off, touching first, with his training partner Scott McLay maintaining the team's advantage. Backing the Stirling pair up were Joe Litchfield and James Guy, bringing the team home third.
Afterwards Scott commented:
"It was nice to get my first swim done with these guys and for us to be top three without Ben Proud, who is obviously the fastest guy in Britain, is pretty good. It's not an event any of us would admit we focus on, so we're pretty happy and we'll be back tonight."
In the first event of the championships, the Men's 100m Butterfly heats, Joe Litchfield set a personal best as he and James Guy safely advanced to tonight's semi-finals. Afterwards Litchfield reflected:
"That was good – it was a PB so I can't complain! That has put me through and so I'll come back later on and try and go faster. It still feels a bit weird – it doesn't feel like we should be swimming at an international meet, as I've never done it before in December, so it's very different. This is my first British team at senior level, so it's good to be here and get some fast racing in before the long course season. I'm doing a lot this week, but in the 100m fly and 100m back it's going to be about getting into semis and finals and trying to mix it with the big guys – let's see if I can turn a few heads."
Also in action was Scott McLay, who despite posting a personal best couldn't quite do enough to advance.
Local hero Ross Murdoch took to the water for the first time in the Men's 50m Breaststroke heats, he and James Wilby both drawn in the final heat. Murdoch fought hard to touch fourth, which was enough to see him back for tonight's semi.
"That was alright for a heat swim and I think that should be comfortably out of the heats. I'll race it again tonight and see if I can find anything to get myself around the walls a bit faster. I had quite a long glide into the wall on that final stroke, so I was probably right on for a PB until that point. If I can hit the turn better I'm sure I'll be grand for tonight.
"You could definitely hear people cheering on the Brits, which is great for a heat session, and there were quite a lot of Italians out there as well, so bring on this evening."
James Wilby also went in heat six, finishing just two spots behind his teammate, but it wasn't quite enough to advance - his focus is very much on the longer events later in the week. Molly Renshaw and Kayla Van Der Merwe went in the heats of the Women's equivalent, both using it to blow out the cobwebs ahead of their favoured longer breaststroke events later in the week.
Full results can be found here.
Tickets for the remainder of the European Short Course Swimming Championships can be still be purchased here (limited availability for some sessions), with live streaming of this evening's final available via the the BBC Sport website and app here.