Luke Greenbank showed exactly why he has been pre-selected for the Tokyo 2020 Olympic Games as he broke the long-standing British 200m Backstroke record on Friday night in Manchester.
Following on from the Manchester International Swim Meet last month, where the Loughborough National Centre swimmer was also on fine form, the backstroke man upped his game, setting a personal best in his heat during the morning session.
Come the final all eyes were on lane four and the clock, and Greenbank duly delivered with a fabulous swim. 56.33 at the halfway mark, the Mel Marshall coached swimmer was already up on the field, but a typical strong final 50m saw him put more water between himself and his nearest rivals, as eyes turned to the scoreboard. 
The clock confirmed what everybody hoped, a 1.55.34 time taking a quarter of a second off James Goddard's 2010 record, which Greenbank was naturally delighted with:
"I'm over the moon with that! I came into this meet wanting to build on the last one and to do that in the heats gave me great confidence for the final tonight. I've had my eyes on this one for a while, but I didn't think I'd break it in-season, I thought it'd be at trials where I could have a go at it. 
"It feels absolutely amazing, and obviously it was James Goddard's record before this and as a kid I watched him swim at an international level, so was he kind of an idol of mine, so to get that record is amazing."
The Men's 100m Breaststroke final was another of the highlights on the first of three days of action, with Adam Peaty and James Wilby, who like Greenbank are pre-selected for Tokyo, going head-to-head.
Peaty was out quickest, but Wilby was on his heels one lane outside him, as a strong field chased hard. In the end Peaty prevailed, as he did one month ago in this same venue, with both men well inside the 60 second mark.
On taking the win, Peaty commented:
"I think off the last month I executed the race plan really well, but it was a hard race in terms of getting up for it. I think the biggest challenge now as athletes is getting yourself into that zone where you can perform when there's an empty crowd and you can't feel the awe around the place. I did what I could; you know it's still extremely fast - that would probably medal at worlds - so I'm in a very good place."
Wilby, who also trains at the National Centre Loughborough, showed great progress from four weeks ago, going seven tenths quicker, the Dave Hemmings coached swimmer reflecting:
"The last 12 months have been a challenge for everyone, and personally I've found it challenging to get back into competition. It's taken me a little while to find my groove but I'm happy to back where I was, give or take, this time last year. The main thing is that I feel good going into trials, because I know when we enter a tapered competition phase there's that natural drop down and so I'm looking forward to it."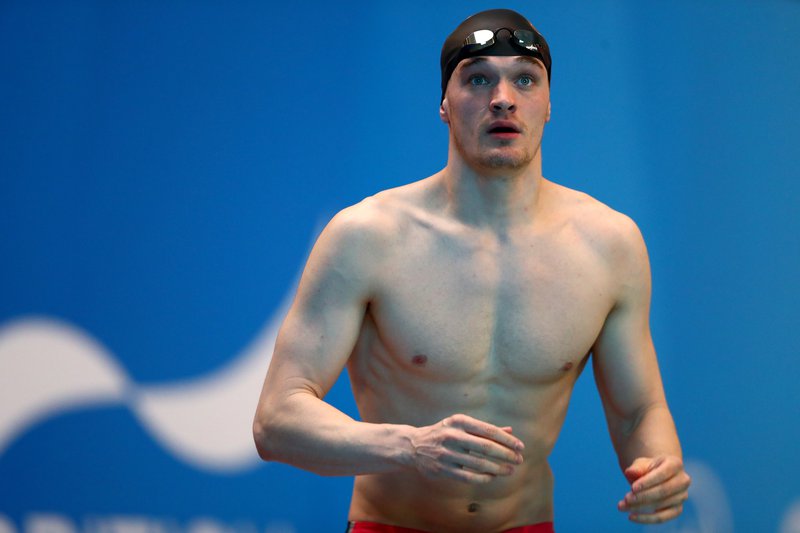 With the meet being run under strict COVID protocols, and with a limited number of athletes eligible to compete based on the government's Elite Athlete Return to Training lists, Wilby also shared a messages for those who aren't as lucky as he.
"It's really challenging for everyone, and we've been really fortunate in that we've been able to be in the water pretty consistently. I really do sympathise with the people who aren't able to train and I hope the light at the end of the tunnel remains there – we can see it and let's just hope that timeline remains in place."
Stirling's Kathleen Dawson was another swimmer on fine form as she streaked clear to win the Women's 50m Backstroke, lopping three tenths of a second off her personal best, which bodes extremely well for the 100m event tomorrow.
Lining up alongside the likes of Georgia Davies and training partner Cassie Wild, who were second and third respectively, Dawson showed her potential, finishing almost half a second clear, and looks to be finding career best form after a knee operation side-lined her for a large part of 2019.
Speaking afterwards, the Steve Tigg coached swimmer said:
"I'm very pleased with it – it's a PB and a Scottish record, so I'm very happy. We've been doing time trials at Stirling and I've been swimming well, so I was quite confident in myself that I could replicate those swims at an official meet - it's great to actually do it." 
James Guy was another swimmer showing strong form, as he dispatched of an extremely deep Men's 100m Butterfly line-up, punching the air in delight after touching first. Guy's Bath training partner Jacob Peters also swam extremely well to take second place, whilst there was a personal best for Joe Litchfield in third. Having equalled the British record last time out at the Manchester Aquatics Centre Molly Renshaw was once again on good form, streaking clear to win the Women's 200m Breaststroke in decisive fashion.
Daniel Jervis was one of the swimmers to really make a mark at the Manchester International last month over his favoured 1500m event, but he looked in equally fine form today in the shorter 400m discipline, winning by some margin. Plymouth Leander's Laura Stephens also delivered a high quality in-season swim to take the win in the Women's 200m Butterfly, just a second outside her lifetime best.
The Women's MC 400m Freestyle got proceedings underway on Friday evening, where just 50 points separated the first four, Zara Mullooly coming out on top, the 19 year old S10 swimmer amassing 874 points, to get the better of S6s Ellie Simmonds, Masie Summers-Newton and Grace Harvey.
Rhys Davies had the pool to himself in the Men's MC 200m Backstroke, but none-the-less delivered a performance to be proud of as he racked up 950 points with a 2.16.31 swim; amongst the other winners in the para-swimming events were Ellie Challis in the Women's MC 50m Backstroke and Michael Jones in Men's MC 400m Freestyle.
Full results from all the action can be found online here, and replays of the live stream available on the British Swimming YouTube channel.