Bath National Centre pair James Guy and Tom Dean served up a couple of eye-catching swims to round out day two of the Manchester International Swim Meet and show that a lack of competition in the past year is not holding them back. 
Olympic silver medallist Guy triumphed by a sizeable margin in the Men's 200m Butterfly – the evening session's curtain call – to come within half a second of his four-year-old personal best in the event. 
It owed much to an ambitious first 100m that saw him surge clear of rivals Max Litchfield, Ed Mildred and Charlie Hutchison, with the 26-year-old then able to maintain his rhythm all the way to the line to win by more than three seconds.
"It was a great swim and I'm really happy with the time. It just shows that what we've been doing in Bath over the past 10 weeks has been working," said Guy, who works under David McNulty. 
"I've been doing a massive, consistent block of work, and that's starting to come together now, grinding, day in and day out, it's just nice to see that everything is coming together. We're a few weeks out from Olympic trials, I'm really happy with things and it's a positive sign. 
"It's just nice to be back racing again and in an Olympic-sized pool. Wearing masks on poolside, following the strict COVID procedures and warming up in different slots, it's the same for everyone but trying to adjust to it can be quite tricky, and I think that's where I went wrong on day one – but you have to live and learn. It's a privilege for us to be back in the water and racing again." 
Guy's healthy time gap in victory proved a rare thing on a night when tight finishes were on show again and again.
That was certainly the case in the Men's 100m Freestyle, which boasted a strong field and ultimately saw Dean victorious, thanks to a quick opening 50m and then his ability to stay strong under pressure from Matt Richards. Dean was also rewarded with a personal best, showing his strength across the freestyle distances, given he usually specialises in the 200m and 400m disciplines. Derventio's Jacob Whittle – who had PBd in the morning – rounded out a top three that all went under 50 seconds.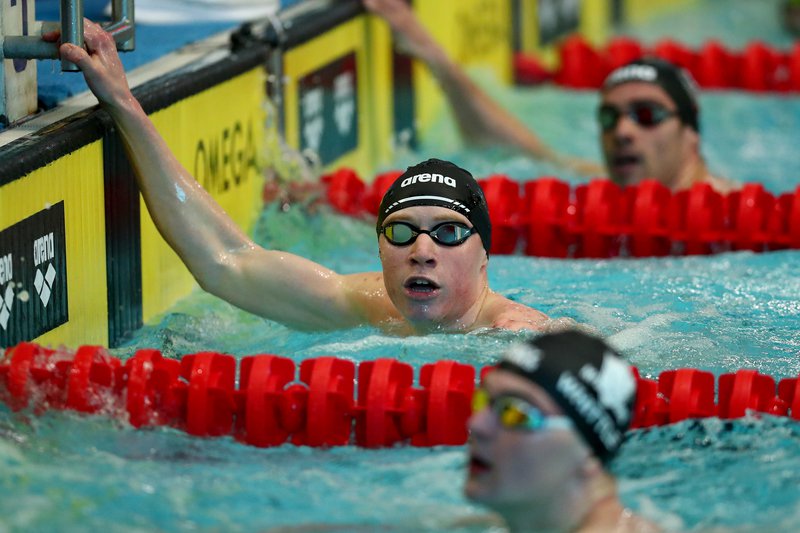 The Women's 200m Freestyle final also boasted one of the fields of the day – and it culminated in a superb contest between David Hemmings-coached Abbie Wood and Freya Anderson, who trains under the guidance of McNulty in Bath. Wood got out front early and managed to hold on for the full race, despite a late charge by Anderson, the former breaking a second personal best of the weekend to win by a mere 0.04 seconds. 
The morning heats, meanwhile, saw Swansea University man Daniel Jervis in promising form, as he controlled the Men's 1500m Freestyle race from start to finish to claim the title. 
Jordan Catchpole picked up where he left off on day one, when he broke the British S14 50m Freestyle record, the Team Waveney athlete producing a hat-trick of mixed classification (MC) wins in session four. Day two of this unique meet saw him open up with a triumph in the 50m Backstroke, before taking the 200m IM and then a 100m Freestyle first place to continue a wonderful weekend of swims, the latter with a points tally of 831. 
"I'm feeling absolutely shattered now, to be honest! I'm pretty happy with how all my races have gone though," he said. 
"Obviously the British record yesterday was a shock to me, and today's races, I'm really happy with how they went – I was just off my PB in all three. It's a very hard day's work, and I'm feeling it now!
"It feels amazing to be back. It's weird without a crowd, but that's one thing we've got to get used to for now, really. I'm enjoying it and we're all having fun along the way. I've got my main race, the 100m Backstroke, plus the 200m Freestyle tomorrow. I wanted to come here to see how I was doing, how far off my personal bests I was – so to hit and break PBs is a shock to me and I'm really happy." 
Elsewhere, after a record-equalling performance to win the Women's 200m Breaststroke on day one, Molly Renshaw added the 100m title to her weekend's efforts, relying on a powerful final 25m to edge out Sarah Vasey in one of the night's other down-to-the-wire finishes. The mixed classification race followed and served up another intriguing contest, S14 athlete Louise Fiddes getting the better of S6 duo Maisie Summers-Newton and Ellie Simmonds, who placed second and third respectively. 
Adam Peaty continued to show how well his training has been going despite the lack of competition over the past year, powering away to win the Men's 50m Breaststroke, building well from heat to final. 
Earlier on, Millfield's Lily Booker sliced more than five seconds off her personal best to take victory in the Women's 400m Individual Medley, while Cardiff's Harriet Jones caught the eye in a packed Women's 50m Butterfly showpiece, knocking half-a-second off her personal best to finish third behind Marie Wattel of France and Sweden's Louise Hansson. Ellie Robinson also put in a solid performance to take the multi-classification win ahead of Ellie Challis and Leah O'Connell.
For full results from day two, click here. 
To catch every moment of the heats and finals on the final day of the meet, visit the British Swimming YouTube channel.