"While it might've been surprising to the outside world, some of the times the girls posted, we were more expectant of that because of what we had seen them do."
Bradley Hay, High Performance Swim Coach at the University of Stirling, sounds a lot like his athletes when he reflects on the performances of the Scottish-based cohort at the British Swimming Invitation Meet earlier this month. 
Backstroke pair Kathleen Dawson (pictured, top) and Cassie Wild - who broke five personal bests between them across the three-day event - were among the Stirling stars who caught the eye in Manchester on their return to competitive long-course swimming, a year on from their previous races, while versatile Olympian Duncan Scott was quick to show his quality again with a string of impressive swims. 
Both Dawson and Scott explained afterwards how one key aspect of their recent training had set them up for such successful returns to the competitive arena: time trials. And as Bradley explains, he, Steve Tigg and the rest of the Stirling staff made sure those preparation pushes did not feel like your average training swims. 
"Given the circumstances of the past year, there was a little bit of work to be done around mapping out our season, to keep the athletes hooked and giving them that focus," says Hay.
"We had six athletes at the ISL (International Swimming League) in October and November, which was great for them, and you could see from the results that they just enjoyed and appreciated racing, really enjoying that competitive element. It showed in their performances.
"For the guys back here, we put in a few short-course time trials, and then we started building a little internal competition calendar, just to give that structure that they were used to. So initially we started that with short course and then carried it through, over Christmas and into long course.
"We're blessed in one sense because we have a lot of depth within our squad, and that means we've got a very competitive training group and so there's always motivation for them to swim fast and race hard and honestly.
"One of the key things with the time trials was selling to them that it's not just a training race, you're not just in your training pool and stepping up to do a little timed swim. It was almost a case of saying with each one, 'this is your race opportunity now, you need to make the most of it', explaining to them why it's important to change your mindset, what are you going to do on that day to challenge yourself and get what you need out of the opportunity? 
"We filmed them and did race analysis as we would at a meet, so the athletes could make changes as based on those performances, and so they could see progression or improvement in certain areas from one time trial to the next."
The Stirling coaching team put up prizes and came up with a new awards system, including one for the athlete who went furthest under their personal best, as further competitive incentives. 
But as well as testing the swimmers on the work they had been putting in in the pool, the bespoke time trials allowed Hay and Tigg to see how their athletes could adapt to the new and unique conditions that could meet them on deck in the coming weeks and months.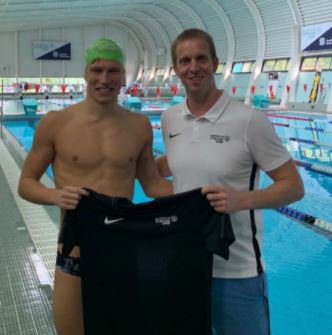 "With some of the athletes, we'd sit down the week before and identify some key areas to work on, again just to focus their attention going in, because some of the feedback going into the second and third one was that it was quite difficult for them to motivate themselves," adds Bradley.
"In the second long-course time trial we did earlier this year, we deliberately took the atmosphere right down. We had no music, pretty much no communication with coaches, and it was very much on them. If they wanted music, they had to provide it themselves, if they wanted motivation, it had to come from them - because we didn't know what competition would look like in venue. 
"There's been some good learning opportunities provided within those time trials - and the key thing is the athlete honesty. Like I say, the depth within the group kept them honest. The two backstroke girls, for example, are both world-class athletes, so if one of them has an off race, the other one is bound to be champing at the bit to try to get by them. That healthy competition has been really good." 
It certainly paid off at the British Swimming Invitation Meet, where Stirling athletes put in strong displays and quick times across the board. 
Dawson was arguably the standout, with victories in the Women's 100m and 200m Backstroke contests, but Wild and Scott were also on song, while Commonwealth champion Aimee Willmott won the Women's 400m Individual Medley and 800m Freestyle double. 
Even though Hay and Tigg were hopeful of such successes, it was still reassuring to see their athletes deliver on what they had promised back up in Stirling.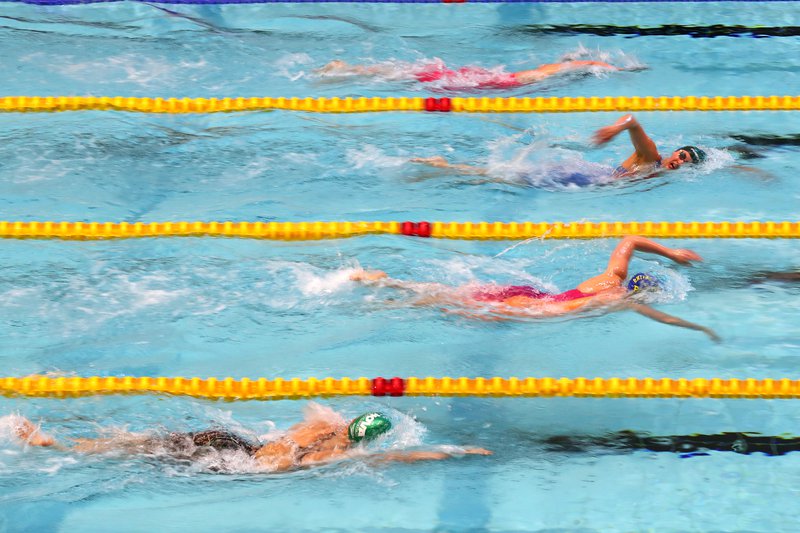 "It was very pleasing. Obviously we'd had the time trials, we'd seen some of the events where athletes had done best times, so then it was actually good to go into a proper race environment, against their peers, and back those swims up," says Hay.
"You have to be able to do it in the arena, otherwise it doesn't matter. It's all well and good doing a time in training, but you've got to do it when it matters.
"It's good that they're all in a really good place moving into the preparation phase moving towards trials, so psychologically, Manchester was a really good marker."
Learning and adapting has played a key role for all involved in elite sport over the past 12 months - and that is no different for High Performance Swim Coach Bradley, who had to get used to a long stint away from deck in the middle of 2020.
When it comes to the biggest lesson he has taken away in recent months, though, it again comes back to athlete preparedness.
"One of the things we do here in Stirling is to try to encourage the athletes to be independent and to engage with staff and practitioners when and where they need it," he adds.
"It's important for the onus to be on them to drive things forward. As much as we are there to steer the ship, it really has to come from them in terms of their motivation and desire and drive. That has proved to be really important in terms of validating what we do and why we do it - and quite a few of the athletes are now reaping the rewards of that self-learning and independence."
To catch up with all three days of action from the British Swimming Invitation Meet, head over to our YouTube channel.