Daniel Jervis was one of two Team GB swimmers into action for the first time at Tokyo 2020 in this final heats session – and the Swansea Aquatics man was in confident, composed form to comfortably secure his place in the Men's 1500m Freestyle final.
On his Olympic debut, Jervis took things out with intent, leading after 500m and looking good for it. While 2019 world champion Florian Wellbrock of Germany overtook him at that stage, there was no loss of control from Jervis thereafter, the Commonwealth medallist sticking to his task to ensure nobody else passed him and he went through fifth-fastest.
His finishing time was a full eight seconds faster than the one he clocked in the recent European Championships final – and Jervis believes the pressure is now very much off.
"That was really good, I'm really happy. I'm in the best shape of my life, physically, and over the last 18 months I've worked on my mental state in the pool," he said.
"This is the Olympic Games, this is the biggest one. Normally I come to these big competitions and I put a lot of pressure on myself, it's 100 per cent from myself, everything else is just good support. That swim shows I've excelled in what I've worked on, and now hopefully on Sunday I can go into the race knowing the heats are the hardest part – the final will take care of itself, I just want to have a bit of fun.
"I'm at the Olympics, this is my dream and all I want is to have a good time. Team GB are doing so well, I'm so proud to represent them and to represent Wales and my community. I'm Daniel from south Wales, I just want to show people back home, a normal person like me, that if they work hard, they can do anything."
Ben Proud eased into the semi-finals of the Men's 50m Freestyle as his Olympic Games campaign finally began on the seventh day of swimming at the Tokyo Aquatics Centre.
Proud – who placed fourth in this event back at Rio 2016 – dived into the fastest and final heat, and he did enough to keep alive his bid for 'splash and dash' glory come Sunday, a composed technique throughout the race qualifying his spot in the next round.
Having watched the bulk of his Team GB compatriots involved across six action-packed days before, the former world champion is glad to finally be in action himself.
"We planned for this, we expected to stay back at the holding camp for an extra week. As much as that's great to do, I really now need to get into the meet, pick up performances and treat it like an Olympics," said Proud.
"That heat was okay, I've made it through which is what you need to do – but at the same time, it's about tomorrow morning, get through the rounds and put in my best performance. Having been watching the guys, medals coming more and more often, for me, I want to get into my race now. Now's the real job, go get rested, prepare well for the morning and then do my best to make it through."
The session finished with the heats of the Men's and Women's 4x100m Medley Relays, with Britain's men earning a central lane for what will be the final event of the pool swimming programme on Sunday.
The quartet of Luke Greenbank, James Wilby, James Guy and Duncan Scott put in a well-measured effort in heat two, with Greenbank showing good energy after powering his way to individual 200m Backstroke bronze earlier in the day.
Wilby, having competed in two individual finals at Tokyo 2020, showed his value to the team by dragging Britain up to parity with the second-fastest breaststroke leg in the pool and handing over to Guy.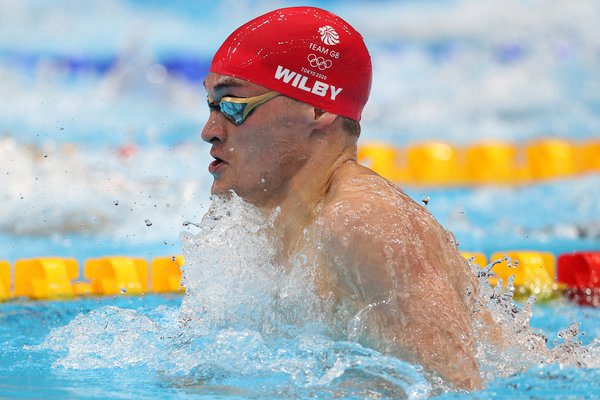 Versatile relay man Guy did what he does best, saving some speed for the back 50m to nudge GB to the front, before another 'job done' moment from Scott, fresh from a 200m Individual Medley silver swim in the morning and bringing the quartet home first in the heat and second overall into an intriguing final.
On the result, Wilby said: "I loved it, I love being part of the relays, it was really fun. It makes the swim a little bit more special doing it with the other four and regardless of the time of my individual split, it's really good fun. 
"It's nice to be in a good position going into the final and I'll be there to support them for the next 36 hours - I'm really excited to see what will happen in the final."
It was not such good news for the women's team, who placed fifth in the opening heat to miss out on qualification. 
Cassie Wild, Sarah Vasey, Harriet Jones and Freya Anderson were the four, with Bath National Centre athlete Anderson putting in a solid anchor effort but just unable to overhaul China, who took the final qualification spot by three tenths.
Check out the updated schedule for tomorrow's semi-finals and finals by visiting our 'What's On?' page