The 2023-24 edition of the British Universities and Colleges Sport (BUCS) Short Course Championships witnessed Loughborough Swimming lift the open, women's and overall champion trophies – whilst Fleur Lewis and Faye Rogers individually wrote their names into the swimming record books.
[Images courtesy of Flynn Duggan / BUCS]
In the opening finals session of the BUCS championships Loughborough student, Fleur Lewis helped the charge of her University to their trio of titles with Women's 1500m Freestyle victory a new leading British short course mark.
With a solid lead established by the halfway point of the race, Lewis continued to consistently pace out each consecutive lap up and down the 25m pool in metronomic fashion before injecting a bit of closing pace over the final 50m to stop the clock on 15:46.15 – breaking a British record that had stood for 18 years.
Loughborough's campaign was further solidified with BUCS titles from Freya Colbert (200m and 400m Freestyle), Lauren Cox (50m and 100m Backstroke), Calving Fry (50m and 100m Freestyle), Charlie Hutchison (200m and 400m Individual Medley), Lily Booker (200m Breaststroke), Greg Butler (200m Breaststroke) and Honey Osrin (200m Backstroke) across the weekend in Ponds Forge, Sheffield.
Meanwhile, University of Aberdeen's Faye Rogers added to her personal accolades with a European para-swimming short course record of 1:05.14 in the Women's S10 100m Butterfly during Saturday's action. The 2023 long course world champion added a further multi-classification win in the Women's 100m Freestyle, whilst the 'Top Open Para Swimming Performance' respectively went to Timon Chapman (S14) for his hattrick of MC 100m strokes wins (Freestyle, Backstroke and Butterfly).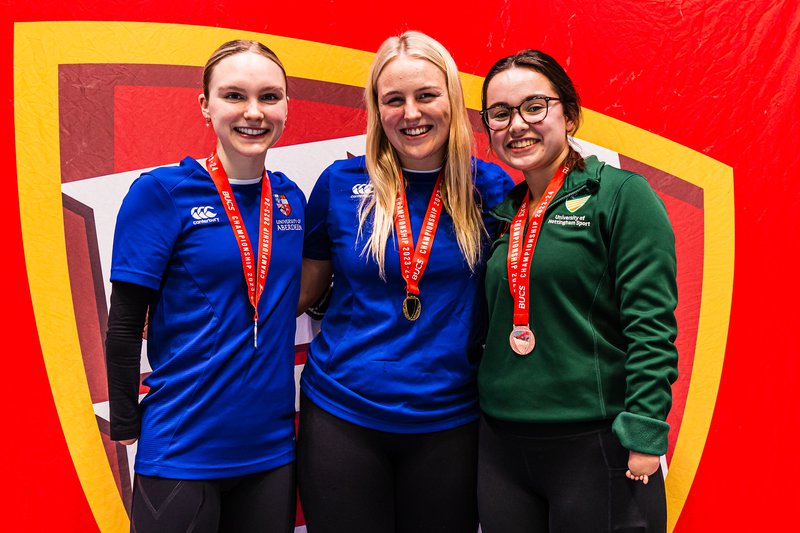 Four further British athletes took a treble of individual BUCS titles across a highly competitive three days of racing; with Katie Shanahan (University of Stirling) locking out wins across the Women's 100m, 200m and 400m Individual Medley events, Cameron Brooker (University of Bath) producing an outside lane victory in the Open 200m Freestyle prior to a 100m and 200m Backstroke double, and Archie Goodburn (University of Edinburgh) getting into the wall first in the Open 50m and 100m Breaststroke contests in addition to topping the 100m Individual Medley standings – each racing ahead of being part of the 35-strong British team heading to the European Short Course Swimming Championships in Bucharest next month.
Rio 2016 Paralympic silver medallist, Abby Kane (S13) rounding out the aforementioned list of treble winners - with Women's MC 50m Freestyle, MC 100m Backstroke and MC 100m Breaststroke wins for the University of Stirling.
Elsewhere Lewis Fraser (Swansea University) accomplished the Open 50m and 100m Butterfly BUCS title brace, Keanna MacInnes (University of Stirling) and Josh Gammon (University of Bath) took respective 200m Butterfly victories, Lucy Grieve (University of Stirling) triumphed in the Women's 100m Butterfly and Oliver Morgan (University of Birmingham) sprinted to the Open 50m Backstroke win.
Full event details including results and live stream can be found at www.bucs.org.uk.