The British Swimming Championships never fail to serve up breathtaking sporting contests and drama, as the best swimmers from across the country come together to compete for titles, medals and records.
Places on the national team for that year's biggest international events are also always up for grabs - and athletes have been known to give an early insight into future success on the biggest stages. 
With this year's British Championships - which were cancelled due to the ongoing coronavirus pandemic - initially having been set to take place throughout this week at the iconic London Aquatics Centre, what better time than to look back at some of the standout moments from Championships gone by? 
2019 - WILBY PIPS MURDOCH IN 200M BREASTSTROKE SHOWSTOPPER
On commentary, Bob Ballard suggested it felt like watching an Olympic final as James Wilby, Ross Murdoch and Craig Benson battled for victory in an epic Men's 200m Breaststroke final to at the 2019 British Swimming Championships in Glasgow. 
Wilby had already claimed 100m silver, Murdoch a bronze in the 100m and silver in the 50m, and Benson 50m bronze as they lined up for the final race of day four.
Commonwealth Games champion Murdoch got the best start, only for Wilby to just overhaul him by the first turn. Wilby continued to lead as a dramatic showpiece continued, although Murdoch and University of Stirling teammate Benson were unwilling to let him get clear. 
Down the final 50m, Murdoch appeared to be clawing Wilby's narrow lead back, only for the Loughborough University man to hold on well and claim gold. Murdoch made sure there were two finishers under 2:08, touching close behind at the end of a thrilling contest.
"I'm really happy with that. It hurt on that back 50 - Ross and Benson were right there, but I just focused on the wall and went for it, and I'm really happy with that time," said Wilby.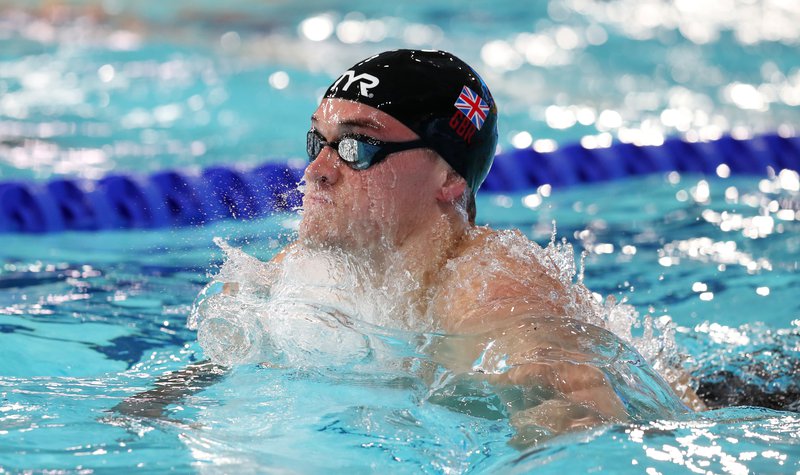 "That's the first time we've had two people go under 2:08. We've got a phenomenal bit of breaststroke depth going on in Britain at the moment, so it's really exciting."
And what did Murdoch make of the contest?
"The race was pretty good! I probably went out a little hard in the first 50 as I was one stroke more than I wanted to be, but that doesn't really matter as long as I execute the rest of the race correctly," he added.
"I've been looking forward to it all week! Just to see 2:07 on the board, I'm absolutely delighted and it shows the amount of work I'm putting in. It's looking really positive." 
2018 - JUNIORS BRING THE CURTAIN DOWN IN STYLE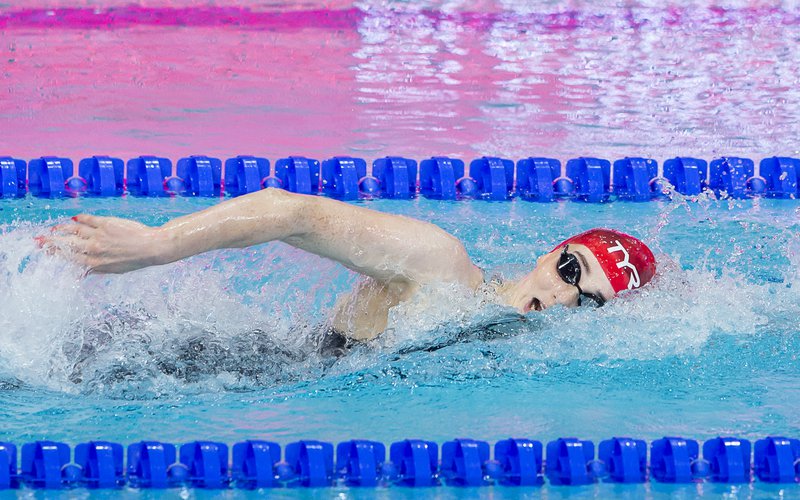 The 2018 Edinburgh International Swim Meet incorporated that year's British Swimming Championships - and the event's final day was one for the youngsters. 
Four of the eight open finals on day five of the meet were won by juniors, including two who would go on to claim gold medals at the European Junior Championships a few months down the line - Freya Anderson and Tom Dean. 
City of Leeds athlete Leah Crisp began the evening session by taking the British title in the Women's 1500m Freestyle, finishing behind Spanish duo Mireia Belmonte and Jimena Perez. 
Jacob Peters was the next junior to triumph in an open final, taking British gold in the Men's 100m Butterfly showpiece, ahead of Duncan Scott, who took silver. 
"I'm really happy with that swim. Actions speak louder than words, so I'm just leaving it in the pool," said the Poole Swimming Club swimmer. 
Ellesmere College Titan Freya Anderson then became the third junior in quick succession to climb to the top of the national podium as she beat home favourite Lucy Hope to the gold in the Women's 100m Freestyle category. Bronze went to another Edinburgh-based swimmer, Katie Stark.
The final event of the entire week brought another win for a junior, Tom Dean powering to Men's 400m Individual Medley victory, ensuring he did the Men's Individual Medley double after previously winning the 200m final. 
All in all, that entertaining evening gave a small glance at some of the exciting talent coming through the British Swimming ranks.
2017 - IT'S FOUR FOR GUY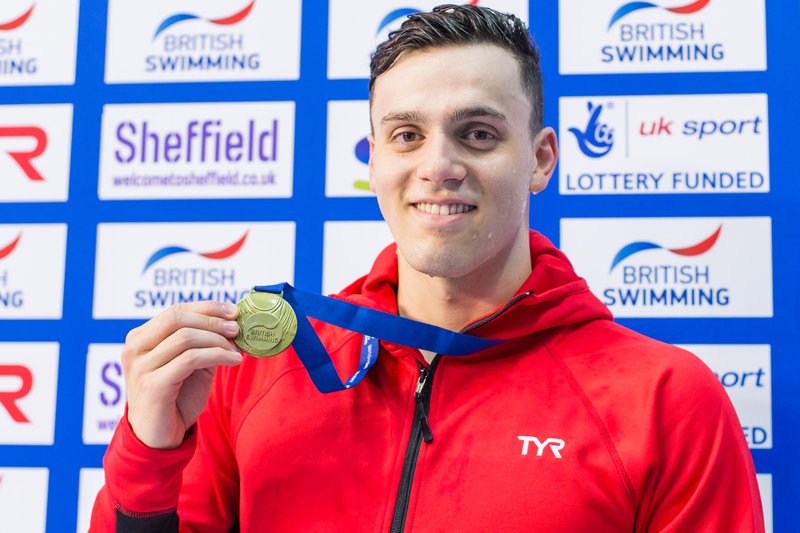 Double Olympic silver medallist James Guy enjoyed a British Championships to remember in Sheffield in 2017, as he left the Ponds Forge International Sports Centre with four gold medals and national titles to his name. 
The National Centre Bath man started how he meant to go on by winning the Men's 400m Freestyle final on day one, ahead of Stephen Milne in second and third-placed Max Litchfield.
Next up for Guy was the 200m Freestyle. That event brought him a new personal best of 1:55.91 on the way to gold - even if the race did not start how he would have intended.
"When I dived in, my goggles leaked and my hat started coming off, so to come away with that gold is great," he said at the time. 
"It's not my main event, but it helps my 200m and 400m Freestyle because it's an endurance and stamina event. By doing some more fly training, it gives me extra power in the pool and I actually enjoy racing it." 
Another personal best and another gold came Guy's way in the 100m Butterfly on day four, meaning there was the opportunity for him to complete a clean sweep of the four events he had entered by the time the 200m Freestyle came around as the final event of the meet. 
That final saw a genuinely world-class field line up - but it was Guy who edged out Duncan Scott by a mere quarter-of-a-second after four intense lengths of the pool.
"I really wanted that one, it's kind of my event," he said.
"The time was okay, but it's the end of a long week and I didn't feel as sharp as the 100m Butterfly. But it's a nice way to finish the Championships." 
A few months later, Guy took bronze in the 100m Butterfly at the World Championships in Budapest, as well as helping the British Men's 4x200m Freestyle Relay team defend their title. 
2016 - CARLIN LAYS PLATFORM FOR RIO 
Jazz Carlin would go on to enjoy an unforgettable Olympic Games at Rio 2016, when she won silver medals in both the Women's 400m and 800m Freestyle events to help Team GB finish second in the overall medals table.
And the Welsh athlete had given an insight into the form she was capable of producing at the Games in securing her place on the team at the Olympic trials in April that year. 
Carlin did the distance freestyle hat-trick for a second successive British Swimming Championships, as she claimed gold in the 200m, 400m and 800m finals.
After winning the shortest and longest of that trio, Carlin saved her best display for last in the 400m, charging for home down the final two lengths to finish clear of Eleanor Faulkner and Alice Dearing. 
"It was my last event and I wanted to put everything into it," said the National Centre Bath swimmer.
"It was a great race and a strong field. I just wanted to go in there and do my best, and I'm absolutely over the moon.
"I have put pressure on myself and wanted to do my best. I have been trying to relax and think about the race. I tried to remember back to when I was a little girl - I just used to race." 
2015 - PEATY SMASHES WORLD RECORD IN LONDON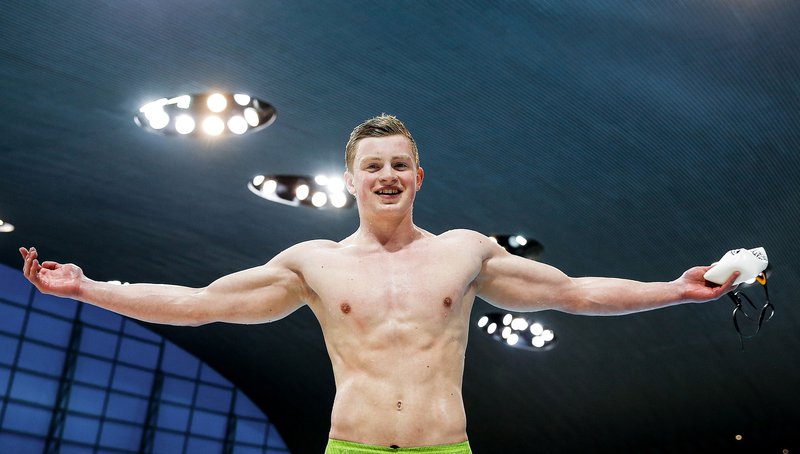 With Adam Peaty having become the first person in history to swim the 100m Breaststroke in under 57 seconds at last year's World Championships, it is easy to overlook the fact that he is also the only person ever to go under 58 seconds. 
That first happened back at the British Swimming Championships of 2015. 
Peaty - who had enjoyed a breakthrough year at the Commonwealth Games and European Championships in 2014 - gave a hint that a new world record could be on the cards after a powerful opening 50m saw him turn in 27.04, exactly 1.5 seconds ahead of Ross Murdoch in second. 
The noise around the iconic London Aquatics Centre ratcheted up a notch as Peaty began to tear down the final length - and the urges of support turned into massive cheers when the scoreboard showed the then-City of Derby man to have touched in a world record time of 57.92, making history in the process as he took his first national 100m Breaststroke title.
"I can't believe it. Coming in earlier, I thought I could get a really good time, maybe a 58.5," he said afterwards.
"Before that race, I just thought I've done all the training for a 57, and it all paid off in the end. 
"The crowd were great and they really carried me home at the end, because that was one hell of a pain train. That must be something in that lane four when it really matters.
"It's going to be a great showdown at the Worlds in Kazan. Just because I've got the world record, doesn't mean I'm going to get gold, so I'm going to get my head down and make sure I get the medal to go with it."
Since that historic swim at the 2015 British Championships, Peaty has lowered his own world record to 56.88, as well as winning one Olympic, three World Championship, two further European and another Commonwealth titles in the 100m Breaststroke event alone. 
Keep checking out the British Swimming website for more reflection features from previous events, as well as in-depth interviews with our athletes, coaches and support staff...