When Siobhan-Marie O'Connor touched the wall to claim silver in the 200m Individual Medley at the Olympic Games in Rio de Janeiro, she also became part of an elite group of just three women to have dipped under 2mins 07secs in the four-length event.
Ariana Kukors, of the United States, had been the first woman to do so at the 2009 World Championships during the performance-enhancing suit era before Hungary's Katinka Hosszu set a staggering 2mins 06.12secs world record at the corresponding event in Kazan, Russia, in 2015.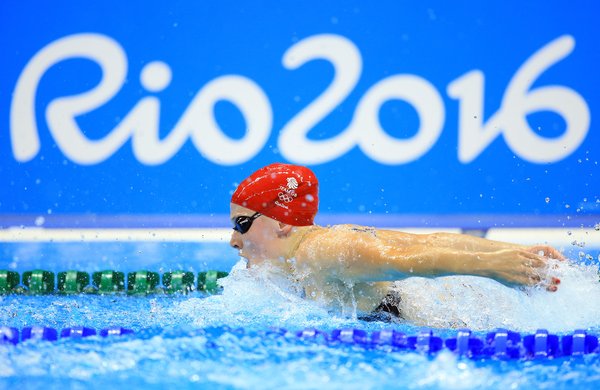 O'Connor had been on the 2:08 mark since her Commonwealth Games triumph in 2014 but she destroyed that in the semi-finals in Rio before again shattering her best in the final, lowering her own British and Commonwealth records to 2mins 06.88secs.
She finished just behind Hosszu after chasing down the self-proclaimed 'Iron Lady' on the final length, gaining with each stroke before the Hungarian narrowly got the touch.
"When I got the medal I was just absolutely over the moon, I didn't even comprehend how close I had got to gold until afterwards and then I thought it was actually kind of bittersweet because I was so close,"
"But for me it was all about trying to get that medal and I surprised myself so much with the time I swam" .says O'Connor.
"I never thought that year I was capable of such a performance but I really wanted to break my personal best and when I did that in the semi-final it was such a great feeling because it had been my target for a while.
"When I went in to the semi I knew I was swimming well and I was happy. When I swam as fast as I did in the final I was like 'wow' because that is pretty much uncharted territory in 200 medley. I couldn't believe I had done that time so I was over the moon."
Confidence buoyed, the 21-year-old is tackling the Olympic cycle to Tokyo in 2020 with renewed self-belief.
"I have proved it to myself: you always have self-doubt in sport," she says. "However much confidence you have there is always that sort of voice in the back of your head like can you do it? Are you really good enough? I think I proved to myself I can swim well on the big stage. I am excited for the next four years so I feel much more confident now."
It has been some journey for O'Connor since she joined the National Centre in Bath at 14, admittedly daunted at joining a senior programme at such a young age.
A year later, she made the Great Britain team for the 2011 World Championships in Shanghai, finishing 13th in the short medley, but her dream of appearing in a home Olympics hung by a thread when she failed to qualify at the first trials at the Aquatics Centre.
She was devastated but forced her way on to the team in the 100m breaststroke in the second trials and even though she did not progress from the heats in London, the experience gave her the hunger to be fighting for medals four years hence.
The learning curve continued at the 2013 World Championships in Barcelona, a meet she found hard-going and where she placed eighth in the final, but lessons were taken and knowledge applied to great effect at the Commonwealth Games in Glasgow.
There she won six medals, including one gold, and the following year there was 200m Individual Medley bronze in Kazan as well as Mixed Medley relay gold.
All the while there has been an ongoing battle with ulcerative colitis, an inflammatory bowel disease, but going into Rio O'Connor enjoyed an uninterrupted 12-week training block and the series of steps she and coach Dave McNulty had taken over the years brought them to their destination.
"There have been lots of ups and downs and when I look back at them I think they definitely prepared me for Rio," she says.
"I was in the best shape and the best mindset – I knew everything I had to do to be in the best shape possible.
"I knew so much about my body and knew what I needed to do to get into shape and how to swim the race.
"I have learned so many times about going out too hard and my pacing and all that sort of thing: the whole four-year journey really did come together in Rio which was just absolutely ideal."
McNulty has a strong Olympic medal-winning pedigree with three silver medals for Bath-based swimmers at Rio 2016 - two for Jazz Carlin and one for Chris Walker-Hebborn. He also won silver in 2012 and bronze in 2008 with Michael Jamieson and Joanne Jackson respectively.
O'Connor credits McNulty for "taking a chance on me" as a 14-year-old, describing him as "a great, versatile coach".
"I am very lucky to have been able to work with him," she adds. "We both knew it (2016) was a big opportunity for me.
"We are both very stubborn - carrot and stick, sometimes you need the carrot and sometimes you need the stick. You have to use both.
"We have a good understanding now, we can talk about anything. I have grown up with him. He has guided me through the transition (junior to senior) and has been with me every step of the way.
"Your coach is the last person you see before you go down to race so you have to have complete trust."
For tickets to the British Swimming Championships click here and subscribe to our You Tube channel here to watch all the action on the live stream.