Ben Proud was among the standout performers on another promising morning of British Swimming Selection Trials heats at the London Aquatics Centre.
Ben Proud blasted out an eye-catching heats swim in the Men's 50m Freestyle to qualify fastest for the 'splash and dash' showpiece, under the 21.78 consideration requirement he will aim to beat in the evening. The former world champion – who placed fourth in this event at Rio 2016 – came up in front thanks to some fine underwater work, and he powered on from there to make a statement heading into the final.
Sixteen-year-old Jacob Whittle, impressive in that memorable 100m Freestyle finale on Friday night, smashed his previous personal best to place second in the heats of the shorter event. Yusuke Legard (Wycombe District) also PBd as third-fastest.
There was no separating Freya Anderson and Anna Hopkin in the Women's 100m Freestyle heats, ahead of what is likely to be the tightest of finals later in the day.
The pair – who train at the Bath National Centre and Loughborough National Centre respectively – were less than half-a-second off the event's 53.88 Tokyo consideration time in clocking the exact same time, with both well placed to get under that requirement in the final; Edinburgh University's Lucy Hope qualified third fastest.
In the Women's 200m Backstroke, Kathleen Dawson carried over her momentum from winning the 100m event and going well under the consideration time in the process on day two, leading the way in qualifying with a controlled swim.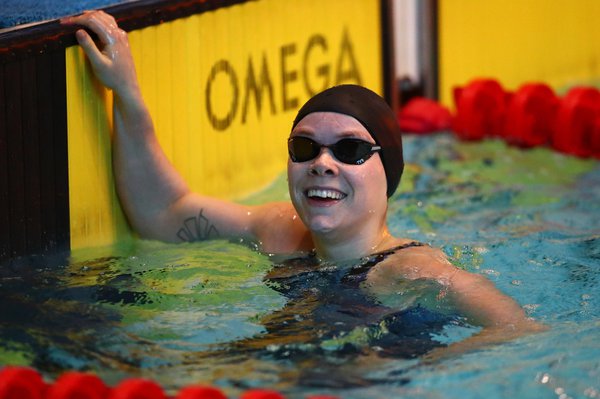 University of Stirling teammate Cassie Wild – who also put herself into Olympic contention in the 100m – qualified third-fastest, with Plymouth Leander's Honey Osrin pushing Dawson to split the pair on the heats result list and earning herself a centre lane. The trio will be targeting the Tokyo requirement mark of 2:08.44.
James Guy was another to pick up where he left off earlier in the week, swimming inside the consideration standard in the heats of the Men's 100m Butterfly.
The David McNulty-coached man has already done what he needed to in the 200m Butterfly, and he always looked good to go under the 51.96 here, as he will aim to do again in the final.
Behind him, the next three fastest qualifiers of Jacob Peters, Ed Mildred and Archie Goodburn all notched personal bests.
The Women's 200m Individual Medley brought Saturday's heats to a close – and the in-form Abbie Wood put herself in a great position for a second consideration time of the week after leading from dive to touch in her heat. Wood, who trains under David Hemmings, put together four solid legs of medley swimming to finish a mere 0.1 seconds outside the Tokyo mark ahead of her third final in four days. Alicia Wilson and Candice Hall were the next quickest.
---
DAY FOUR FINALS SCHEDULE
Women's 100m Freestyle
Men's 50m Freestyle
Women's 200m Backstroke
Men's 100m Butterfly
Women's 200m Individual Medley
---
FOLLOW IT ALL