James Wilby and Ross Murdoch laid on a stunning Men's 200m Breaststroke finale to day three of the British Swimming Selection Trials, as Olympic consideration times continue to fall at the London Aquatics Centre. 
Wilby is already pre-selected for Team GB's Tokyo cohort, and he showed his Olympian credentials by taking the victory, thanks in part to a blistering first 100m. 
Rio 2016 competitor Murdoch, though, remained in contention throughout and finished strongly to touch inside the 2:09.05 Olympic consideration requirement, a result that drew an immediate celebration from the University of Stirling man. 
For Wilby, the performance was another step towards his ultimate targets later this year.
"Being pre-selected is pretty nice, that little safety net – but that didn't take away from me coming here, a few months out from the summer, and really wanting to put some fast swims in and set myself up for going towards the Games," he said.
"Our Loughborough National Centre squad is a bit of a dream team at the moment. I'm really happy with my own swims, but then I watch people doing their swims here and think, 'it's a pretty special group of people I get to be around every day!' That pushes me on to maintain my place in that group, because it's fast.
"I've done slightly better on the world stage in the 100m the last couple of years, but the 200m is the event where I always struggle to get my hand over it. I'm always focusing on both, sometimes one goes better than the other, but heading towards the Games, it's definitely going to be balancing them both, 50-50, and seeing if I can get a good result in them both come the summer."
Murdoch, meanwhile, now looks set for a second Olympic Games appearance after a gutsy display.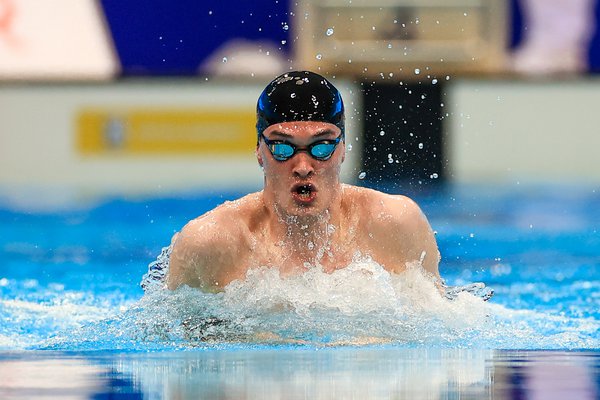 "I'm absolutely delighted with that. It was quite hard this morning, I was almost all in this morning, but that's one of the plans we had coming into this to try to push the heats and have a good adaptation to the evening, a bit of learning and that's what we got," he said.
"It was good consolidation this evening, about a second faster and I'm absolutely delighted. I think Stirling have had a brilliant championships so far. The backstroke girls have been absolutely outstanding, and Keanna Macinnes was absolutely outstanding as well (in the Women's 200m Butterfly), just outside the consideration by half a second, but what a surprising swim that was, fantastic."
Meanwhile, British men's sprint freestyle looks to be in rude health after a scorching showpiece in the 100m Freestyle final provided one of the highlights of the week so far – including Duncan Scott equalling his British record. 
World champion Scott – who is putting together another memorable meet – led at 50m and stayed clear to the finish to touch in 47.87, while 18-year-old Matthew Richards produced an outstanding effort of his own to go under the Olympic consideration mark. The challenges for Scott came from both left and right of his centre lane. Tom Dean looked good in third for a PB and Jacob Whittle clocked a big personal best of his own to take fourth – but it was Richards who got inside the 48.35 requirement with a timely lifetime best. The result is also a hugely promising one for Britain's hopes in the Men's 4x100m Freestyle relay – and that was the most pleasing thing for Scott after yet another eye-catching display.
"It was quite a bit slower than I was wanting in all honesty. It's great to equal my PB, but with how I swam on the first day, I was feeling pretty good and I thought I could go a bit quicker. That's just the way it was today," said the University of Stirling man.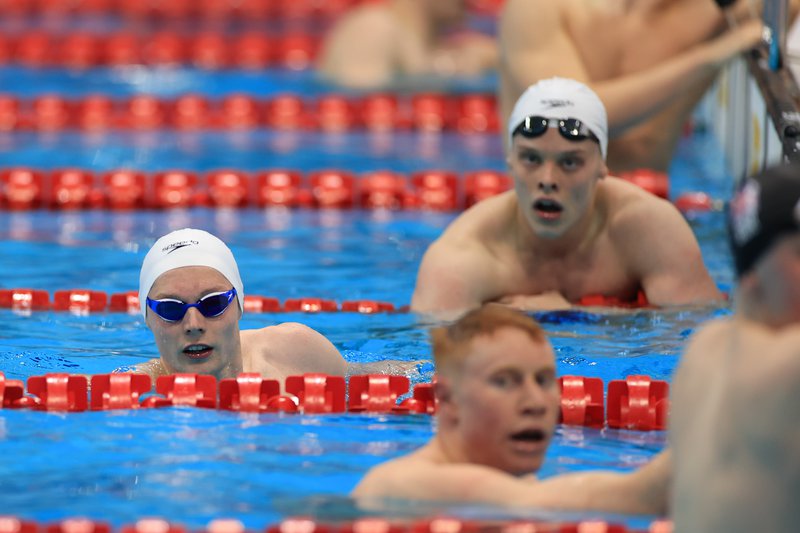 "I'm delighted for the other boys, there's some fast times in there and it's great to see some of the British boys coming through and swimming fast. It was one 47 and three 48s, so it was a really good field.
"I've trained for a busy schedule in Tokyo! I look forward to challenging myself, we prepare for these back-to-backs and doubles. It's a big schedule, it's tough, but I do train for it and I'm ready for it."
As for Richards, the teenager – who moved from Royal Wolverhampton to train under Jol Finck at the Bath National Centre last summer – was unsurprisingly delighted.
"I was trying to keep up with this guy here (Scott)! I can't thank the team I've got around me enough, everyone at Bath, everyone at Royal Wolverhampton, my mum, my dad, my grandparents, my whole family."
The Women's 200m Butterfly final was won by Alys Thomas, who achieved her consideration time target to win out in a nip-and-tuck race. The Swansea University athlete always looked in contention across the four laps, but there was tight competition from Emily Large, Laura Stephens and Macinnes, who came back strongly to clock a big personal best for second. 
Ultimately, though, it was Thomas who put together the complete swim to go under the 2:08.32 requirement and joined compatriot Harriet Jones in doing so in the butterfly category, after her success in the 100m on day one. 
"It took a while to look at the board and realise it was me in that lane and it was me that had done it! The last couple of years have just been so up and down and overwhelming at some points, I'm so glad I did it, I believed in myself today and I got the time I wanted.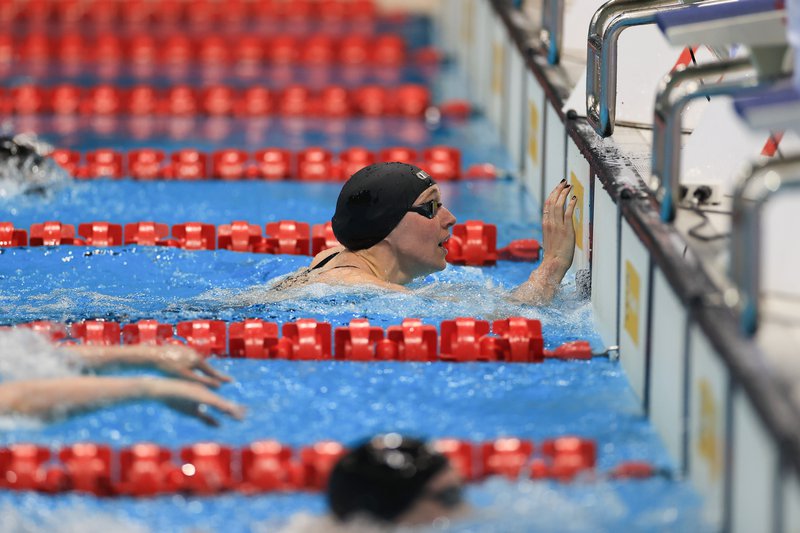 "It means the world to me, it means the world to my friends and family at home, I'm sure – I've had a couple of messages ping through but I've just been ignoring my phone, so I'm sorry about all those people I've not been replying to. I'll get back to you today!
"Obviously it's really hard at the moment with lack of access, it's just been really hard to keep motivation – but you've got to keep at it, you've got to keep going. Ultimately, if you want to be at the top and want to be competing at international meets, you've just got to keep at it."
The London Aquatics Centre buzz was back before the opening final was over, as the Men's 400m Individual Medley served up two swimmers under the Tokyo consideration time. 
Max Litchfield – who finished fourth in the event at Rio 2016 – led throughout and brought it home on the freestyle leg to dip inside the 4:13.47 requirement and take the victory. 
Brodie Williams, who trains under Finck at the Bath National Centre, made a real impression on his favoured backstroke section – and his freestyle caught the eye too as he stayed right on Litchfield's trail to put himself into contention for a spot on the plane this summer. 
"I'm really, really happy with that. I'd have liked it to be a little bit quicker, but it's under the consideration time – and I'm really pleased for Brodie too, he's an awesome swimmer," said Litchfield, who joins brother Joe in recording a Tokyo consideration.
"In Rio, I was over the moon with fourth, but this time I want to go at least one better and get into the medals. I'll need to be a little bit quicker than that, but it's only April, so we've still got time."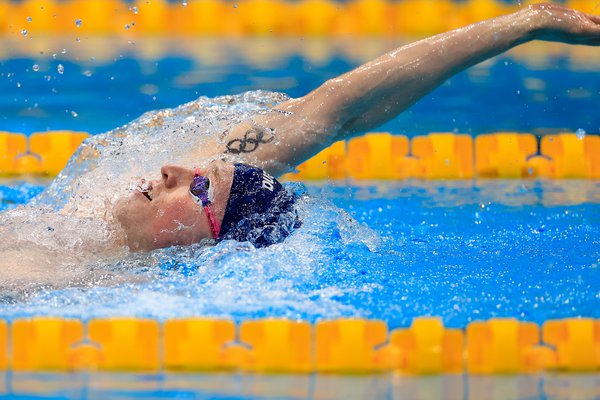 Holly Hibbott came so close to making it a clean sweep of consideration times for the night, swimming her own race in the Women's 400m Freestyle to take an emphatic win that was just one second outside what she needed. 
Hibbott built on a solid heats swim to go clear within the first 100m, keeping herself in contention for the time right down to the final 50m. 
"Obviously I'm a bit disappointed with that. I felt I was in good enough shape to do the time, so I'm disappointed with it. I'm one of those people who loves to race. I'm really enjoying the move to Bath, it's been a really positive move for me and that's one of the fastest I've been since Europeans in 2018. I've got to take the positives out of it," she said. 
---
FOLLOW IT ALL