Ben Proud secured Great Britain's first gold of the World Aquatics Championships in Budapest with a stunning victory in the Men's 50m Freestyle.  
Leading from the front after a phenomenal start, the 27-year-old got the fastest reaction time of the field, maintaining a half body-length lead down the length, before touching out Michael Andrew of the USA in a classic splash-and-dash finish, his time of 21.32 the fastest he has ever gone in a final.
Half-a-decade on from his Worlds 50m Butterfly triumph in this same pool, the title of world's fastest man in water is one that takes a special place in Proud's career record to date.
"Five years ago, I won the 50m Butterfly here and that was a complete dream, because that was what I started swimming for. But I've put so much work into this freestyle over the last eight or nine years, and to be able to say when I retire that I've been the world champion at the 50m Freestyle is a very, very special thing," he said.
Proud finished fifth in this event at the Tokyo Olympic Games last year, bouncing back less than 12 months on to win a glorious world title – and afterwards, he emphasised just why this event means so much.
"A lot more people work for the 50m Freestyle [than the other 50m events], because it's an Olympic event - we don't have the other 50s at the Olympics, so this is a real specialist event in swimming, possibly the blue riband event - although I do think the 100m Free is more like that," he added.
"For me, this is a very special moment. I do know we are missing a few people at the pool, I hope Caeleb (Dressel) is doing well and isn't too bad. At a World Championships, it's all about getting through the rounds and getting your hand on the wall. I'm absolutely chuffed to be able to say I've done that today, I'll go back to my team, show them the medal and everyone has supported me this last few months really deserved something."
Also competing in the same final was Lewis Burras, the Winchester City swimmer keeping with the pack to touch in a time of 21.83.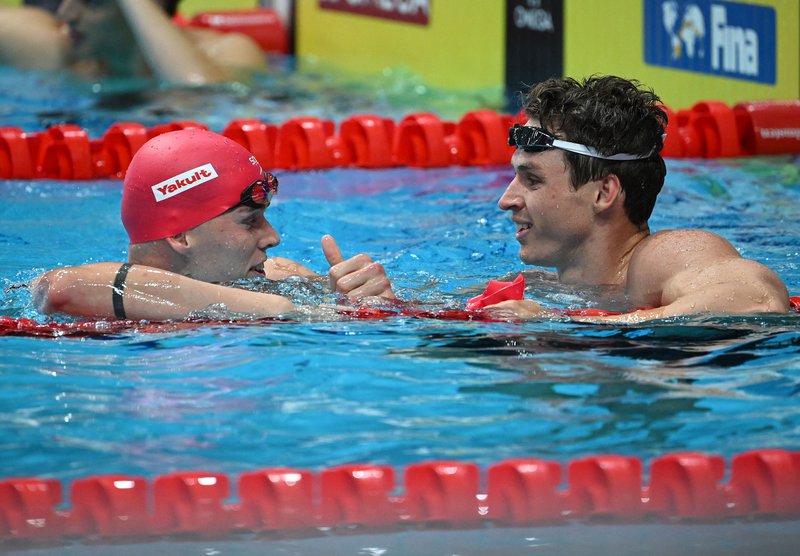 In what was Burras' second individual final of these Championships – his first senior international appearance – he gave a good account of himself again, gaining valuable experience and contributing to a slice of British Swimming history.
This was the first time that two Brits have competed in a Men's 50m Freestyle World Championship final, an encouraging statistic as the next edition of the World Championships, as well as the Olympic Games, sit on the agenda over the next couple of years.
Great Britain's relay teams were also back in action on the seventh night of finals at the Duna Arena, the Mixed 4x100m Freestyle Relay providing a scintillating race for the spectators – and Britain pushed the leading trio all the way to secure fourth in a time just outside the British record.
Tom Dean, a double bronze medallist at these Championships, kicked off the race with a solid first leg. A 200m specialist, the Bath Performance Centre athlete did well to keep a fast pace over half the distance and hand over to Burras, fresh from his 50m Freestyle finale and a finalist in the 100m event earlier in the week.
He put in a fine sub-48s swim to help Great Britain reach the halfway point in a clear fourth place, breathing down the necks of the medal-chasing three ahead.
It was then the turn of the women, with Anna Hopkin on the penultimate leg. With the front three starting to pull away, Hopkin put in a textbook performance to keep the team on for a strong time and touch the wall for Freya Anderson to take over for the anchor leg. Another athlete who has had a packed programme in Budapest, Anderson showed her usual back end speed to see Britain to a promising time of 3:22.44 in a race that ended with Australia breaking the world record.
Reflecting on the race and shedding some context on what may lay ahead for Britain's relay cohort, Dean said: "A few of us have brought the 100m back into the programme, and with that comes some strong relays. I think this is one of the first times that we've swum this many relays at a World Champs, so that's pretty exciting.
"It's been a busy week, that was my 10th swim there so it starts to build up over the course of seven or eight days. But I'm really happy with the back-to-back swims I've done, the times this week - if you'd said at the start of the week the times I'd be doing, I'd definitely take it as a great target meet."
Hopkin added: "We can definitely take a lot of time off that in the next couple of years, and we've never raced as a four together, so it's exciting to see where it can be in a few years."
For Burras, there was value in contributing to the team effort. He said: "I'm so grateful just to be here and to be able to do this with such amazing people and athletes like these lot. A year ago, if you'd have told me I'd be competing in two World Championships finals on day seven, I'd have laughed. But here we are. This is just the start, Paris is the end goal for us and we'll be ready for then.
"It's a brilliant feeling, just to get a taste of what it's like to be in the big arena. It's given me more motivation than I honestly expected."
Anderson concluded: "That was a really good bounce on from this morning, gaining some places. Like the guys said, it's our first time as a team so we'll keep bouncing on from here."
That bounce on came after a solid heats performance from another new-look quartet of Jacob Whittle, Matt Richards, Anderson and Lucy Hope, who ensured the GB qualification.
Hopkin, meanwhile, was also in individual action ahead of the relay final, progressing into the final of the Women's 50m Freestyle.
In what was a strong semis swim for the Loughborough Performance Centre swimmer, she gained ground all through the length, eventually touching third in her race and qualifying fifth for the final tomorrow night.
With the 26-year-old's time of 24.60 being a new season's best in this event, she was happy to be in the mix with a solid contingent of freestylers.
"I'm really happy to make the final in that. My 100m has been a little bit off throughout the week, but it's good to know my speed is there, I just need a little bit more rest and work before Commonwealths," she said
"I'm looking forward to the final, it'll be good to race the best in the world."
For full results from the finals, click here.
Visit our 'What's On?' page here for a full rundown on how you can watch and listen to every finals swim from Budapest.