Britain's swimmers continue to reach new heights at Tokyo 2020 as the Men's 4x200m Freestyle Relay team dominated their rivals to secure the Olympic title and make it three Team GB golds in the pool for the first time in more than a century. 
The classy quartet of Tom Dean, James Guy, Matthew Richards and Duncan Scott combined in superb fashion to streak to victory in 6:58.58, the third-fastest time in history and a new European record. Calum Jarvis will also become an Olympic champion after his key role in helping the team qualify fastest for the final. 
There was no sign of the 'favourites' tag weighing heavy on this team's shoulders, as new individual 200m Freestyle champion Dean led the Brits off with a solid opening leg to hand over to Bath National Centre teammate Guy, who immediately set about overhauling the USA's early advantage with a superb split and establishing a lead at halfway as 18-year-old Richards dived into action. 
A brilliant 100m freestyler, Richards – another from the Bath National Centre stable after a move from the Royal Wolverhampton in 2020 – undermined his tender years to pull clear of the field and ensure individual silver medallist and ice-cold performer Scott had clear water to streak away in down the anchor leg, the Steven Tigg-coached man from the University of Stirling moving away across fourth lengths and only missing out on the world record by the barest of margins. 
For the first time since the London Games of 1908 brought four swimming golds in the pool, Britain have picked up a trio of Olympic titles on the sport's biggest stage – and double champion Dean is still trying to find ways to describe the achievement. 
"I can't put it into words, I couldn't yesterday and I can't today! I can't think these boys enough, you can see how much it means to us! A big thank you to Calum Jarvis who is sitting right over there, we couldn't have done it without him," said Dean.
Guy – now a three-time Olympic medallist – added: "As a kid, dreaming of an Olympic gold was my absolute dream – and to finally do it after 25 years makes me pretty emotional. These four lads here, we're the best freestylers in the world. My teammate (Dean) and Duncan getting first and second in the individual is amazing, it's just the way things have progressed.
"Racing Michael Phelps, Ryan Lochte in Rio, and now we are the Olympic champions, it's a dream come true!"
Teenager Richards - who trains under Jol Finck, the coaching architect of this victory after overseeing the Men's 4x200m Freestyle Relay since 2015 - said: "When you're racing with guys like this, having a great leg comes easy. They set you off the way they did and then you know you've got one of the best freestylers in the world, one of the best freestylers ever going in straight behind you, the privilege and confidence that gives somebody of my age, money can't buy it."
That anchor leg man was Scott, who is now an Olympic champion and yet showed his elite-level mindset by wishing they had been a bit quicker still: "Myself and Jimmy in particular, we've been on so many 4x200m Freestyle Relays together, we've been able to win Worlds, Europeans. In 2016, we came second and that was a monster achievement at the time, but this is really special with these boys. Matt in third was so composed and the boys up front executed their race plans so well. We were so close to the world record in the end, if anything I'm a bit gutted!" 
Abbie Wood could barely have been closer to a medal in the Women's 200m Individual Medley after one of the closest finals of the entire Olympic programme so far saw her finish fourth, with compatriot Alicia Wilson placing eighth.
Wood, who trains under David Hemmings at the Loughborough National Centre, put together four lengths of composed swimming to keep herself in podium contention the whole way, turning fourth at halfway before moving things on in her favoured breaststroke section. 
A solid 50m there put her in third down the final leg of freestyle and in the midst of an intense, four-way tussle for the medals across lanes two to five. Japan's Yui Ohashi just edged clear with 15m to go to complete the 200m-400m IM double, but Wood remained in the battle right to the touch, where she was just outdone by Kate Douglass of the USA by 0.11 seconds, despite a fine new lifetime best for the Buxton competitor. Indeed, she was less than seven-tenths off the Olympic title, so strong was her performance and so close the race. 
"I'm just gutted. It such a close race, I knew it was going to be that way, it was just about who got their hand on the wall first. It's bittersweet – I'm happy with the time and know I couldn't have done much more, if it had been off my PB and I came fourth, that would been a lot worse. I did put myself out there, I'm glad I did and I did everything I could this season," she said.
"All I could see was the American next to me, I didn't see the girls on the other side, that's why it's hard being in the middle, you've got to keep your eyes on everyone. I feel I gave it everything and my last stroke was my last best one, so I paced it as I wanted to. That's just sport, I suppose.
"I feel in moments like this, I do have to remember that I was talked out of quitting after my first Worlds in 2017. I feel I've really grown as a person since then, grown up, you have to remember things like that to not make moments like these feel as rough. I've still got the rest of the meet to go, I've still got the 200m Breaststroke which is feeling as strong as the medley, I'll see where that takes me and put these frustrations into that, use this as a learning curve that the race isn't over until it's over."
Wilson, appearing in a final on her Olympic debut, added: "I'm mixed emotions right now. My heart goes out to Abbie and everyone in that race, it was a good race. For me, it was put all your heart out there and worst case, you're an Olympic finalist. That's how I feel and it's a dream come true, but obviously I wanted more from that time."
James Wilby produced a swim of brilliant intent in the Men's 200m Breaststroke semi-finals to secure himself a central lane for Thursday's final. 
The Loughborough National Centre man went in the second semi, and knowing exactly what was needed to qualify, he took the race out from the blocks, surging into an early lead and maintaining that position at the 150m mark.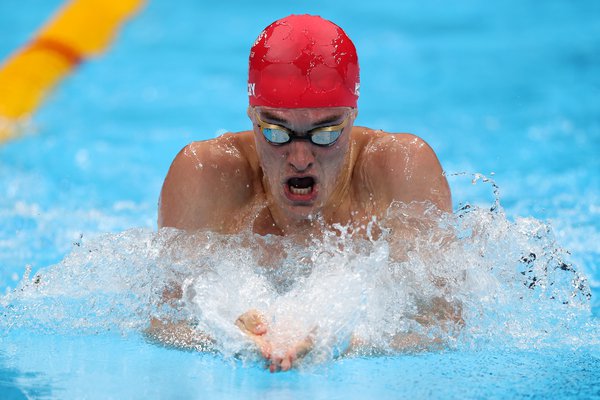 While Izaac Stubblety-Cook of Australia came through late on to touch fastest overall, Wilby – an individual and medley medallist at the 2019 World Championships – held on well to qualify comfortably second fastest to outline his podium ambitions heading into the showpiece. 
"I'm sure you've heard it before, but there's a classic saying in swimming that if you've got a lane, you've got a chance. I really approached that semi as trying to get myself right in the mix for tomorrow morning. I knew I was capable of a lot faster than I went yesterday, but the final is where it matters and positioning myself well, which is something I didn't too well for the 100m, getting right in the middle lane mix, was my absolute focus this morning," said Wilby. 
"I really got out, got after it, almost treated it like a final because if you make a mistake here you're not in a final to put down your best performance, so I'm really happy. I feed off racing, I really enjoying the racing element. When you're not in the mix, it's very hard to have that perception, that scrap that people might call it."
University of Stirling man and former Commonwealth champion Ross Murdoch, meanwhile, placed 12th overall and was quick to thank everyone who has helped him along the way to a second Olympic Games.
"I swam quite well throughout the year, so I wouldn't say the extra year hasn't been in my favour. At the end of the day, I wouldn't change my journey for all the world. It's been such a mad ride since I moved to Stirling in 2012, it's almost 10 years to the day since I started taking swimming seriously," he said.
"I just want to say thanks to all the guys at West Dunbartonshire who helped me start this mission, my family and girlfriend who are probably all watching right now. Just a massive thanks to everybody who has been on the journey and we'll keep going." 
Swansea Aquatics athlete Alys Thomas will take her place in a maiden Olympic final in the Women's 200m Butterfly after getting the job done in her semi-final race. 
Thomas began at pace as Regan Smith of the USA, one lane inside, led her during the early stages. That speed allowed the Brit, coached by Stuart McNarry, to build herself into a strong position of third at all three turns, before she eventually finished fourth-fastest in semi one. 
By the time the second semi-final came to a close, Thomas knew she had done enough to secure a lane for Thursday morning as eighth-fastest overall, with compatriot Laura Stephens coming back strong in her race to move up the field and place 11th in the standings. 
With the final now ahead of her, Thomas suggests there is still more to come, saying: "I was initially disappointed with the time but I'm really pleased I get a chance to go back and change things from what I did this morning, see where I can push on and change things tomorrow in the final. 
"Obviously we don't get many chances to do morning finals, I've had a complete run through now so I will go through that shift. It's one step at a time – Olympic final, tick, now let's see where we can go.
"Even at the World Championships, there were certainly more entrants in the heats and you needed to post a fast time to make the semis. Last night, you didn't even know where anyone was at or what they were doing with their swims so it was hard to tell. Obviously the girls have posted faster times this morning than they did last night, so it's more of a tell-tale what they're doing."
Plymouth Leander's Stephens added: "I gave it my everything. When I was swimming, I really thought I had it in the bag but touched the wall and it wasn't meant to be. Maybe automatic qualification from the heats made me a bit more relaxed last night and that's where that swim came from, and this morning with a bit more pressure on, things didn't go quite to plan. There's a lot to learn from that swim, so hopefully I can take that into the next couple of seasons. 
"So far, it's been incredible. I had a really rocky season in terms of not initially qualifying for the Games, getting it at the last possible minute, that was a big thing for me and I tried the best to carry that through. Again, this is where we go back to the drawing board with my coach, see how we can improve and be better next time."
Jacob Whittle, the youngest member of Team GB's swimming squad at Tokyo 2020, continued his impressive Olympic debut by lowering his personal best for a second time in as many rounds of the Men's 100m Freestyle with a big swim in the semi-finals.
The 16-year-old – who trains under Jamie Main in the Derventio Excel squad – stuck well with a field of immense quality and experience, turning eighth before dragging his competitors back and touching sixth in the opening semi, bashing three tenths off his previous best from Tuesday evening's heats. 
That finish meant a placing of 13th in this blue riband event, a promising return at the beginning of his senior international career.
"It's a new fastest time, just keeping knocking little bits off it. I didn't have the greatest of starts but managed to build it back last 50m, and it always gives you a bit more adrenaline being behind," said Whittle.
"It's a stacked field, a really fast semi but I'm just happy to make the semi and keep knocking a little bit off my time, that's all I can ask for really. 
"Being in that GB squad, it gives you a lot of drive, we're a very motivated team and they're all competing at such a high level. Being people with like Adam Peaty and Sarah Vasey, it's just amazing to be with people who have been at that level for so long, for somebody like me just starting to break on to the world stage, it's amazing they can share that experience with me."