Duncan Scott clinched a quartet of gold medals at the McCullagh International meet in Northern Ireland over the weekend, as Britain's swimmers continued their early season preparations.

Scott secured victory in each of the Men's 100m Freestyle, 200m Freestyle, 100m Butterfly and 200m Individual Medley events to follow up an impressive performance at the BUCS Long Course Swimming Championships the week before. 
Each of those wins came in the first session of the day, as the Bangor-based competition's schedule mimicked the setup that will be in place at this summer's Olympic Games. 
Adam Peaty was in competitive action for the first time this year, and the eight-time world champion powered to gold in both the Men's 50m and 100m Breaststroke. 
James Wilby claimed silver in the 100m and bronze in the 50m, as well as winning the 200m event. Ross Murdoch, meanwhile, took 50m and 200m silver, plus bronze in the 100m, as Britain showcased it's wealth of breaststroke talent across the Irish sea.

Alys Thomas, Kathleen Dawson and Abbie Wood also secured double gold at McCullagh. Thomas' two wins came in the Women's 100m and 200m Butterfly categories, with Charlotte Atkinson finishing second in both finals to pick up two silvers.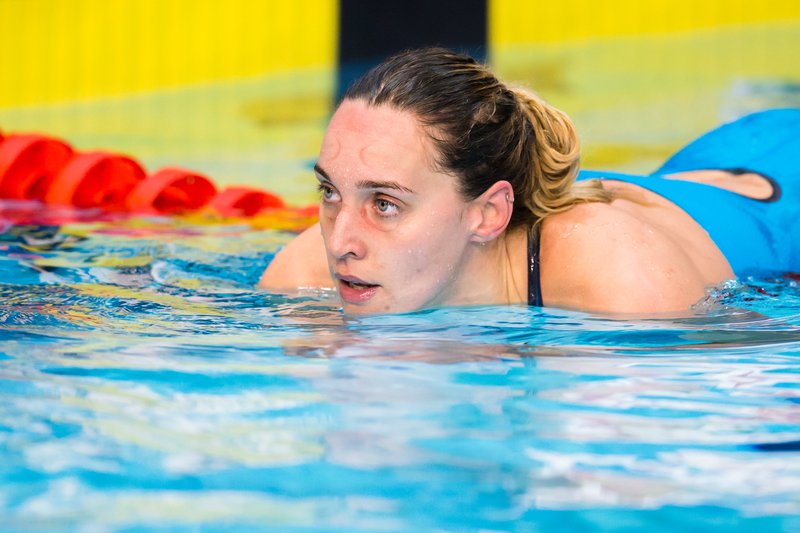 Backstroke specialist Dawson was victorious in the Women's 50m and 100m Backstroke events, while Wood followed up Saturday's 200m Freestyle win - ahead of silver medallist Thomas and third-placed Aimee Willmott - to take the 200m Individual Medley crown on Sunday. 
Siobhan-Marie O'Connor and Hannah Miley collected silver and bronze respectively in that event, with O'Connor having swum to 100m Breaststroke gold on the opening morning of finals.
An eye-catching BUCS performance from Luke Greenbank was followed up by more success in Bangor, the 2019 World Championship bronze medallist doing the Men's 100m and 200m Backstroke double.
Max Litchfield also returned to Loughborough with two gold medals in tow, thanks to victory in the 200m Butterfly and 400m Individual Medley finals. 
Among the other British winners at McCullagh were Daniel Jervis, who notched a distance Freestyle hat-trick by winning the Men's 800m on Friday, 1500m on Saturday and 400m on Sunday. Katie Shanahan won the Women's 200m Backstroke contest and Willmott took the 400m Individual Medley title, while 17-year-old Edward Mildred impressed in taking silver behind Scott in the Men's 100m Butterfly late in the weekend.
Peaty reflected on his Men's 100m Breaststroke win and his ongoing preparations ahead of April's Olympic trials, saying: "I've got another three-week block of really hard stuff before trials, hopefully qualify, do what I do there and then see what happens.
"It's only a few months to the Olympics, so we're just looking at how we can get those extra gains. But it's two 58s, having not raced long-course since Worlds last year, so it's looking good."
For full results from the meet, click HERE.