The double Olympic medallist and World Champion is aiming for success at the 2019 LEN European Short Course Swimming Championships.
In exactly one week's time, the Glasgow born World Champion will get his final international championship campaign of the year underway at Tollcross International Swimming Centre in Glasgow. Scott will headline an 18-strong British Team for the LEN European Short Course Swimming Championships, the biggest short course (25m pool) event of 2019.  
More than 500 of the world's leading swimmers from over 45 countries will descend on Glasgow, designated one of the world's top five sporting cities, 4 - 8 December, when the Championships will celebrates its 20th year.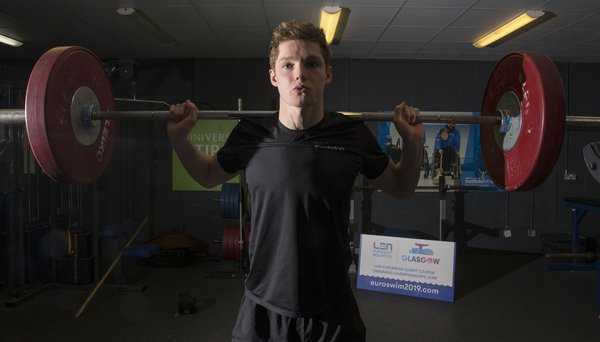 Scott, a considerably well-travelled campaigner for a fresh-faced 22-year-old, has already amassed over thirty national and international medals in his career, is aiming to add to that impressive tally next week when he competes in multiple individual and relay events in the freestyle and medley disciplines.

Born in Glasgow and raised in Alloa, Scott made global headlines this summer with medal-winning exploits at the World Championships in Gwangju. The British prodigy scooped a pair of medals in South Korea, winning gold in the 4x100m medley relay with teammates Adam Peaty, James Guy and Luke Greenbank after claiming bronze in the 200m Freestyle.

He is now set to return to Tollcross International Swimming Centre next week to compete in front of a raucous home crowd, seeking to carry this summer's momentum into the pool with him to finish the year on a high.

Duncan has already experienced glory in Glasgow, initially at the 2014 Commonwealth Games winning his maiden international medal – silver in Glasgow in the 4 x 200m Freestyle Relay and again last year when he won a spectacular trio of gold medals at the 2018 European Championships. Duncan scooped first-places in the 200m Freestyle, 4 x 100m Medley Relay as well as his favoured 4 x 200m Freestyle Relay along with a silver in the men's 100m freestyle, taking the competition by storm and the raising the volume of the crowd to a whole new level.

And they were not his only crowning glories in 2018 – Scott came home with no fewer than six medals from the Gold Coast after the Commonwealth Games, winning gold and silver respectively for Team Scotland in the 100m Freestyle and 200m Individual Medley as his stock continued to rise.

Scott said: "To get back on the podium on in Glasgow would be very special to me. The last time was at the European Championships in 2018, and to do it again at the LEN European Short Course Swimming Championships would be special."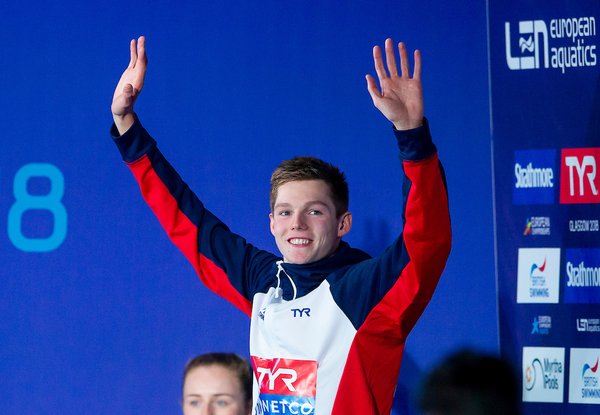 Scott is also in possession of a pair of Olympic silvers, placing second in both the 4x200m Freestyle Relay and 4x100m Medley Relay at his debut Olympic Games in Rio in 2016 to propel him into the international spotlight at just 19 years of age. All eyes will be on him again next year, as his focus turns to further Olympic success at Tokyo 2020.

There is still just time to get your tickets for the LEN European Short Course Championships and be part of the home crowd ready to give Duncan and the rest of Europe's finest a huge big Scottish welcome - visit www.euroswim2019.com

Spectators will watch as 40 European Champions are crowned over five action-packed days at Tollcross International Swimming Centre in Glasgow. Medals for events including the Women's 50m Breaststroke and Men's 400m Freestyle will be up for grabs on day one. Meanwhile, the Men's 200m Freestyle and Women's 100m Backstroke will be among the highlights on day two, with both the Men's 50m and Women's 100m Freestyle Finals on day three. Into the weekend and swimmers will be chasing medals on the penultimate day in the Men's 100m Breaststroke Final and Women's 200m Freestyle Final, with the Men's 100m Freestyle Final and Women's 200m Individual Medley being the highlights across a very exciting final day.  

Short course swimming is a fast-paced event and is guaranteed to have crowds energised from start to finish. Races are contested in a 25m pool, requiring swimmers to complete more turns, so crowds will see competitive, adrenaline-fueled races – setting up this event as one of the most exciting of the year.

The event is a being delivered in a partnership between Glasgow Life, British Swimming, Scottish Swimming and EventScotland, part of VisitScotland's Events Directorate.

Tickets for the event are on sale NOW with the Championships set to be the final cornerstone event of Scotland's 2019 sporting calendar. The LEN European Short Course Championship 2019 is guaranteed to give the Scottish crowd unmissable entertainment.