Duncan Scott's busy year continued with a close-run final in the Men's 200m Freestyle on day two at the FINA World Short Course Championships in Abu Dhabi. 
The six-time Olympic medallist became Team GB's most successful athlete from any sport at one Games when he won one gold and three silvers this summer, including silver in the 200m Freestyle and the Olympic title as part of Britain's Men's 4x200m Freestyle Relay quartet. 
Over the short-course event, the University of Stirling man qualified third-fastest for a packed final. Taking it out controlled, Scott did his customary surge down the final 50m before being narrowly touched out of the medals, finishing fourth with a slightly-improved time on his semi-final effort. 
Not that the time was the focus for Duncan, who said afterwards: "I wasn't too bothered about the time, I just wanted to get in and race, and I did that pretty well. I know what shape I'm in here (after a chest infection) - it won't sum up my year, I've had a pretty good year. 
"I don't know how many more swims I'll have this year, but I wanted to continue my international medal [run]. I think I've won one at every international I've been to. That might be that, I'm a little bit gutted to finish the year like that but we'll wait and see.
"I'll be happy, and it's been a year of mixed emotions for me. I reckon a fourth-place really sums up the way some of my emotions have been this year, but I've got to have my head held high, as I got four Olympic medals and a best time in all my individual finals, so I've got to be pleased with that. Then my short-course season has been really consistent, and I'm pleased with that as well. 
"I'm delighted with the way the year has been. Now it's just looking forward to the next cycle and a bit of rest." 
Scott's Stirling training partner Lucy Hope was one of two Brits involved in the Women's 100m Freestyle semi-finals at the Etihad Arena pool after promising showings in Thursday's heats. 
Olympic champion Freya Anderson was the other, with the David McNulty-coached swimmer improving her heats time with another strong finish down the final 25m, only to miss out on a final berth by a mere 0.08 seconds.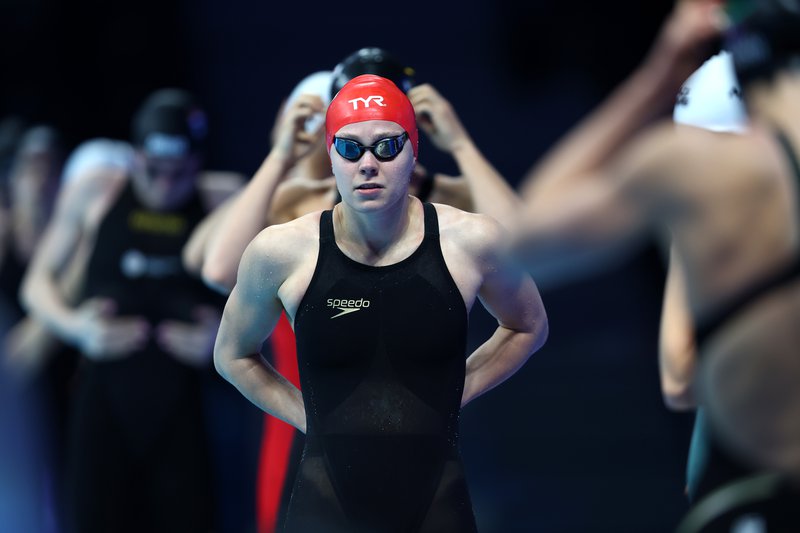 Hope, meanwhile, came 16th overall, as preparations for the busy 2022 long-course season continue to gather momentum - and the opportunity to improve areas in the shorter form of the sport has also been a valuable one. 
"The whole reason to come here was to get some short-course experience. I think in Britain we are focused a lot towards the Olympics and long course, but with the new ISL and everything, people are tending to focus on short course a little more. I think it's a great opportunity to practice all the little things you're not the best at but can work on," she said.
"It's been a long season off the back of Tokyo, and it's kind of run right through to now, so I'm looking forward to some time off at Christmas. 
"If anything, 2022 will probably get busier! It's put us in good stead for next year, because with the Olympics being delayed, it has pushed other events to be crammed in. Racing is great, it's so much fun and it's why we do it, so we can't really complain. You can only do the sport for a limited time, so you just have to enjoy it while you're in it." 
Earlier in the day, Ed Mildred gained more valuable experience on the senior international stage with an outing in the Men's 100m Butterfly heats. 
The Bath National Centre man - who came through the ranks at Northampton Swimming Club - was a multiple medallist at the European Junior Championships earlier in the year, and he is one of the athletes using this meet to further hone arena and race techniques against some of the world's best. 
Saturday's heats session in Abu Dhabi are set to feature Brits across four events. Scott has the Men's 100m Individual Medley, with Molly Renshaw back in action in the women's event. British record holder Ben Proud will then target a strong start in the Men's 50m Freestyle, before Katie Shanahan goes in the Women's 200m Backstroke. 
Full results from day two can be found here, with details of what's on and how to tune into the upcoming event live streams here.