Katie Shanahan and Ed Mildred have produced several standout performances in what has been a strong start to the European Junior Championships in Rome for Britain's young swimmers. 
Shanahan claimed a brilliant gold medal in the Women's 400m Individual Medley on the opening day of competition on Tuesday, setting a new personal best in the final to ensure her place on the top step of the podium. The City of Glasgow Swim Team athlete was then back among the individual medals on Thursday, tying for silver in the Women's 100m Backstroke after a strong second 50m saw her surge back into contention. 
Katie was in impressive form as part of the senior European squad in Budapest in May - including a huge PB in the Women's 200m Backstroke there - and she was delighted to show her best again in securing that 400m IM gold on day one, even if she was a little bit shocked by it.
"I'm really happy about today's victory, I've done my best. I really didn't expect to win," she said. "I'm excited to swim in this pool, it is the first time for me. Now I have to focus on the 200m IM on Friday."
Northampton SC's Mildred has been another Brit to shine during the first half of this flagship meet, with a couple of medals to his name at this stage. 
Both came on a busy Thursday, with Mildred smashing his PB in the final of the Men's 100m Freestyle to claim an eye-catching silver behind Romania's David Popovici, who broke the junior world record to take the win.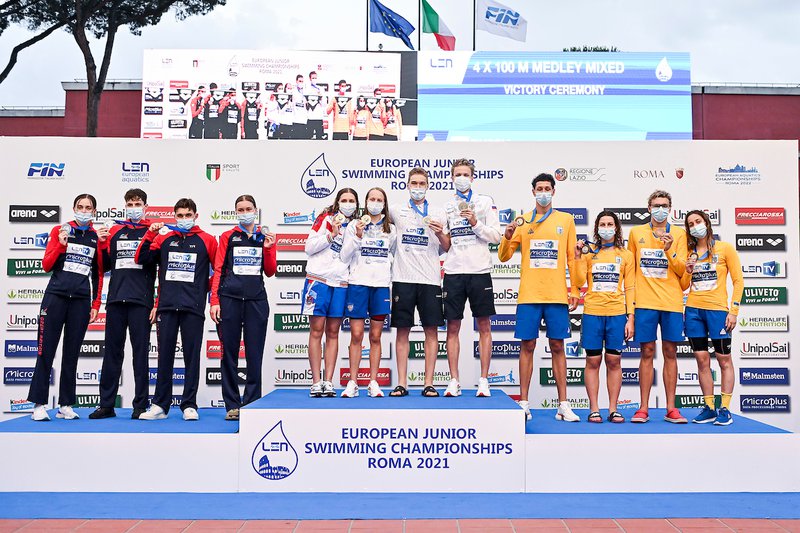 Ed barely had time to catch his breath before diving back into action as part of Britain's Mixed 4x100m Medley Relay quartet, who put together eight fine laps of swimming to pick up another silver. 
Shanahan led out on the backstroke leg to lay the platform for her third medal of the week, before Harvey Freeman (Northampton SC) took over on the breaststroke. Mildred followed his clubmate with a strong butterfly leg - after Evan Jones (Millfield School) had done his part on that leg in the heats - with Evelyn Davis of Bromley SC bringing the team home for second on the freestyle. 
'Three-medal Thursday' was a brilliant one for the Brits, who have had at least one athlete on the podium for each day of the meet thus far. On Wednesday, it was Bromley's Davis who stepped up, picking up bronze in the Women's 100m Freestyle after overhauling Nina Stanisavljevic of Serbia down the home straight.
Other notable performances ahead of Friday's morning heats included a fourth-placed finish for the foursome of Mildred, Henry Baker, Davis and Tamryn Van Selm in the Mixed 4x100m Freestyle Relay, with Van Selm having earlier reached the Women's 100m Freestyle final.
Davis and Van Selm combined with Freya Colbert and Erin Little to finish fifth in the Women's 4x200m Freestyle Relay finale, Colbert having already placed fifth in the 400m IM final on Tuesday. Angus Allison (Warrender Baths Club) reached the Men's 200m Individual Medley final and Sienna Robinson (City of Sheffield) and Freeman clocked new PBs in the semi-finals of the Women's 200m Breaststroke and Men's 100m Breaststroke respectively.
There is plenty more action to come from the 24-strong British cohort, with heats and finals sessions across Friday, Saturday and Sunday.
Results and live streaming from the Championships can be accessed through the LEN website HERE. Images courtesy of DeepBlueMedia/LEN.