James Wilby narrowly missed out on a second successive World Championship medal in the Men's 100m Breaststroke – but there were some promising semi-final swims on day two in Budapest. 
Among those to catch the eye in booking their lane for a Monday evening final was Medi Harris, the Swansea University athlete reaching the Women's 100m Backstroke finale on her senior Worlds debut after an outstanding show of composure and pace.
Olympic champion Tom Dean, meanwhile, did the business in his Men's 200m Freestyle semi, while Molly Renshaw dropped good time from her heats effort to progress to the Women's 100m Breaststroke final.
The evening also saw Ben Proud unable to repeat his 2017 heroics in the Men's 50m Butterfly final – and it was Wilby who came closest to getting Britain's first medal on the board. 
He was looking to make it successive podium appearances at World Championships following a superb silver in the contest at Gwangju 2019 – and as the only Brit in the showpiece, with the event's three-time and reigning world champion Adam Peaty unavailable due to injury.
Wilby had already moved his times on well from heats to semi-final, and he did the same again here, with his fast finish seeing him claw back ground down the final 25m and move him into fourth, just behind the leading trio.
There was just too much for the Loughborough Performance Centre man to do in the closing stages, though, and the wall came too soon for the medals, with James touching fourth – in a season's best 58.93.
"I felt pretty good. The 100m Breaststroke, it's the sort of race you have to absolutely nail because the strength and depth across the world, and particularly Europe, it's incredibly deep, so it's got to be a perfect race every time," he said.
"For me, I've been faster, so it wasn't quite my perfect race. But I'm happy to have moved it on through each round, and it's always a pleasure to be part of a race like that, because it's really exciting to be in as well as for everyone to watch.
"I really wanted more, to be totally honest, but it's one of those where you can look back on it and think about things that could have gone differently, but at the end of the day, I need to be at peace with that and move on to the next race because it's a busy week and I've got a lot of fast swimming to do."
Fast swimming was the order of the day for Tom Dean, as he moved into his first individual World Championship final, in the event that brought him the Olympic title less than a year ago.
The Bath Performance Centre man moved on his early speed in the semi-final from where he had been in the morning swim, and he was in control of the lead at the 150m mark, before easing back down the last 50m to conserve energy ahead of what looks set to be a scorcher of a finale on Monday night.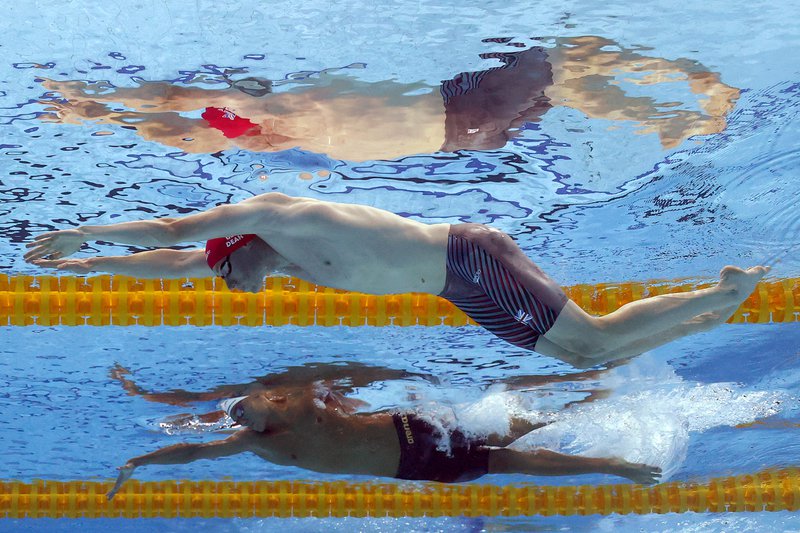 And for Dean, his progress ahead of that showdown is just what he was looking for.
"I'm always happy to get through to the final. Tonight was about getting in, get the job done and recovering for tomorrow, that's why I took my foot off the gas a little bit on the back end, save myself a little bit. It's about finding out how I want to take it out tomorrow. Job done," he said.
"You have to move through the rounds, that's the way to do it. Now isn't the time for fireworks and all the special stuff, save that for tomorrow night. That's just how I wanted to move it on."
Earlier in the evening, Medi Harris booked herself a lane for the Women's 100m Backstroke final. Medi made her intentions clear from 25m into the race, moving steadily up to second by the halfway turn and showing good skills to keep herself in that position for the remainder of the race.
Far from being daunted by the prospect of a first major final, the 19-year-old is ready to embrace the experience.
"I'm just really happy. Again, it was a step up for the nerves, but I tried to cool it down and it wasn't too bad. The time wasn't too bad, considering I was nervous," said Harris.
"My advice from everyone was enjoy it today, and I definitely did. It's a bit surreal. I didn't really give myself high expectations because I didn't want to put any pressure on this meet, but I'm really happy with getting into the final - it just means more experience for now and in the run towards Paris."
Molly Renshaw came close to her 100m Breaststroke personal best as she was the third Brit on the night to secure passage to a final.
Renshaw – who trains at the Loughborough Performance Centre – slashed nearly half-a-second off her morning swim to go a season's best 1:06.39, and just as in that earlier display, it was her pace in the closing stages that saw her move through the field and touch seventh overall.
Reflecting on her performance, Molly said: "It was really strong. I didn't really know what to expect this morning, and I don't think I've ever been a 1:06 in the morning so that gave me a bit of confidence.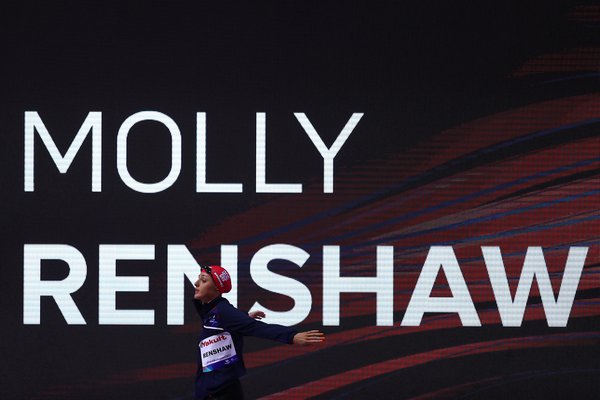 "This was just off my best time and I know that there's definitely things to improve on tomorrow, so I'm just happy to have got a lane for tomorrow and hopefully if I can get those things right, I can make another drop.
"The 100m has never been a massive priority of mine, but I have got there over the years, and the faster I can get that, the more it'll aid my 200m. So it's a nice way to start the meet with the 200m later in the week."
Ben Proud's bid to regain the Men's 50m Butterfly title that he won in the same Duna Arena pool half-a-decade ago went unfulfilled, as he ended seventh at the end of a splash-and-dash finale.
Proud's heats time of 22.76 – a mere 0.01 off his own British record – would have been enough for silver behind eventual champion Caeleb Dressel. But Ben did not quite execute the race he had hoped for, coming in just behind the leading pack in the sprint.
"Yesterday was great. To get back under 23, if you can replicate that in the final, that's when medals come. Today wasn't the day. But do you know what, after the Olympics, I'm back into racing, physically it's there, I've still got some racecraft to work on. I can take that - we'll go back and see," he said afterwards.
"We've got the 50m Freestyle in a couple of days, so I can use this as a building block to the Commonwealth Games, which was the aim all this time.
"If I were to replicate my semi-final time, I'd have been up there - but at the same time, there's something to look at and learn from now. There's many more opportunities to come in the next few years."
Rounding out the Brits in action in the second session of finals in Budapest was Luke Greenbank, in the semi-finals of the Men's 100m Backstroke. The Mel Marshall-coached man's individual focus is on the 200m event that has brought him world and Olympic medals – and while he could only place 14th here, Luke knows the process he has gone through in these two races can help him prepare for what comes next.
"I would've liked to have gone a bit faster, but this was always a stepping stone for the 200m. It's two swims under the belt, a season's best this morning, I can't really complain," he said.
For full results from the finals, click here.
Visit our 'What's On?' page here for a full rundown on how you can watch and listen to every finals swim from Budapest.