Kathleen Dawson, Adam Peaty, James Guy and Anna Hopkin combined to produce one of the great moments in British Swimming history by breaking the world record to secure the inaugural Mixed 4x100m Medley Relay Olympic gold for Team GB.
The British quartet headed fastest into a final packed with talent across the pool, thanks in part to the efforts of Freya Anderson on the freestyle leg in the heats – and all five have made history as the first Olympic champions in this new event, with the new world record of 3:37.58 catching the eye.
This is now officially Britain's joint-best swimming performance in Olympic history, with four golds, two silvers and one bronze medal to their names – the same tally as London 1908 – with one day of competition to come.
In her second final of the Games, University of Stirling athlete Dawson led things off on the backstroke, laying a crucial platform by reeling in part of her rivals' early lead after 25m and handing over to the indomitable Peaty for the second 100m in a strong position. 
Fresh from defending his individual crown earlier in the meet, the 26-year-old relished the chance to put targets on the backs of the four athletes in front of him and put in a superhuman two lengths of breaststroke, allowing Guy to decisively turn the tide on the butterfly.
The David McNulty-coached man pulled out of the individual 100m Butterfly to focus on the relays – and that sacrifice was fully vindicated as Guy recorded a staggering 50.00 split to move GB from fourth to first.
And so it was left to Hopkin, who works under Mel Marshall at the Loughborough National Centre, to bring home a historic swim. Despite the pressure of the USA's Caeleb Dressel chasing her and the other women on the anchor leg down, Hopkin – referred to as "the Bullet" by Guy in his post-race interview – showed supreme composure and technique to clock a 52.00, swimming away from the field, bringing the Team GB four home well inside China's old world record and more than a second ahead of the Chinese in silver.
So how did that crucial, final 100m feel for Olympic debutant Hopkin?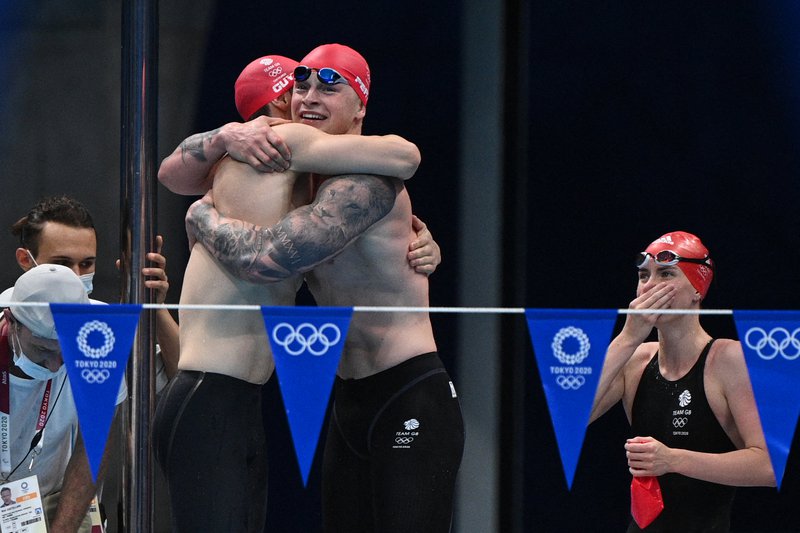 "I was just trying not to think about how far ahead we were from there, because it's irrelevant when you're in the water, you've just got to race. When I turned, I saw I still had a good bit of water in front of me and I just went for it. It's an amazing feeling, I'm so privileged to be part of this team," said the sprinter, who did not go in the 50m Freestyle event to focus on the relay ambition.
Newly-established triple Olympic champion Peaty added: "I feel great. Mel's trying to keep me as calm as she can, I get a bit carried away, especially when it's for the team! That just proves tomorrow's relay is going to be another good race – but right now, it's amazing to be a part of the team with these amazing women and Jimmy!
"My legs were shaking! Jimmy knows that if I go out too fast, I'm not coming back. I think that was 0.7 seconds quicker than Worlds, so I knew I had to show my experience, not get carried away in chasing down the Americans – their breaststroker did amazing, her goggles fell off. That's sport, I think she'll learn from that and be a force for the future, but right now, we are the champions, we're going to enjoy it and we'll hopefully be a force tomorrow.
"One word has changed the whole team – that is belief. We have got champions who believe we can win, we've got champions who believe we can get world records. If you've got belief, you can build everything around that. We've showed that tonight, we're a second under the world record."
Speaking about his race and the impact of training partner Anderson, Guy said: "That's my fastest split by about 0.5 seconds. Pulling out of the 100m Butterfly, I probably could've got a medal doing that split – but it paid off, it's a gold medal and a world record, you can't beat that, especially with this team. Freya is part of this relay team, she is a part of the gold medal. Without her, Anna wouldn't have come in tonight – it's more than four people, it's the whole team."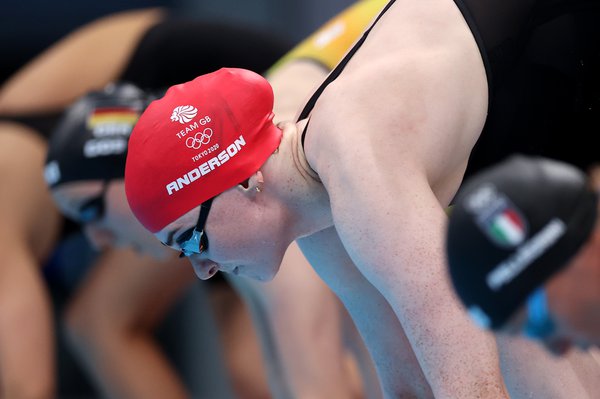 Dawson finally paid tribute to the coaches who played their part, saying: "We just wouldn't be here without them. They definitely got us to where we are right here. It's honestly more than I could ever have hoped for. If you've had told me back at the end of 2018 when I had my knee injury that I'd be an Olympic champion at the end of a delayed Olympics, I wouldn't have believed you!"
The other British involvement in the session saw Ben Proud through to the Olympic Men's 50m Freestyle final once again after a superb start helped him book a spot in the 'splash and dash' showpiece on Sunday.
Proud found himself in an outside lane after the heats, but there was no sense of the race getting away from the 26-year-old, who was placed in the top positions after 25m.
Having had to wait out the first six days of competition before finally diving into action, Proud was never going to let his sole opportunity slip – and he held on well in the closing strokes to touch fifth-fastest overall, earning himself a shot in the event that saw him come fourth at Rio 2016.
For Proud, this was an important step up at the right time, ahead of that blue riband finale tomorrow.
"To be honest, I was quite upset with myself yesterday – I've put a lot into this meet, I shouldn't have gone that close to being kicked out of the heats, so I wanted to come in tonight and give it a bit more, and we're into the final," he said.
"That's job done, that's where I want to be. It's going to be a good race tomorrow, that's for sure.
"Obviously Caeleb Dressel is swimming amazingly well, the rest of the field is up for grabs. I just want to get in, perform by myself and show the work I've been doing with all my coaches this year. I think we're on to something good, but there's eight people in the race tomorrow, eight people stand a chance of winning a medal. I just want to go in, have fun and enjoy the Olympics."