A closely-contested Women's 400m Freestyle and a Lyndon Longhorne British record double were among the highlights on day three of the British Para-Swimming International Meet at Sheffield's Ponds Forge. 
Three-time Paralympian Ellie Simmonds led home an impressive S6 1-2-3 for the Brits in the mixed-classification 400m Freestyle final, an assured swim seeing Simmonds to World Series gold with a points tally of 887. Maisie Summers-Newton (865) and Grace Harvey (801) were second and third respectively.
Despite finishing fourth overall though, University of Aberdeen athlete Toni Shaw produced a swim of great significance, going comfortably inside the S9 Paralympic consideration requirement time, touching in 4:45.50.
It is a performance the 17-year-old believes can be one to build on.
"It was okay. I haven't done that many 400s, I think this was only my fourth this year. Hopefully when I have a few more under my belt, it will keep getting quicker. While I think it could have been better, it was controlled. I am competitive, so I much prefer someone there in the next lane alongside me. That really pushes me on and makes me want to be quicker. Hopefully in a different race and in different circumstances I would go faster," she said.
"I like the 400m Freestyle because it's a longer event. If you make a mistake at the start, it doesn't really matter as you have time to right the wrong and make it up. You can't do that in the sprint events like the 100 or 200.
"I am pleased so far with my performances. It is just great to be back competing, I have really missed it."
The Men's MC 400m Freestyle was also a close contest across the entire pool, with French S13 Alex Portal taking the win with 906 points. Israel's Mark Malyar was second with 876, narrowly ahead of fellow S7 man Michael Jones, the reigning Paralympic champion earning 857. S9 duo Jonathan Booth (819) and Oliver Hynd (813) were not far behind.
The same could be said for the Men's MC 200m Freestyle finale, with eight of the 10 finalists being British S14 athletes.
Reece Dunn – fresh from breaking the S14 100m Backstroke record on Friday night – found himself locked in another intriguing battle with Jordan Catchpole, the pair having come close in the backstroke too. Dunn again came out on top, touching in 1:57.01 to dip under the Tokyo consideration time and notch 899 points in the process, enough for World Series silver behind Israeli S4 swimmer Ami Omer Dadaon (914).
Catchpole, meanwhile, did enough for third on 865, a day after clocking the consideration time in his favoured backstroke event. 
"I'm just really happy with where I am after the lack of training I've had. I've only been back in the pool since January, so to be just off personal bests in the majority of my races is not too bad," said the Team Waveney man.
"I'm very happy with the 200 Freestyle; I believe it was quicker than I did at trials for the World Championships in 2019, so I'm in a great place at the minute and with a great mindset. I'll be a lot better when I've had a bit more training with my coach back at home, so I'm just looking forward to what I can do later in the year.
"I was really happy to get under the consideration time in the backstroke too, to hopefully put my name on the sheet for the team. I'm just looking forward to more training and seeing what I can do in the summer."
Elsewhere, Leah O'Connell held on well under pressure from S7 rival An Nishida of Japan to place second in the Women's MC 50m Butterfly final, her tally of 634 points bettered only by the Netherlands' Jonne Moleman, who again went under the registered S4 world record to take World Series gold. Estonia's Matz Topkin (S4) won the men's event with a 797 point tally.
The Women's 200m Freestyle was a race between two S14 swimmers, Hatfield's Louise Fiddes pulling clear of Spain's Maqueda Andrade to win in a time of 2:16.64, worth 728 points.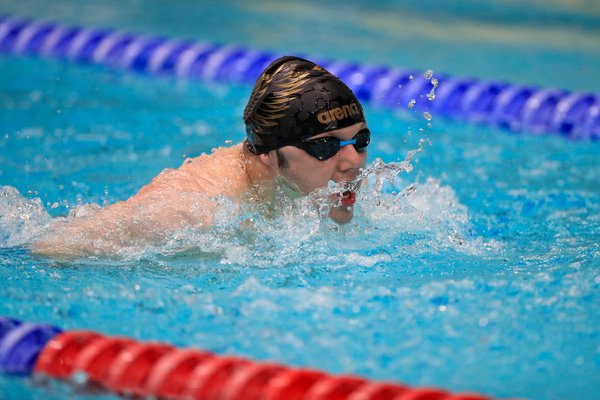 Earlier in the day, Derwentside swimmer Longhorne was in form to record a duo of new British records. Fresh from setting a new best mark in the Men's S4 50m Backstroke on day two, he knocked more than eight seconds off the previous in the Men's MC 50m Butterfly heats to touch in 56.05.
He did not have long to recover before the first of the Men's MC 200m Freestyle heats, when he again powered well inside the previous British record for an S4 swimmer, stopping the clock at 3:37.70. That record had not been broken since 1998. 
---
FOLLOW IT ALL
Click HERE to watch every heat and final from BPSIM 2021. 
Follow the British Swimming channels on Twitter, Instagram and Facebook for regular updates from Ponds Forge across the four-day meet.
Full results can be found by clicking here