British athletes are poised for one last medal charge on the final day of action from the London 2019 World Para Swimming Allianz Championships, with four setting Championship Records during Sunday's heats.
Jessica Jane Applegate broke the Championship Record with a strong performance in the heats of the Women's S14 100m Butterfly, producing a 1:06.03 to set the mark. The 23-year old, who is coached by Alex Pinniger at City of Norwich, is also the current World Record holder for the event. Speaking about her preparations ahead of the race, she said:
"I am a bit tired. The 200m Individual Medley last night was high with emotions, it was a season's best and I wasn't feeling too well after it. But you just have to put that behind you and get back in the pool in the morning and see what you can do."
Speaking about whether the previous heat, in which Yui Lam Chan (HKG) had broken the Championship Record, had affected the plans for her own race, Applegate said:
"I like to concentrate on myself rather than anyone else. I had a good conversation with my coach and did exactly what he told me to do so I'm happy with that. I would love, love, love a PB tonight, that's my target."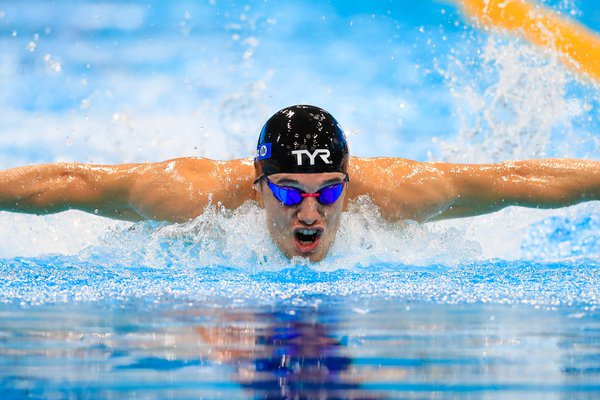 Reece Dunn was also on Championship Record breaking form in the Men's S14 100m Butterfly heats posting a time of 56.27, which puts him in pole position for tonight's final. Great Britain teammate Jordan Catchpole just missed out on a place in the final, but recorded a personal best time for the event with 59.97.
Double gold medallist from the Championships, Brock Whiston, also returned to the action in the heats of the Women's SB8 100m Breaststroke. The newly crowned S8 200m Individual Medley champion produced another strong performance, finishing the fastest qualifier in a new Championship Record time of 1:16.11. In the final Whiston will take on the European Champion, Ellen Keane (IRE) and Paralympic Champion, Katarina Roxon (CAN), and said of her medal chances:
"I'd like to think I can go out and win it, but you can't worry about what the others do. If the others PB or get a world record there's nothing you can do so you just go in and swim your own race. You've done the hard work so hopefully it will pay off."
Tully Kearney and Suzanna Hext posted the fastest two qualifying times for this evening's Women's S5 100m Freestyle final, with Kearney recording a new Championship Record of 1:18.25. She said of her performance:
"That was a tough but solid heat swim, I'm pleased. It's the first time in four years I've done heat to finals two days in a row. My shoulders are a bit sore so I've had to manage that. The final won't be as close as the 50 I don't think, but it will be a good race."
Hext couldn't hide the delight from her face having smashed her own personal best in a time of 1:22.24. She said:
"I'm really pleased with another PB. It's been a great first Championship for me having only started in January. It's been a whirlwind just to get to this point and I'm especially pleased after what happened on Tuesday, when I had an asthma attack after my heat. I didn't necessarily think I'd be able to race today so I'm over the moon and hopefully there's more in the tank for later."
Maisie Summers-Newton and Ellie Simmonds will also return to the action later on for their Women's SB6 100m Breaststroke final. Both put in a strong heat swim with Simmonds recording a personal best for the event. She said:
"I can't believe I've got a PB, 39.01. I honestly don't know where that came from so I'm really chuffed. It's going to be a great race tonight and Maisie is going to be a good one to watch as I know she's on great form. It's a fun event for me and to come away with my first PB in the event since 2016 is amazing."
Summers-Newton said of her performance:
"I'm pretty happy. I didn't think I would take it out as fast, I thought it would be a 1:35 to be honest. To do that this morning is great and I'll hopefully go faster tonight. I saw Liu (CHN) on the last 25 so I think tonight I'll try and stay on her shoulder."
Ellie Challis secured another final spot in the Women's SB3 50m Breaststroke. Challis, who is classified SB2, finished in a time of 1:10.66 and said of her performance:
"I feel like I just couldn't go, it's been a long week but I feel I can pull it through this evening. It's crazy to make another final in a class above me. Not competing in your class is quite hard sometimes, but competing against a class up and making a final is even better."
Toni Shaw continued her excellent World Championships debut, securing another finals place this time in the Women's S9 50m Freestyle. Shaw qualified fifth fastest in a time of 30.44.
Mikey Jones recorded a seasons best of 30.59 for his heat of the Men's S7 50m Freestyle, whilst Rebecca Redfern touched home in 29.14, a new personal best, for her Women's S13 50m Freestyle heat. Both just missing out on a place in their respective finals.
The action from London 2019 will close later with the Women's 34pt 4x100m Freestyle final, providing Great Britain a great opportunity to bring down the curtain on a golden championships with podium success.
Live results and the event schedule can be found 
here
 and you can catch all the action on Channel 4 
here
.