With a month to go until the World Para Swimming Championships in Madeira, we caught up with Oliver Carter to talk about his journey in the sport, making a first senior international British team and hear about the passions that allow him to switch off away from the pool.
The first steps towards Ollie Carter's love for swimming came as he was learning to walk again in aqua therapy sessions after a final major lower leg operation at the age of ten. Having been born with his legs facing the wrong way, being in the water was an aid to building up the required muscle throughout the recovery process and so he signed up to his local swim club to keep active.
"It felt much later than what many other kids were learning to swim, but I joined up with my local swim club Cupar and District SC just to keep active as much as anything and I progressively began to find a love for it and was getting better and better. 
"Scottish Swimming identified me at 13 and I started going to lots of meets, then I moved to Carnegie SC at 15 and onto Stirling for university after I finished high school - so I've progressively gone through that journey of moving up the ranks from my brilliant local swim club to now take things seriously in a performance squad environment."
Now training under the tutelage of Josh Williamson in the High Performance Two squad (HP2) at the University of Stirling, Carter's impressive performances at February's selection meet in Aberdeen earnt him a place among the thirty-strong team named for the World Para Swimming Championships this June.
To develop his experiences, Carter explained how travelling with a select cohort to the Para Swimming World Series event in Berlin proved a valuable step as he builds towards those debut swims on the international championship stage.
"It really has been a breakout experience. My whole time here at Stirling I've been there or there abouts, and now this season it's started to fall into place and I've earnt my place on squads.
"Going to Berlin was really good, it was a relatively small team but it was great to get that experience of how it functions when away with the British Para-Swimming staff. I've been to competitions with Scottish Swimming and it felt very similar - we'll all have our own competition rituals how we go about things but it very much is we're all there as a team coming together at breakfast and in the evening, whilst at the pool everyone is so supportive of everybody.
"Berlin was also the first opportunity I've had to experience racing in a global arena against many of the best S10 swimmers in Europe and see where I sit in the field. It's quite eye opening to race with them as it's one thing to look at them in the world rankings and see what times they're doing but it's another thing to be in the pool with them and have that competition experience with them – it was exciting and I can't wait for more of that!"

Preparations continue further with a number of the world's team in Lanzarote over the next two weeks for an intense warm weather training camp. It'll be second of such camps for Carter this season, with the S10 swimmer having been out at warmer climates with the University of Stirling squads in September, and he's looking forward to the opportunity to continue to bed in relationships with new teammates, and the British Para-Swimming coaching and support team around his work in the pool on this trip.
"To be heading out for my second of the same season I'm very happy about that and it will be good to get more work in this time with the British staff as hopefully I'll be going away to more events with them in future so it'll good to be able to keeping build up that chemistry and understanding together.
"I know what training sessions I have in the planner - most days I'll be in the pool both morning and afternoon with some quite intense work scheduled in at this point of my periodisation, but on lighter days I'll just have a single session in the afternoon with the rest of the day about getting recovery in.
"Gym will also be a key part of the daily routine with a 60-90 session after the morning swim and then there will be a bit of downtime over lunch and early afternoon before key sets in the afternoon swim.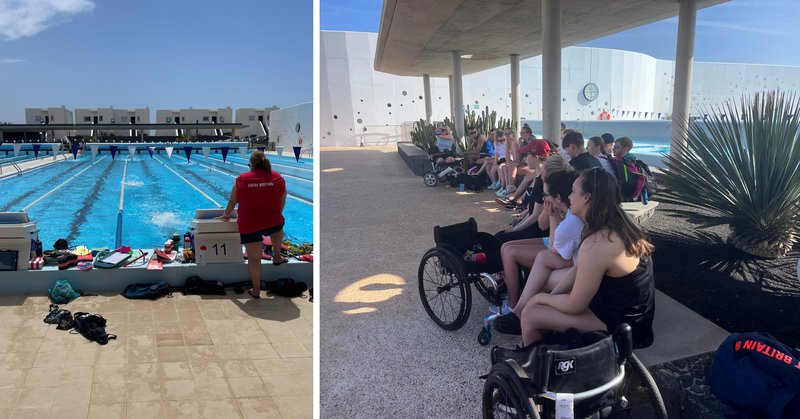 "There'll be tea and a bit more downtime in the evening before an early bedtime, as even though I actually have to get up earlier to train in Stirling you want to be fresh for those 7am starts. During the downtime I'm looking forward to chilling with the rest of the team as everyone is in the same boat of having tough training session so will be wanting to take it easy and just enjoy time recovering together in the sun. I have obviously seen them all around and had small talk at competitions in the past, however to have training with them and be spending downtime with them for a full two weeks it will be great to build up those social connections."
Familiar faces in the team aren't far away however, with one such athlete being world champion and Paralympic medallist Toni Shaw, who shares the same lane ropes during training at Stirling. So what advice has been imparted on Carter from his peers thus far?
"I feel that kind of thing of get to know the coaches and get the coaches to know you. Be eager and turn up with the right attitude to be coachable, which I something I think I'm quite good at. That's the main bit of advice I've picked up on but it is really nice to have the Scots on the team so that I'm not fully thrown in at the deep end with strangers and I have that little bit of comfort to build other relationships upon."
Away from the rigours of training, 400m freestyle specialist Carter finds release in his writing and became a published author during lockdown, whilst also partaking in the sport of Muay Thai Boxing from which he's found a strong social community.
"You need to have lots of stuff going on, even though swimming is so intensive and it almost takes over your life at this level, and I'm happy that it does, you need to have other things going on as otherwise swimming ends up becoming less about enjoyment. I really enjoy working hard and wanting to be the best but if it becomes your whole life's purpose that's just not going to work as athlete's burn out and so it's really good to have these other avenues of happiness and enjoyment going on that can be pursued alongside and compliment swimming.
"It's a bit about expanding your identity because I'll always introduce myself as 'I'm Ollie and I'm a swimmer' …but I love fantasy, Lord of the Rings, fairy tales and getting lost in those fictional worlds. During lockdown I wrote a book as swimming was taken away from me so I had to do something to stop me from going insane, and now I have so many more book ideas for stories that take place in this fantasy world I created and I think I'll be doing that for the rest of my life as it's something really fun for me, writing stories with a purpose and a meaning.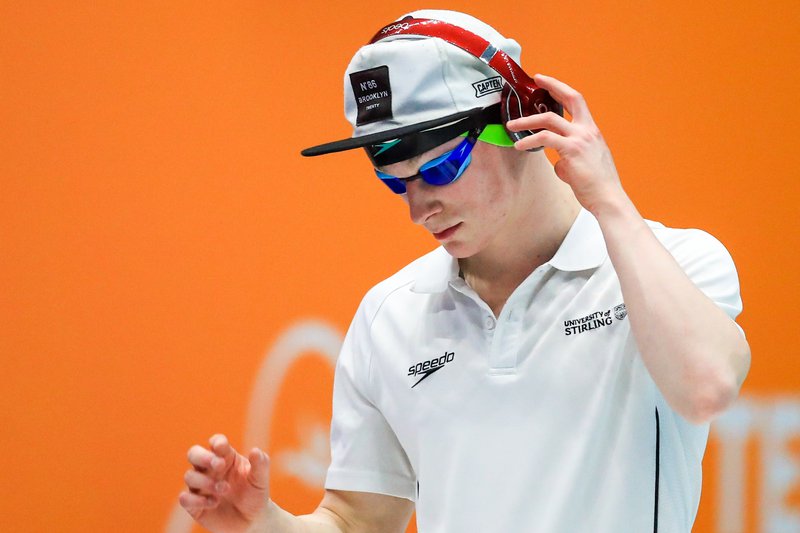 "Then Muay Thai boxing was really just a social club that took me by surprise, as I spend so much time with fellow swimmers training four hours a day and so they obviously become your friends but it's good to go out and have those social interactions with other people and that's what my Muay Thai Boxing club became for me and it developed as a hobby I became passionate about as it's this quite beautiful and fascinating dance of sorts – I'm very aware I don't want to be injuring myself for swimming but having been the captain and now president of the club it's brilliant to have that psychological break and build variety outside of the pool."
Looking ahead to June, Carter is over the moon to have been given the chance to line up on the blocks against the world's best. Much like his literary ambitions this is just another chapter of the story, with the hope many sequels will follow as the journey continues.
"I'm absolutely buzzing about Madeira, it was such a big shock as when I sat down with Josh at the start of the season to discuss goals we'd looked more at the Commonwealth Games but still to turn up as always and show what I could do at the Para Swimming World Series at Aberdeen in February.
"When I got the phone call from Rob [Aubry] it was a really pleasant surprise and that switched up the goals for the season and now the goal definitely is to go out and show the world what I can do - I've been here, I've been in and around but never represented GB on the major international stage as arguably I'd not quite been ready so now I have that chance I want to race well, make finals and even though I might not make podiums I want to ensure my competitors have to really work to beat me. To line up in my S10 classification and to get to know what racing these international athletes is like, that's what I'm most excited about as you don't get the same gage of where you're at with the Mixed-class competitions. I'm also selected with the 34pt Mixed relay in mind and so with that being a brand new event I think we're all looking forward to seeing how that goes."
Read more about the British Para-Swimming team headed to Madeira, Portugal for June's World Para Swimming Championships here.