Ellie Challis ensured she will be Paralympics GB's youngest medallist at Tokyo 2020 with a memorable Women's S3 50m Backstroke silver, while Scott Quin and Louise Fiddes secured a quickfire breaststroke medal double on another busy evening of finals for Britain at the Tokyo Aquatics Centre. 
Two years ago on from an unforgettable international debut that saw her claim S3 50m Backstroke bronze at the World Championships in London, Challis headed into Tokyo 2020 as Paralympics GB's youngest athlete.
The 17-year-old loves a challenge, though, and any competitive inexperience was undermined by a brilliant swim in the Women's S3 50m Backstroke heats, as she qualified second-fastest for the final.
In the medal race, Challis got off to a fine start alongside favourite Arjola Trimi of Italy, remaining almost level with her to the halfway point. Challis' impressive stroke rate did not drop from there, as she surged to the wall, behind Trimi, to claim a superb silver in her first individual Paralympic event. The time of 55.11 was also half-a-second under her own British record, set earlier in the year, to cap a stunning performance.
"I just enjoy it all. I'm only 17, I'm the youngest on the team, the lowest class on the team. Whatever happened, I was going to enjoy it. I can't really expect too much – I'm mainly looking at Paris as I'll be older and more experienced, this is just to gain experience, so to come away with a silver medal, I can't believe it!" she said.
"I'm really shocked! Going into the final ranked second was a bit different than I'm used to, I've never done that before. It was definitely a different experience for me – but seeing the others swim so well while I was in the call room gave me such a boost. I just wanted to enjoy it all. It hurt a lot more than this morning, but it's a PB, the fastest I've ever been and it was at the right place.
"I just want to say hi dad, hi to all my family! They're all in a house together. They look like they're really enjoying themselves, I know they'd have loved to be here. I'm missing them a lot and I can't wait to get home to see them all."
Ellie's call room inspiration came in speedy fashion, as first Quin and then Fiddes clinched emotional podium places in the SB14 100m Breaststroke events.
The men's race featured both University of Edinburgh athlete Quin and University of Aberdeen man Conner Morrison, with the former showing his pre-race mood with his famous lucky pants dance on to poolside.
Once he was into the action, Quin paced his race to perfection, moving through the field after a fast-paced start across the lanes to turn fourth and then overhaul Vasyl Krainyk of Ukraine down the back 50m, dipping inside his heats time to secure bronze and make it two medals in as many Paralympic finals, following silver in the same event at Rio 2016. Morrison matched his heats time to finish eighth.
After a disrupted run-in to the Games, it was clear how much the result meant to former Warrender Baths man Quin.
"It's been a long two weeks. I got tracked and traced on the plane, had 12 sessions out the water. I'm not using that as an excuse, I've had a consistent season. You've got the two young boys there, the world-record holder and then the Australian guy for gold and silver – I am honestly so happy. I'm emotional, I'm just blown away," he said.
"Teamwork makes the dream work. I've climbed the mountain and I've got a bronze medal from it. It's a beautiful Sunday. I just want to thank the Uni of Edinburgh team, over the last year since I joined them, I have got on with my group of guys, the squad back at home. We always have a laugh, my breaststroke buddies and everyone in my squad – that's the teamwork part of the jigsaw, and then obviously my parents, who have supported me the most for the last five years especially.
"Then there's my coach Matt, I really get on great with that guy, his mindset is the same as mine. Shanksy, my S&C coach, I've worked with him for eight years, he talks sense to me when I'm at my low points and then picks me back up. My physio Tracie, she's absolute gold with me – we've got the same kind of personality. I couldn't thank that team enough."
Moments later, Fiddes followed up Quin's bronze with a silver of her own. Like Quin, Louise's race owed much to an eye-catching back-end effort.
The 2019 world champion turned fifth, but her underwater work at 50m helped bring her back into contention and allowed her to reel in the women ahead of her with every stroke.
While Spain's Michelle Alonso Morales streaked clear in world-record breaking fashion to take gold, Fiddes maintained her technique and stroke rate through the water to move from fifth, to fourth, into bronze medal position and then up to second, securing silver after top-five finishes in her previous two finals this week.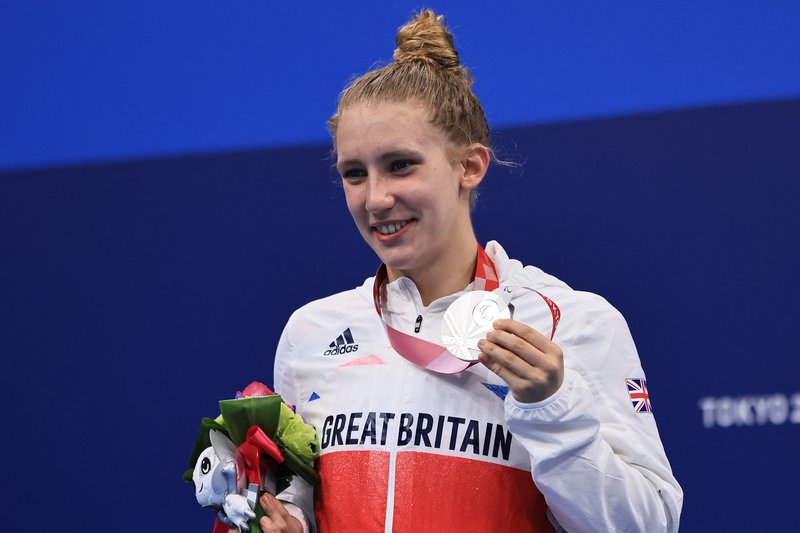 "I'm not going to lie, I was a bit heartbroken [after an under-par heats swim]. I'm just so shocked and overwhelmed with this," she said.
"My dad, bless him, he's probably crying too! My family are so, so supportive, I couldn't be here without them. My dad came with me every single session, he supported me through everything, school, anything I struggled with, he was there.
"The supportive staff of British Swimming helped with the turnaround into this final. Having their support has made it so much more achievable. To everyone back home, thank you so much for everything. I'd also like to say thanks to my coach Janko Gojkovic at home, all the girls, my gym instructor. We've all done, it's a team effort!"
There were two Brits in action in the splash and dash of the Women's S13 50m Freestyle.
Fresh from her S12 100m Backstroke title defence earlier in the meet, Hannah Russell reached the final, despite competing a classification up in the event. A fast start in the final ultimately saw her place sixth in a time of 27.58, faster than her heats.
"Overall, I'm happy with the swim. It was quicker than the morning's heats, that's always a good progression. I'd have loved to have ducked under the 27-second mark, so that's a bit frustrating, but I'm swimming up a class. I really enjoy a challenge, sport is all about challenges. I stepped up, gave it my everything and I'm really happy," she said.
"I haven't fully processed the 100m Backstroke gold yet, it still feels surreal. I've managed to FaceTime home, thank my coaches and my support staff at British Swimming – it was a massive team effort."
Rebecca Redfern, meanwhile, placed 21st overall, with her young son, born last year, among those watching on and supporting from home.
The fifth day of action from the Tokyo Aquatics Centre ended with the Women's 4x100m Freestyle 34pt Relay, with Stephanie Millward (S8), Zara Mullooly (S10), Grace Harvey (S6) and Toni Shaw (S9) lining up for Britain. Unfortunately, after some strong legs of relay swimming and finishing the race fourth, the quartet were disqualified for a takeover infringement.
Harvey said: "Every single one of the girls went out there and did their best. Win or lose, we are a team. There are things we can improve for next time, but I'm super proud of the swim this team just did."

Stay on track of all the action across the Tokyo 2020 Paralympic Games by visiting our 'What's On?' page.