The Dublin 2018 World Para Swimming Allianz European Championship tickets have been launched at the National Aquatics Centre and it's the first ever major international Para sport event to take place in Ireland.
Paralympic swimmers Ellen Keane and Nicole Turner were present to launch the tickets which are available in a range of affordable prices. Morning session tickets cost EUR 5 for adults, EUR 3 for Under 16s, EUR 10 for family tickets (2 adults & 2 Under 16) and EUR 25 for group tickets (2 adults and 6 U-16).
Tickets for the evening (finals) sessions will cost EUR 10 for adults, EUR 5 for U-16s and EUR 20 for family tickets. Adult competition passes, which give access to every session, are available at just EUR 70 and Under 16 competition passes cost just EUR 20.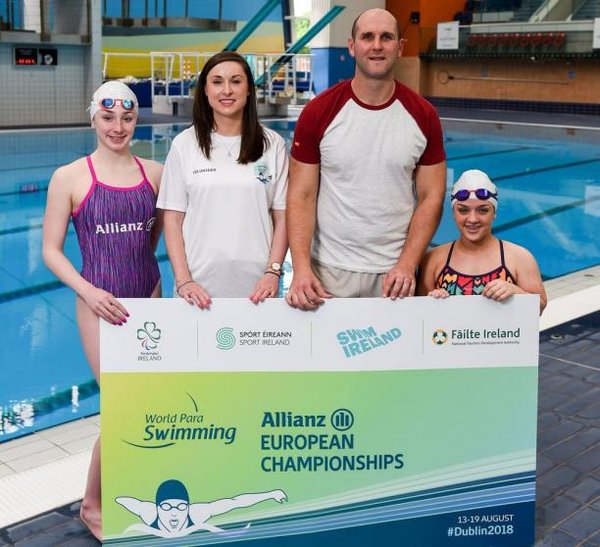 To mark the launch of ticket sales for Dublin 2018 an additional discount of 10 per cent on online ticket sales will be available until May 25.
The two newest ambassadors for the Para Swimming Allianz European Championships were also unveiled at the National Aquatic Centre. Claire Bergin, who represented Ireland at both the Winter and Summer Olympic Games, was joined by social media personality Rory O'Connor (Rory's Stories) to become the latest ambassadors for Dublin 2018.
Bergin and O'Connor will join Olympian (athletics) Jessie Barr, former Ireland rugby union international Gordon D'Arcy, women's footballer Amber Barrett and Irish football legend Niall Quinn on the starting blocks on 17 August for the Ambassador Challenge over 50m.
Speaking about the Dublin 2018 ticket launch, Local Organising Committee Chairperson, Miriam Malone said: "We are delighted to launch the ticket offering for the European Swimming Championships. This is the first time that supporters will have the opportunity to purchase their tickets for the biggest international sporting event to take place in Ireland this year.
"The tickets have been very reasonably priced to make this an affordable event and to give supporters every opportunity to get behind Team Ireland and to cheer them on to European glory. I would also like to welcome Claire and Rory as the latest ambassadors for the event. We are all really looking forward to seeing how all of the ambassadors get on in the pool on the 17th."
The Para Swimming Allianz European Championships will take place at the Sport Ireland National Aquatic Centre from 13-19 August. Thirty-seven countries have been confirmed to take part with 550 athletes competing across the week of competitions.
This month's British Para-Swimming International Meet in Sheffield will be where the British team is selected for the European Championships in Dublin. Tickets are still available for the four days of elite racing and are available by clicking here.