Bethany Firth and Stephen Clegg secured their second world titles in as many days at the World Para Swimming Championships in Madeira - and there was another British gold-silver-bronze combination to continue a memorable start to the competition.
Firth's gold in the Women's S14 100m Backstroke was backed up by silver for Poppy Maskill and bronze for Jessica-Jane Applegate, and there were also bronze medals for Grace Harvey (S6 100m Freestyle) and Rebecca Redfern (SB13 100m Breaststroke) on a packed evening of action. 
With so many great swims wherever you looked from those in GB caps, it was again difficult to pick out a highlight - but to see Britain's S14 women notch a remarkable second podium lockout in as many days was special, as Firth defended her 100m Backstroke title. Teenager Maskill, making her senior international debut, backed up her fastest heats swim to push Firth all the way to take the silver, while Applegate produced a consistent race to pick up the bronze. 
But it was Firth's electric opening length that set the tone and showed why she has the class to have now won this event at the last five major internationals, dating back to Rio 2016. 
After Firth, Applegate and Louise Fiddes recorded a gold-silver-bronze combo in Sunday's 200m Freestyle event, Bethany knows that a future star of British Para-Swimming played her part in another all-GB podium this evening. 
"I'm so happy to go out there and do that swim. I had to focus on myself because Poppy did so well this morning, and she's definitely going to be one to watch for the future," said Firth, who is coached by Nelson Lindsay. 
"This has probably been the hardest stroke to get back to [after breaking my foot], because I wasn't able to do any starts, I wasn't able to push, with my kick, I wasn't able to do it, it was all arm. It's my favourite one and it was probably the hardest to come back into it, so it was really bittersweet. I'm so glad to come here and to get the gold, I'll come back, put it together and maybe PB next year. 
"The girls are really stealing the show here. It's so good, it shows how dominant we are in the pool." 
Earlier in the evening, Clegg produced a scintillating final 50m to claim his second world title of the Championships thus far with victory in the Men's S12 100m Butterfly. 
The Edinburgh University man and Azerbaijan's Raman Salei are beginning to build a world-class rivalry, and just as in Tokyo nine months ago, they faced off from the centre lanes in Madeira. While Salei took things out hard to lead at halfway, it was Clegg who had measured his race to perfection, turning well and then surging past the leader inside the first 20m of the final length, pulling clear to touch in 57.32.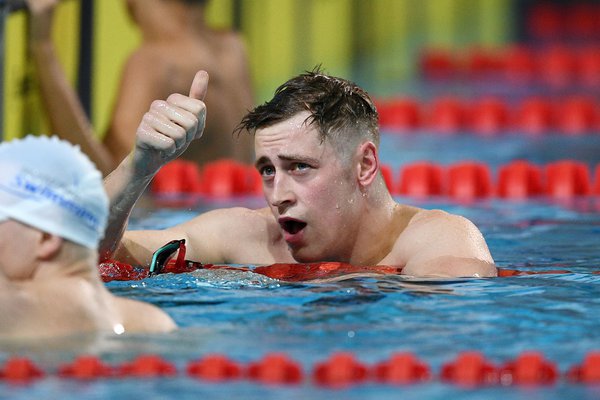 Such are the lofty standards that world-record holder Clegg sets of himself, the Paralympic medallist - who took silver in this event at the last World Championships in 2019 - was keen for more. Still, after recovering from illness recently, he was pleased to get the better of the man who outtouched him in Tokyo. 
"He got me all week long in Tokyo, it was very frustrating, especially on the fly, as I know that's my event and the one I always work for. It was heartbreaking to get touched out by him in Tokyo, but fair play to him, he had an absolutely unbelievable week there. It's really satisfying to get one on him this week and hopefully that will continue into Paris," said Stephen.
"With being ill, it's about doing enough to get the best medals I can. I've got a very busy schedule, I recovered from COVID two weeks ago - so I think if I'd got a bit left, I'd have liked to have paced it slightly differently, but it was enough for the win, so I can't be too disappointed," said Stephen.
"It's a bit of a mixed feeling with that one, I'd have liked to have gone under 57 seconds, but I'm happy. I'm straight into the 50m Freestyle tomorrow, that's my Commonwealth Games event, I've got a lot to learn in that one so I need to focus in for that one and really think about how I'm going to execute it. Tonight, I rest up and get ready to go again - it's a busy week, and hopefully I can do enough."
Grace Harvey began the day two medal haul for the British team with a well-paced swim in the Women's S6 100m Freestyle earning her a bronze. 
The National Performance Centre athlete dropped a quarter of a second on her heats time, turning in fourth and coming back strongly to clinch a podium place in 1:14.60, ensuring she has now won medals at Paralympic, World and European Championship level. 
In an event that is not her primary target, it was a brilliant performance that quite literally left Grace breathless. 
"I'm very out of breath! I'm absolutely buzzing with that swim, you know I progressed it heats to finals and freestyle isn't really the main focus for me, so to go out there and race some of the fastest guys in the world and come away with a bronze, I'm over the moon with that really!" she said.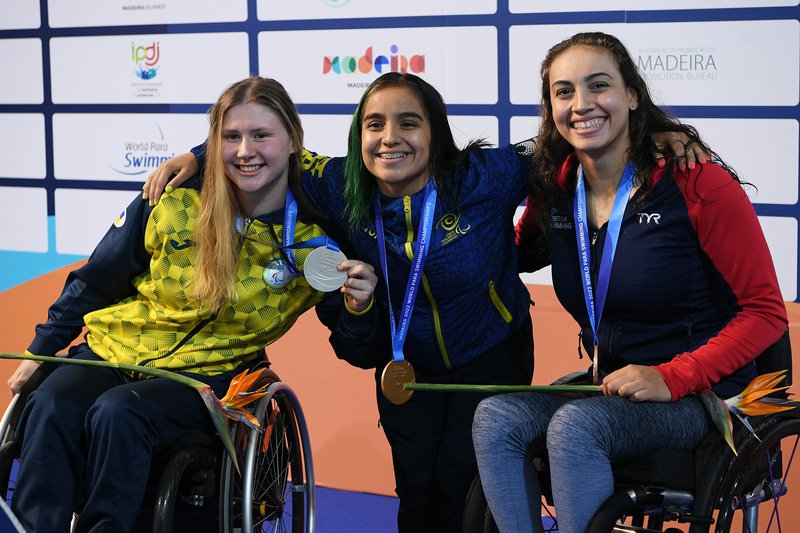 "My back-end speed is something I've really been working on for my medley and my breaststroke, and I knew I had something to come back on based off the heats swim this morning as well, so I'm glad I was able to deliver."
Rebecca Redfern added another bit of silverware to her ever-growing international list in the Women's SB13 100m Breaststroke, as the Worcester Swimming Club competitor swam to bronze on the world stage. 
Redfern - a silver medallist in this event at Rio 2016 and Tokyo 2020 - took the race out hard over the opening 50m, with a fast stroke rate seeing her lead at the turn. Ultimately, Colleen Young of the USA and Germany's Elena Krawzow pulled away to take gold and silver respectively - but Rebecca held on well to ensure she finished on the podium and has another medal to take home to young son Patrick and the family. 
"I died on that last 25m, so I'm just really happy to be going home with some bling! As long as Patrick doesn't drop it on his toe again, he'll be fine. I came out here to make him proud of mummy, and I think I've done that," she said. 
"If I can get in a relay, that would just be amazing, because I would be swimming with my brother, and that's a dream I didn't even know was there. I'm just really excited to see everyone else race and cheer the team on. There's a definite buzz, it's nice to have the team together and we can be in the stands and watching this time." 
Lyndon Longhorne opened his Madeira programme in the final of the Men's S4 100m Freestyle. The Derwentside ASC man - the British record holder in this event - came home seventh as he looks to build into the meet. 
In the Women's SM9 200m Individual Medley, University of Stirling's Toni Shaw looked strong through the opening 100m to sit second at halfway, before being overhauled on the breaststroke leg. She finished well on her favoured freestyle to touch fifth at the finish, with compatriot Brock Whiston two places further back in seventh.
A second final in as many days at his debut World Para Swimming Championships saw Sam Downie place seventh in the Men's S8 100m Backstroke. Downie, who trains with the East Lothian Swim Team, also reached the showpiece of the S8 400m Freestyle on Sunday evening - and this latest swim against the best in the world in his classification has given him even more valuable experience.
"I'm happy. I know I'm capable of a lot more, but it's been a busy two days, with two 400s yesterday and then racing again the next day. I can't complain too much, but I know I'm capable of more," he said.
"It's helped me improve on what I need to do between the two days, how to recover properly, and I did feel and see an improvement from heats to finals today, so I think I've done something right. 
"I will be focused, I'd love an opportunity to race in the relay. I really enjoy watching them and I'd really like to take part in. It's something I'm interested, we'll have to see how it goes."
There was a trio of Brits in the final of the Men's S14 100m Backstroke, as there was 24 hours earlier in the 200m Freestyle. On this occasion, Jordan Catchpole enjoyed the better of the race to take fifth, overtaking compatriot Louis Lawlor after the turn. Lawlor was sixth, with Reece Dunn just behind them both in eighth. 
The second night of scintillating finals at the Penteada Swimming Complex was rounded out with a thrilling Mixed 20pt 4x50m Freestyle Relay, which ultimately saw the British quartet agonisingly miss out on a bronze medal. 
S6 pair Maisie Summers-Newton and Will Perry combined to give GB a strong platform at the halfway stage, with Lyndon Longhorne (S4) on the third leg and passing on to S3 Ellie Challis for the anchor leg. Challis drove right to the wall, only for Italy - with a higher-classification athlete finishing - to get the better of that battle in the final few strokes.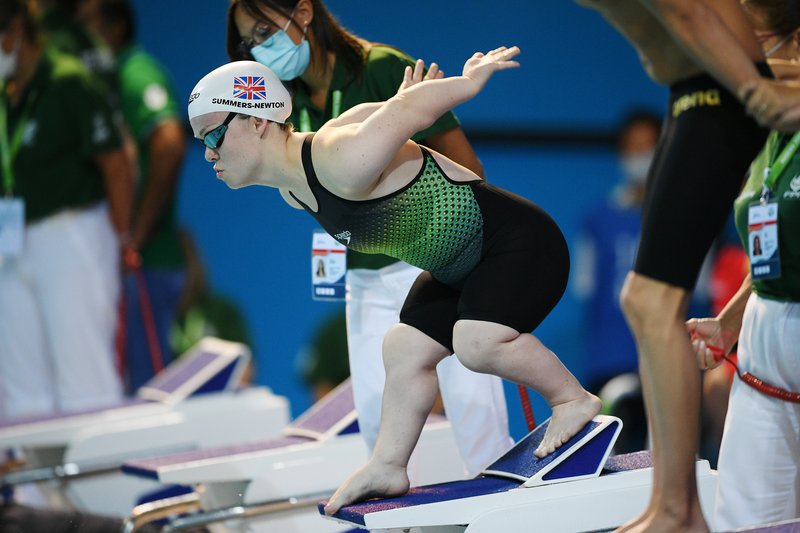 Still, it was an impressive showing by a new combination in this event for the British team - and they are already looking ahead to a home Para Swimming World Championships in Manchester next year. 
"This is very new. I'd never been the anchor for a relay before, it's a lot of pressure being the anchor. We are swimming the 20pt relay with 19 points between us, so to come away with fourth is still an achievement there," said Challis.  
"We are swimming with a lower classification than normal, it's faster and that's all we can hope for to go on to the next one - it's Manchester next year and then Paris."
Perry added: "This is the first time I've raced in front of a crowd internationally. It's great to have home supporters here and the GB team cheering us on. It really does help, all I know is bring on Manchester, bring on next year and we'll do even better. With 19 points, we should be pretty proud with fourth."
Summers-Newton said: "We had our team meeting before the race started and one goal was to progress heat to final. I'm pretty sure we all did that because the overall time was definitely faster than this morning. As a team, we wanted to go out there, swim faster than this morning just smash it really. We were so close on that last five metres, it is what it is, we know we all tried our best and that's all we can do."
Longhorne said: "It's a team effort, we did absolutely phenomenal, we couldn't be prouder than that. Hats off to the team, it's not individual, it's everyone."
For full results from day two in Madeira, click here. To catch up on the meet so far, click here.