British records, maiden international titles, thrilling finishes and another British one-two-three on the podium all contributed to another sensational night for GB at the World Para Swimming Championships in Madeira. 
Day five's finals began in flawless fashion, with Grace Harvey (Women's SB5 100m Breaststroke) and Toni Shaw (Women's S9 400m Freestyle) both swimming to their first ever World golds in the first two showpieces of the session - the former in a new British best mark time. 
From there, the highlights continued to come, with Bethany Firth's fourth title of the week coming courtesy of victory in the Women's S14 200m Individual Medley, ahead of compatriots Jessica-Jane Applegate and a resurgent Louise Fiddes. 
There were also silvers for Ellie Challis (Women's S3 50m Freestyle), Hannah Russell (Women's S12 100m Freestyle) and Stephen Clegg (Men's S12 100m Freestyle), as well as a host of other strong performances. 
First up, Harvey completed her set of World Para Swimming Championship medals for the week and clinched an outstanding new British record with a dominant display to claim Women's SB5 100m Breaststroke victory.
The Manchester Performance Centre athlete swam to a superb Paralympic silver in this event less than a year ago in Tokyo - but there was no denying her a first senior international gold this time, as she powered clear in the first few strokes and never looked back. 
Harvey turned more than seven seconds clear of her nearest rival and continued to pull away, eventually touching in 1:41.19, inside her own previous British best and more than 17 seconds clear of the silver-medal position.
After a silver in the SB6 200m Individual Medley and bronze in the S6 100m Freestyle, this result meant a full house for Grace - and it was a performance that left her a little emotional. 
"I love a PB! I wasn't really expecting that, I just wanted to have a nice, controlled swim. I've really been working on my breaststroke in the second 50m, so to see it pay off, especially on day five of a meet - if it was day one, what else could I do?! I'm really excited to see where I can take my breaststroke at the moment," she said. 
"I didn't think I'd come away with a medal, so to have one of each colour is pretty nice, to be honest! I've never heard the anthem play for me, so to be able to stand on that podium when I collect this one, I think I might cry. 
"I'm racing the 100m Breaststroke at Commonwealth Games. It's an SB6 event and I'm an SB5, so I'm racing up against those who aren't as impaired as I am - but I'm really excited to show what an SB5 can do on the world stage in a field of SB6s."
Shaw also claimed the first individual world title of her exciting young career after edging the most thrilling of finishes in the Women's S9 400m Freestyle.
The University of Stirling athlete seized the initiative from the start and pulled into a solid early lead over Hungary's Zsofia Konkoly. Shaw was more than a second clear at the 300m mark but remained well aware of Konkoly's pacey finish, leading to a breathless closing 25m where the two centre-lane swimmers matched each other's intensity, stroke for stroke.
Ultimately, Shaw - edged out of medals on more than one occasion this week - had the drive to reach the wall first, winning out by 0.14 seconds to provide some vindication at getting the better of such a close contest.
"I'm a bit shocked, I'm not going to lie. It maybe wasn't the quickest race, but the touch was so close and I'm just really happy that I managed to get it. Finally! Last night was difficult, but I knew I had this today so I had to put it out of my mind, and on that last 50m, I saw I was being caught up and I thought, 'it's not happening again, not today!'" she explained.
"I knew the girl beside me has a really strong second half, and I sometimes struggle on the last 100m, so I thought that if I could get a good enough lead, I may be able to hold her off.
"I was breathing the other way. I could see her when my head was down, just catching me up, but I had no idea just how close it was until I touched."
Britain's S14 women continue to claim the Madeira podium as their own after a third GB 'shutout' of the week in the Women's S14 200m Individual Medley, with Firth again coming out on top.
It was Applegate who took things out fastest from the blocks, with her strong opening 100m giving her a lead over Firth at the halfway stage. But Bethany clawed back Applegate's advantage and then some on the breaststroke leg to take the outright lead, before consolidating that with a brilliant freestyle closer to comfortably reach the wall first in 2:26.69 for her fourth gold of the competition.
Jessica-Jane was next in to pick up another silver in 2:30.19, while behind her, Hatfield Swimming Club competitor Louise Fiddes produced a stunning freestyle performance down the back 50m to overhaul Paige Leonhardt of Australia and take the bronze on the touch, by 0.07 seconds. 
"We keep pushing each other and always trying to get there on top - and I think it shows in our racing how much we really do push each other on," said Firth, who has continued her ongoing record of winning a medal from every single international final she has competed in for Britain.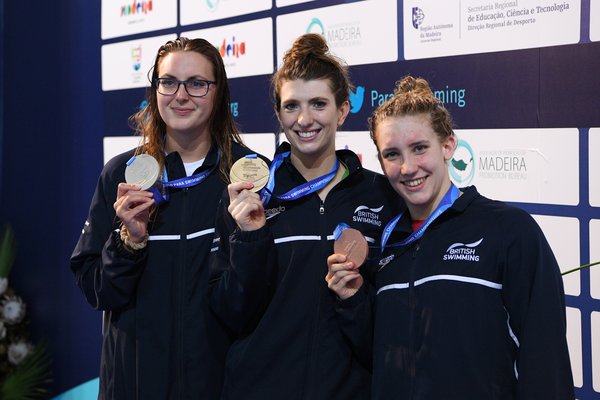 On her own performance, Applegate added: "I said to myself after Tokyo that I'd never swim this again, but here I am, swimming it again! For me, I have to be with Bethy in the first 100m to stand a chance of a medal because my breaststroke is the worst in the field, so I have to really go for it on the first 100m and deal with the pain for the rest of it."
Fiddes, meanwhile, was delighted with her bronze comeback, saying: "I'm over the moon. I was really nervous going into that last turn, but I knew I had a strong back end and then coming into the last 10m, I knew I needed to spot the wall to get that finish. It was so, so close."
In the Men's S14 200m Individual Medley, Plymouth Leander's Cameron Vearncombe will have gained invaluable experience in finishing seventh as he makes his senior international meet debut for Britain. 
Hannah Russell was involved in the closest touch-out of the evening to secure a silver medal in the Women's S12 100m Freestyle. While Brazil's Maria Carolina Santiago Gomes pulled clear to claim the gold, the battle for second was a fierce one between three-time Paralympian Russell and Anna Stetsenko of Ukraine. 
Manchester Performance Centre swimmer Hannah spoke afterwards about the time she has dedicated to practising her finishes in training - and it is clearly time well spent, as she judged the touch to perfection, edging out Stetsenko by a mere 0.01 seconds, adding to her healthy medal tally for the meet.
"I've just found out the result there, 0.01 between second and third is insane. For me to be able to get my hand on the wall before theirs, I've been practising my finishes in training day in and day out, so be able to get that, it's paid off," she said.
Immediately afterwards, Stephen Clegg - with two World titles to his name already in the week - followed Russell's suit to place second in the Men's S12 100m Freestyle. The Edinburgh University man came back strongly on the second 50m to keep touch with great rival Raman Salei, who ultimately went on to the gold.
Still, a silver to add to his personal Madeira haul was no disappointment for Clegg.
"I would've liked to have gone a bit quicker, but I think that's probably a bit unrealistic in terms of the prep I've had to had into this competition with sickness and injuries," he said.
"It's a pretty good performance, not far away from my best, and coming away with a silver medal is never anything to turn your nose up at."
Ellie Challis dropped an astonishing 2.15 seconds off her own Women's S3 50m Freestyle British record in the space of one day - and she picked up another World Para Swimming Championships silver in the process.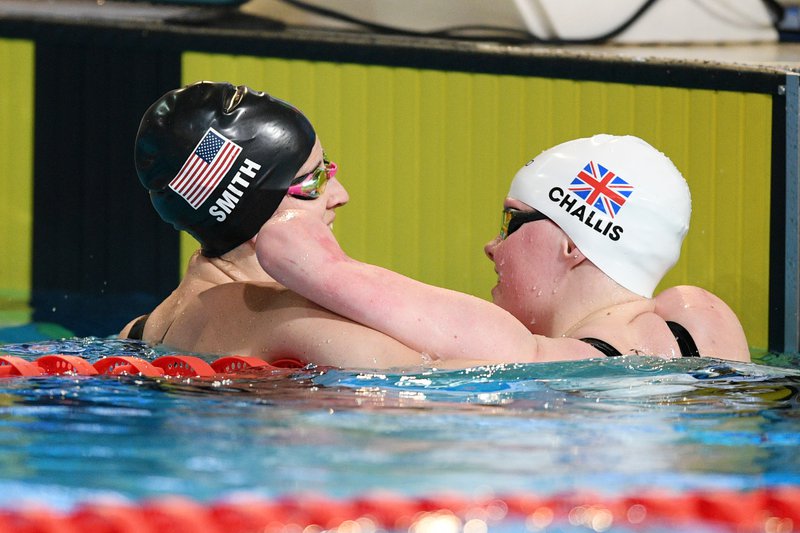 Challis has had another packed programme in the pool, but there was little sign of that as she clocked a 51.24 in the morning heats (way faster than February's 51.91 in Aberdeen), before powering inside that mark by a distance to touch second in the final, going under the 50-second mark with a 49.76 in a race where the USA's Leanne Smith equalled the world record time for the S3 classification. 
It did not take Ellie long to pick out her family in the crowd and give them a big wave at the Penteada Olympic Swimming Complex after claiming the latest medal of her collection. 
"My dad has been here this week and my sister got here today, my sister and her friend are in the crowd. She hasn't watched me swim since 2019, so to get on the podium while they watch is great. I'm definitely ready for my day off tomorrow to be ready for day seven," she said.
"I was so happy with this swim. It's a similar time to what I went in the relay the other day, so I'm very happy, especially to be able to do it after all the events I did earlier in the week, it's great."
Elsewhere on the night, Loughborough University's James Hollis placed fifth in the Men's S10 100m Butterfly, before warming down and preparing for the Mixed 34pt 4x100m Medley Relay to close out the evening. Hollis (S10) took the butterfly leg, with Alice Tai (S8) opening on backstroke, Maisie Summers-Newton (SB6) on breaststroke and Oliver Carter (S10) closing it out on the freestyle, bringing Britain back to finish sixth at the end of a race that goes in all directions as teams mix up their men, women and classifications across the field.
It is a relay event that has Tai excited for the future. She said: "It's the second time I've swum backstroke since 2019, with the heats being the first time. It's really nice to be back in, I'm so honoured I got put in the relay. I'm excited to see what the future holds as I think we're going to have some good combinations and some strong swims."
In the final individual race of the session for GB, breaststroke specialist Rebecca Redfern placed eighth in the final of the Women's S13 50m Freestyle - an event she is targeting for Team England at this summer's Commonwealth Games. Earlier on, Northampton Swimming Club's Scarlett Humphrey continued her busy schedule with another finals performance, finishing eighth in the Women's S11 100m Freestyle final as she carries on gaining from the world-class experience in her maiden international. 
Find full schedules and results on from Madeira 2022 here, with details of all the British athletes in action and where to watch on our 'What's On?' page.