Tully Kearney and Ellie Challis smashed their own world records on the way to Para Swimming World Championships gold on the opening day of the competition in Madeira – and there were three more titles for Brits on a stunning evening for the British Para-Swimming team. 
Kearney sprinted to victory in the Women's S5 50m Freestyle and Challis followed suit in the SB2 50m Breaststroke, before an outstanding GB one-two-three in the Women's S14 200m Freestyle saw Bethany Firth come out on top, ahead of Jessica-Jane Applegate and Louise Fiddes, with silver and bronze respectively, while Stephen Clegg – in a new British record – and Hannah Russell powered to golds in the Men's and Women's S12 100m Backstroke events.
Alongside a host of other strong finals swims from the Brits, it made for a breathless first finals session at the Penteada Swimming Pool Complex.
Opening up the GB account at the 2022 World Championships was Kearney. The double Paralympic medallist led from the front, powering to a body length ahead on the first 25m, before getting her head down to surge further clear and lower her own time by 1.21 seconds, touching in a time of 34.07. 
The 25-year-old had qualified second into the final earlier in the day with what was a solid performance, before surprising even herself with her final swim. "I'm still pretty shocked with that, this morning I didn't even know if I was going to race due to my injury but I'm just over the moon," said Tully.
"I've had to be a lot more sensible and race smart, which is something I struggle with as a natural racer. But in order to keep my shoulder going throughout the meet, I've got to be sensible throughout the heats and then go for it in the final. I'm looking forward to seeing what I can do as the meet progresses".
As for her focus for the rest of the meet, Kearney – an Olympic champion in the S5 100m Freestyle and a silver medallist over double the distance – is keen to target those Paris 2024 events.
"With the 100 and 200m Freestyle being the Paris events, that's what I'm going to be aiming towards. Because I've had this issue the last couple of months with injury, and all the changes that have happened this year with my coach changing, there have been a lot of changes, so the past five weeks, I decided to prioritise my mental health and recovery and have been training in Loughborough. It's been a challenging year so I'm not really expecting too much, but if I can defend my gold medals from 2019 then I'd be happy with that," she added.
Joining Kearney in the world-record club shortly afterwards was Challis, who won gold by powering clear the Women's SB2 50m Breaststroke final. The National Performance Centre swimmer put in a dominant display, also lowering her own record to a time of 1:04.33 after leading throughout the contest.
Challis, who was the youngest in the field, suffered a number of pre-race issues that only made her swim even more impressive.
"I didn't even think I was making it to my race. I ripped two suits, I literally ran from the changing room straight out, I had no time in the call room – thanks to Sarah [Kennedy] and everyone on the British team that ran around getting me other suits and my training suit just in case, and someone from the Spanish team that helped me get into it. I really didn't think I'd make it to the race and to then do a world record is insane because I was just so happy to make it in the end!" said Ellie.
 "I didn't really care after that after I made it to the race that's when the focus changed, I did the best race of my life in breaststroke and I'm so glad I got to be here and I got to do it in my own class for once which was lovely."
"I've gained absolutely loads of confidence, I haven't been able to do a PB in three years now so to go and break it after all that drama happened was insane, and I'm so happy that my dad was here to watch it as well and got in for this final".
Great Britain blocked out the podium in the Women's S14 200m Freestyle, as all three swimmers went under their time in the heats earlier in the day to battle for the medals. Touching first was world-record holder Bethany Firth, a time of 2:08.72 enough for the world title. The double Paralympic medallist in the event held off late charges from both Jessica-Jane Applegate and Louise Fiddes. All three swimmers touched ahead of the field at the 100m mark, dropping their opponents significantly on the last 50m for a memorable sight for the British fans.
Understandably, gold-medal winner Bethany was delighted with her swim, explaining: "I'm so, so happy. After the year and struggles I've had, it's so nice to come here and put in that swim with the other girls who have done so well as well. It shows how strong the GB girls are that we are able to do that. I always aim high and am already focusing on the next swim so we shall see what happens."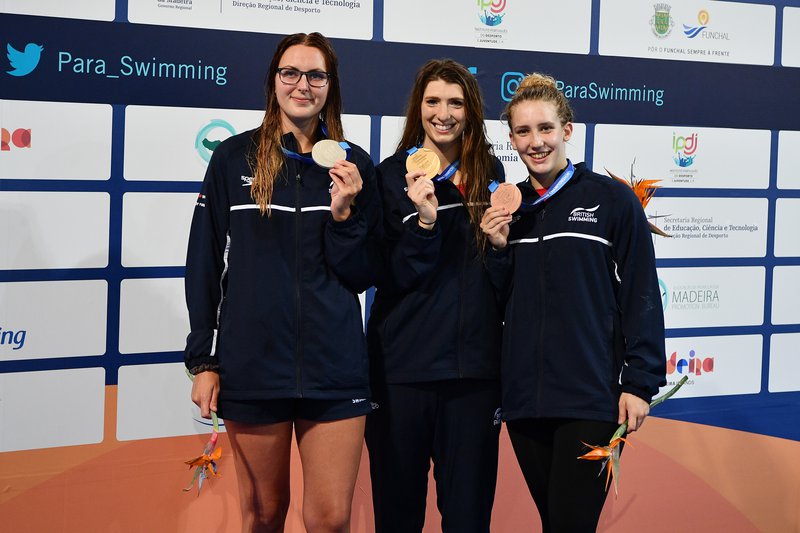 Speaking on her swim, Jessica was in a reflective mood, saying: "I'm really happy with my heats to final progression, however it's not been the best season for me. It was really great to pick up silver but there's always room for improvement on the way to Paris. It's amazing to be 1-2-3 with the girls and I'm looking forward to the rest of the week."
Louise added: "I don't know what means more to me, going 1-2-3 with the girls or overcoming my minor injury to make it to the race! It's magical to be able to turn all this round into a medal with all three of us on the podium. It's really boosted my confidence going into the rest of the competition."
Stephen Clegg continued the medal success for Britain as he took gold in the final of the Men's S12 100m Backstroke. The Edinburgh University swimmer qualified in second place, before taking advantage of a lightning start to edge out Azerbaijan's Raman Salei on the touch.
Clegg finished in a new British record time of 1:00.03 and was ecstatic with his display. "I'm absolutely thrilled with that. I had Covid two weeks ago, so to come away with a gold in an event I'm historically not that strong in is great," he said.
A bronze medallist at last year's Tokyo Paralympic Games, this is his first world title, although he is not getting carried away this early in the meet.
"I started out as a backstroker so it's poetic that my first international medals are on backstroke. The focus though is always on butterfly now so that's what I'm looking to do well on later. I'm going to spend the next few hours enjoying this, touching out a person who did the same to me in Tokyo is nice, as much as I like him! It's my main one tomorrow so I'm just looking to calm down and reset."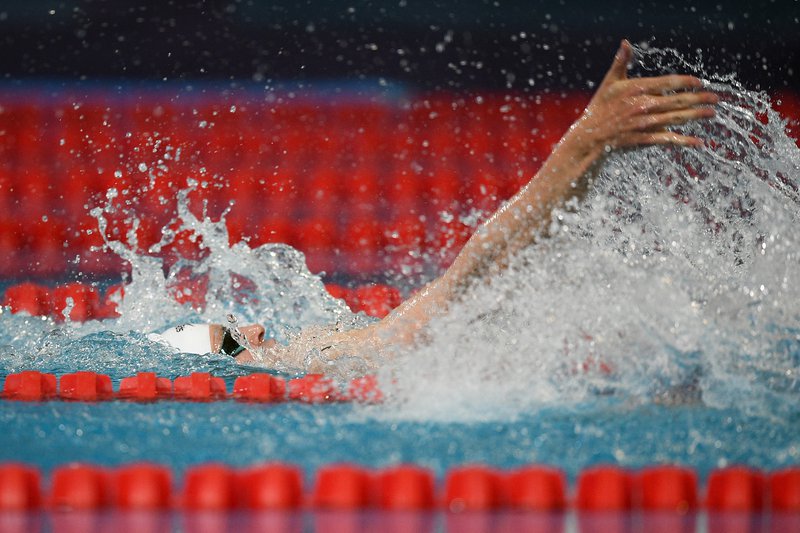 Straight after Clegg's victory came Hannah Russell's win in the Women's S12 100m Backstroke final – less than 12 months on from her victory in the same event last year in Tokyo. The National Performance Centre athlete was involved in a tight race to the finish with Gomes Santiago of Brazil, with the pair neck and neck throughout the race until Russell's superior stroke rate saw her power to the wall in a time of 1:08.75 for gold.
"I'm really happy with that swim overall, a very similar time to what I went at the Tokyo Paralympic Games, so what better start could I have than posting that swim and adding to that title?!" she said.
She also spoke of the occasion, with Britain contributing to an amazing night of swimming in Madeira. "Tonight, Great Britain have had a brilliant evening racing and seeing them performing and winning medals really spurred me on, I was just about to walk out after Stephen and you know in my mind I just wanted to perform a solid swim and that's what I managed to do tonight.
"For me I'm quite fortunate that with my programme my 100m Back normally is day one so it is the first event I race, so to have that now completed I can look forward to the freestyle events and hopefully the potential of the relays. Standing on the podium is such a surreal moment, it never gets old and I absolutely love representing Great Britain, and doing myself, my family, my teammates and coaches proud."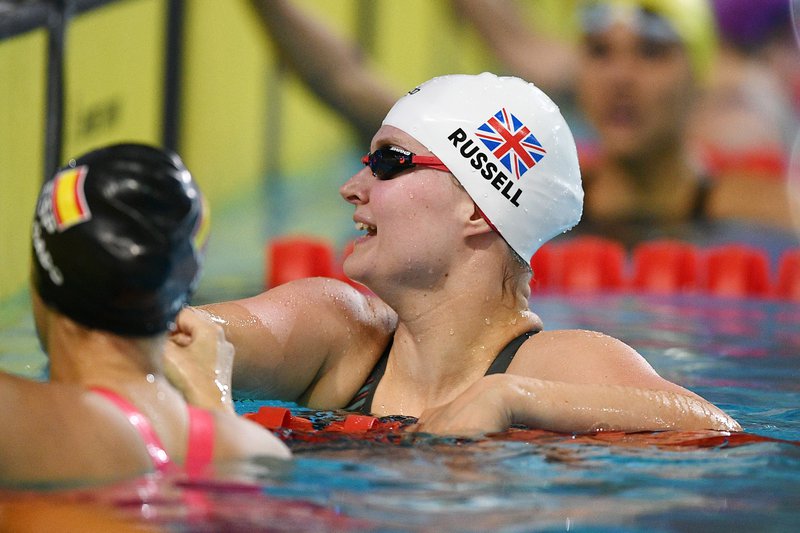 Elsewhere, Grace Harvey lowered her time from the morning's heats to finish just outside of the medal places in the Women's S6 100m Backstroke final. The Paralympic medallist was part of an intense race, finishing in a time of 1:28.13 to clinch fourth position. A consistent swim saw that Grace was never left by the leaders, with the European medallist in the event touching out Vargas Blanco of Colombia in the process.
Reflecting on her performance, Harvey said: "I'm very happy with that. The goal is to step it up from heats to finals and I did that, just got to focus on tomorrow's races now. There's nothing like having a crowd here that makes you feel so supported, it definitely pushed me more than it normally would!"
An absolutely electric final of the Men's S14 200m Freestyle saw the three Brits of Tom Hamer, Reece Dunn and Jordan Catchpole in the mix for the medals. Brazil's Gabriel Bandeira took the race out, winning with a new Championship Record. Dunn, who is still the World Record holder, touched in sixth position in, just behind fifth-placed Hamer. All three swimmers provided the Madeira crowd with a spectacle, fighting tooth and nail to the finish, with Catchpole rounding out the British cohort in sixth.
Despite what would appear a performance just off Hamer's best, he was focused on the journey to the Paris Paralympics. "This is a massive process and a massive journey towards Paris for me. The last 12 months have been really difficult mentally and physically with my back injury from Tokyo. Every four years is a massive competition and it was heart breaking to not swim last year, so I've made the decision to carry on swimming until Paris, with this competition being a stepping stone towards maybe a podium in 2024," he said.
"I've always been a team player. Regardless of the medals or the journey, the thing that makes me proudest is being part of Great Britain. So if I do get selected for the relay then I'll do the best I can for the team and for myself and see how we do."
There were promising first finals swims for Scarlett Humphrey and Sam Downie, both on their senior international debut. Scarlett was in the mix for the entirety of her Women's S11 50m Freestyle finale, touching just outside the medals in fifth. Sam, meanwhile, improved on his heats time to place seventh in the Men's S8 400m Freestyle.
Reflecting on her experience thus far as part of the Britain team, Humphrey said: "It's been amazing being away with the team, it's such a good atmosphere and everyone is so supportive of one another – it's such a pleasure being with them all, having such an amazing experience amongst them all and then me breaking onto the scene now as a junior athlete I love learning from them and it's inspiring to be swimming in the same pool as them."
Leeds University competitor Zara Mullooly rounded out the opening day for GB by coming eighth in the Women's S10 50m Freestyle final, ahead of the rest of her programme, focusing on the longer freestyle distances.

Find full schedules and results on from Madeira 2022 here, with details of all the British athletes in action on our 'What's On?' page.