Maisie Summers-Newton and Grace Harvey delivered a British individual medley one-two, whilst Hannah Russell and Toni Shaw added a silver and bronze apiece to Tuesday night's medal haul.

Paralympic champion, Maisie Summers-Newton, produced yet another outstanding swim to take the top step of the podium and retain her world title in the Women's SM6 200m Individual Medley on the third night of finals at the Penteada Swimming Pool Complex. Fellow Brit Grace Harvey took the race out strongest over the opening length before Summers-Newton's breaststroke prowess  brought her to the fore, with the pair both ultimately touching over ten seconds ahead of the rest of the field to share the podium spoils.
Delighted with the performance, Summers-Newton said: "I'm really happy, to retain my world gold in this race is just incredible. It can be quite hard on the fly and the back [for me to take control of the race early] because they are my weakest strokes. I just know breaststroke is my stroke so as soon as I'm onto it I try and the first to touch the wall, which worked on this occasion.
"Training has been going really well with my coach Andy [Sharp], and this event now gives me a good boost going into the rest of the week starting with the freestyle tomorrow - there's lots happening!"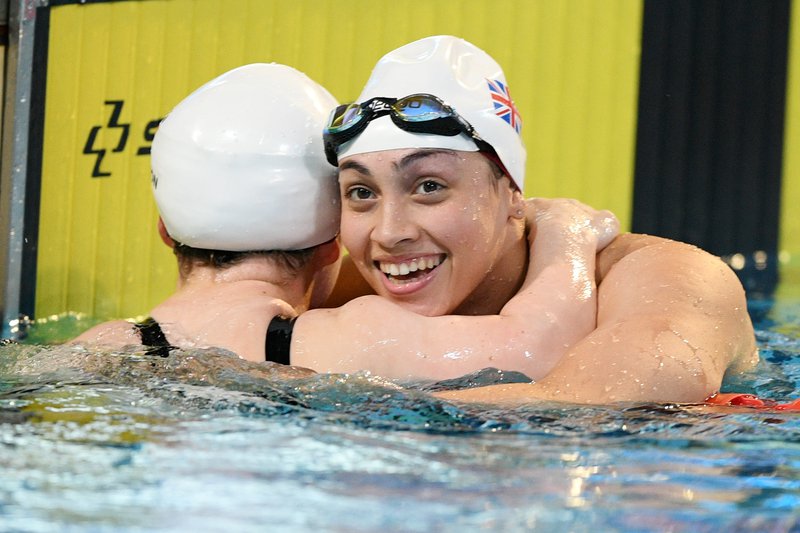 Reacting to her silver medal, Harvey commented: "I'm absolutely over the moon with that swim, especially with it coming only three months into a new training regime and I'm really pleased with how I'm progressing swims from heats to finals."
"The SM6 is such a competitive class and Britain are so strong, so it was nice to come away with a medal in such a strong field. I didn't have the swim I wanted in the Medley at Tokyo so I really wanted to step it up here. It's the second fastest time I've ever done so I now just want to see where I can take it in the next two years."
Hannah Russell sealed Great Britain's first medal of the day in the Women's S12 50m Freestyle Final. Touching in second place, only being beaten by a new Championship Record time, Russell's fast breakout saw her right up with the pack, before breaking away with the Brazilian in first to produce a strong swim and win a silver medal.
Russell was in high spirits after the race, in what was an additional medal to her ever-growing repertoire.
"I'm really happy with that swim overall. I progressed from heat to final and went under the 28 point so I couldn't ask for much more." Said Hannah
"For me in the S12 category, the freestyle events are really exciting so it's great to have a race against all of the other girls in my category where it's about whoever gets their hand on first at the finish.
"I'll have the 50m Freestyle at Commonwealths, so being able to swim this event at the World Championships sets me up really well for July. I'm really looking forward to standing on the podium again alongside so many incredible women in my class and sharing that moment with all of them."
Adding to Great Britain's medal tally for the evening, Toni Shaw produced a gutsy swim in the Women's S9 100m Butterfly Final. Positioning herself into the bronze medal spot amongst a flurry of 1:09's, Toni's time was enough to edge out the competition after a tense last 15 metres.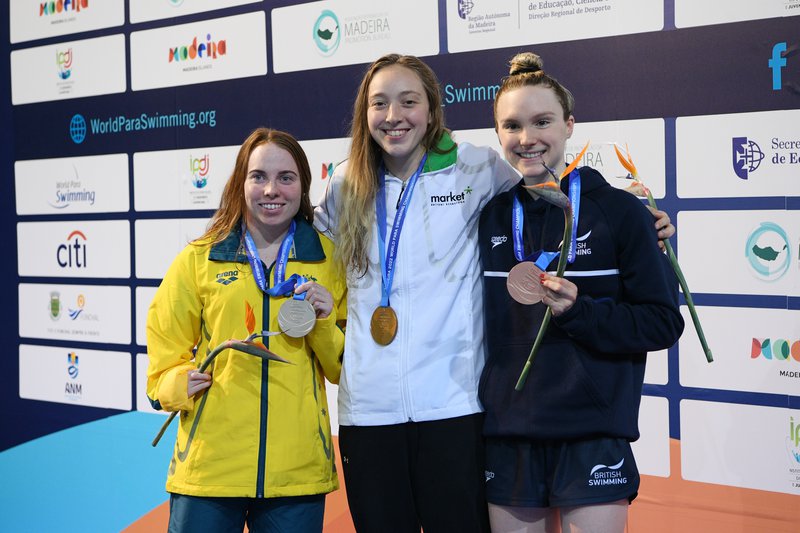 Shaw was ecstatic to pick up a medal after coming so close at the Paralympic Games last year, commenting: "I'm really happy – I got a lot of fourths in Tokyo so see 'not a four' next to my name I was really happy. Some of the girls take the heats really easy so it's quite hard to know who you're actually going to be racing, it could be someone on the outside lane who is going to go like four seconds quicker, so you've just got to do your own race.
"I know I went out too quick on that race and I paid for it in the last 25 but I'll learn for the next time!"
Having followed on from her roommate's success, Shaw added: "I heard Maisie's race two before mine and it was incredible, she's been my roommate for the last however many years [on GB teams] so it was nice seeing her smash it. It'll be a special to celebrate each other's success when we lie in bed and watch a bit of Netflix before we get ready to go again tomorrow."
At the conclusion of the session, the a British Mixed 4x50m Medley Relay 20pts team took part in arguably the one of the most exciting races of the night. While the USA headlined with a World Record, Great Britain shuffled the pack to bring Grace Harvey and Tully Kearney in, with Will Perry and Lyndon Longhorne changing stroke as the quartet put an admirable effort to touch the wall in 2:54.05 for fifth place.
Perry remarked on his willingness to step-in to whatever role was needed for the team, saying: "Our coach has always told us when we need to step up we have to step up. I don't particularly like fly or train it often but when it comes to the team I'll do what's required and step up."
With Longhorne adding "It's great to get in and do another relay, especially when you're swapping the team around and doing different strokes which is a new one for me – I'm excited this event is set to be included at Paris."
Kearney was on the anchor leg and highlighted the importance of the event after the race. "I love being part of the 20pt relay, I think it's really important to showcase the lower class with more severe impairments, so that everyone back at home, whether it be a kid or an adult can realise that swimming is for them and not just for people with less severe disabilities."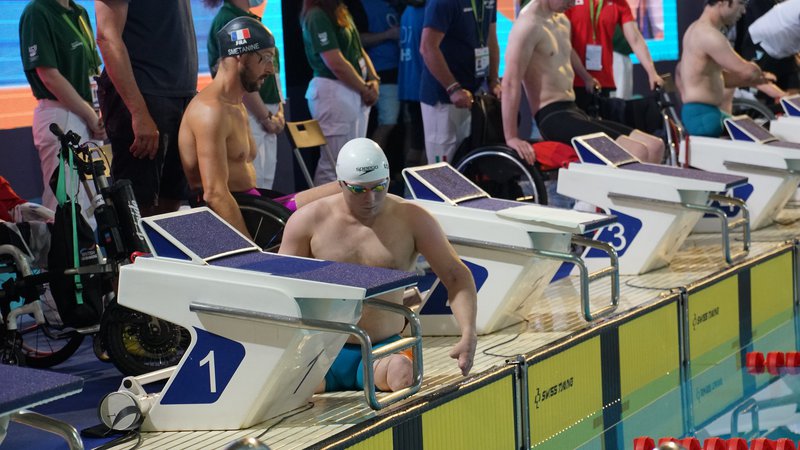 Earlier in the night Longhorne also competed in the Men's 150m Individual Medley final, finishing in sixth place. The Derwentside swimmer was very proud of his effort among a busy programme with these opportunities to compete against his international counterparts having given him the determination to and 'go that extra bit more' in his training blocks over the past year since Tokyo.
With two golds to his name at Madeira so far, Stephen Clegg contest a scintillating final of the Men's S12 50m Freestyle. The University of Edinburgh swimmer ultimately was fifth to the wall, in a time within a tenth of his British record.
"I'm pleased with that, I just wanted to go sub 25 which I haven't been this season, so it's a good setup for Commonwealth Games in just under 50 days' time." said Clegg
"I wanted to see how close I would get to a medal. They were a bit far out at the front there but it's setting me up very well for the 100m in both my individual and the relay towards the end of the week."
Meanwhile, across the night there was a host of British athletes in 100m Breaststroke action across the classes. Firstly Alice Tai touched in a very respectable sixth place in the Women's SB7 100m Breaststroke, having headed out strong to the turn but unfortunately still requiring more time to find the race fitness required to stay at the sharp end of the race, with the Ealing swimmer commenting:
"I kind of expected it - I wanted to do well but I think I got a bit excited [that first 50m], which is typical me to be honest. We've been doing three months of technique to try and deal with the amputation, so I just need more time to train and get the fitness under my belt that I had pre-World's in 2019."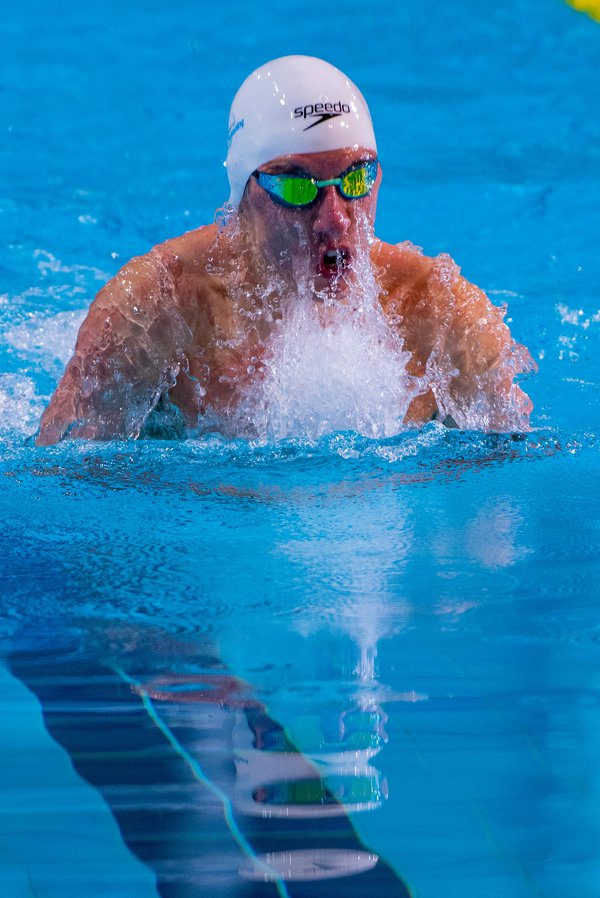 The subsequent SB14 event had Scott Quin, Louise Fiddes and Poppy Maskill all in action. Quin concluded the final stages of the men's race strongly but out of medal contention in sixth place, and reviewed the effort with one his playful analogies:
"I did struggle a bit, it was like Peter Pan when he's trying to find his shadow! Technically I'm feeling good, but there's just a few things I need to sit down and have a look at."
Fiddes agonisingly finished fourth in the women's contest, and though disappointed was reflective in that illness and injury at points in the season had hampered preparations and that the 'bigger picture' was to look towards Paris in two years' time. Maskill's recorded a new personal best of 1:21.97 to take sixth and paid tribute to those around her in helping her through the rounds.
"It's been good for me here because I've got people like Louise in my own team. I'm loving being away with the British team and having this sort of unique atmosphere which has really helped me in my performance."
Furthermore the Women's SB11 100m Breaststroke Final saw twin sisters Eliza and Scarlett Humphrey each deliver lifetime bests of their for own fifth and sixth place respectively. In high spirits after her first final of the week, Eliza said:
"I really enjoyed it, it was nice to swim against people I've looked up to for 20 years. I like the atmosphere, everyone's cheering and wants all the swimmers to do well and I'm glad I was able to do a good time today."
Scarlett adding: "I couldn't ask for more than that, doing a personal best on the world stage is amazing because I can put myself out there and do my best in front of everyone who's supported me on my journey. My coaches, parents, and everyone. It's really special."
Find full schedules and results on from Madeira 2022 here, with details of all the British athletes in action on our 'What's On?' page.