Britain's Mixed S14 4x100m Freestyle Relay quartet stormed to the inaugural Paralympic title and a massive world record to bring the curtain down on day four at the Tokyo Aquatics Centre – after Maisie Summers-Newton claimed her second gold of the Games and Grace Harvey secured a maiden Paralympic medal of her own in a breaststroke double.
Summers-Newton opened things up with Women's SB6 100m Breaststroke victory, before Harvey held on to a stunning silver at the end of a hotly-contested Women's SB5 100m Breaststroke finale.
Shortly afterwards, the relay team ended the evening in style, Reece Dunn, Bethany Firth, Jessica-Jane Applegate and Jordan Catchpole combining to devastating effect.
They headed into the final as favourites, with the first three in the line-up having picked up individual medals a day earlier in the S14 200m Freestyle events. But they still needed to deliver on that promise – and mixed events are never a foregone conclusion, with different orders of men and women across the eight lanes.
Dunn produced a strong opening leg to hand over to Firth virtually level in the lead with Brazil, before Firth showed her class by keeping Britain right in contention, in third after her 100m despite going up against men from the Australian and Russian Paralympic Committee teams. The RPC were disqualified after the race.
Third up was Applegate, the Alex Pinniger-coached athlete clawing back much of Australia's advantage and handing over to Catchpole, who knew a first ever Paralympic gold for himself could be only 100m away. So it proved, the Team Waveney man quickly reeling in Madeleine McTernan of Australia and never looking back from there, opening up a huge lead and bringing them home in a time of 3:40.63, well inside GB's own, old world record.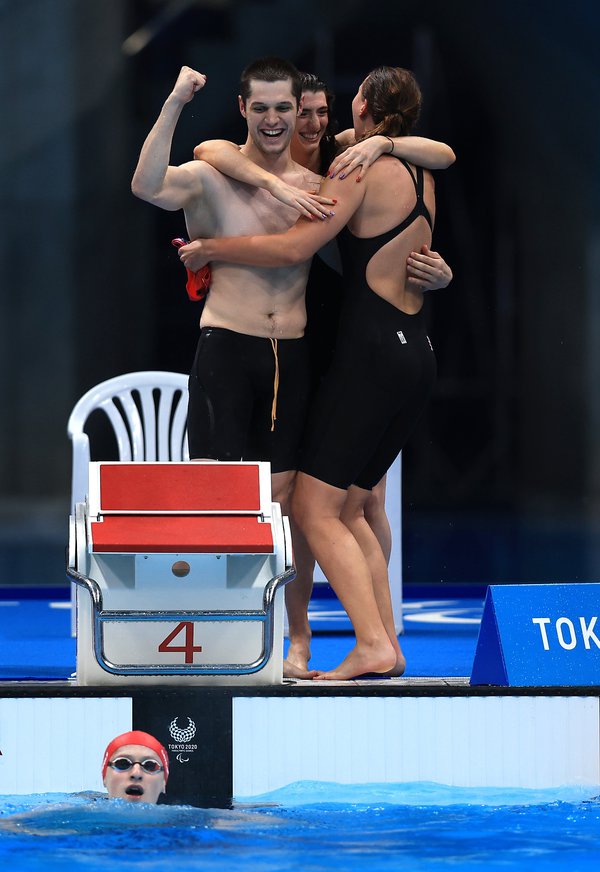 On the triumph, Firth said: "I feel like, when we come together, we swim really well as a team. I had these guys beside me, so I wasn't as nervous as when I swim individually – but I was up against some boys, so I was nervous for myself.
"We all try to do GB so proud. We all swim individual events and against each other, but you can see when we come together, we are a proper team – and I think that showed in the pool tonight."
Applegate added: "It was exciting. For me personally, I knew I just had to chase those other people down to make it as easy for Jordan as possible."
Catchpole said: "I had a good idea where I was. I saw Jess close the gap on the Aussies, as I went to dive in I just heard Reece saying, 'safe takeover, safe takeover' – I just watched her touch and then I knew all I had to do was bring it back."
In the Women's SB6 100m Breaststroke, Summers-Newton set the tone for what was to come by breaking the Paralympic record with a strong heats swim, leading the way in heat one to show the form and confidence she was carrying from Thursday's triumph in the SM6 200m Individual Medley.
That secured her a central lane, alongside world record holder Liu Daomin of China – and the pair were quickly into an intriguing battle for the gold in the final, with Summers-Newton overhauling Liu's early lead to take a 1.5-second advantage into the turn at halfway.
From there, the Northampton SC star held on strongly, maintaining her fast stroke rate to surge to the wall in 1:32.34, another Paralympic, European and British record. 
Behind her, five-time Paralympic champion Ellie Simmonds enjoyed a solid back 50m to move up from fifth to fourth and finish one place outside the medals in a faster time than her morning swim.
Paralympics GB's newest two-time gold medallist went on to explain the positive impact it has for both of them to be in a final together, as well as paying tribute to coaches Andy Sharp and Jacquie Marshall, who is now British Para-Swimming's Head of Performance Pathway.
"I definitely wanted gold going into my Individual Medley, and going into the 100m Breaststroke, I thought a silver would be amazing, that was my main aim because the Chinese girl got the world record in London in 2019," said Summers-Newton.
"I wanted to give it my all after that heat. I knew I'd done a great swim there, so I thought I'd give it all I've got to try to get the gold again. This morning was a personal best for me, seeing the others' times left me thinking, 'okay, I'll try to go for it tonight'. That last 25m, I was thinking, 'grit your teeth and just go for it' because I didn't know where anyone else was, I just went for it.
"Being there with Ellie, we just give each other a big thumbs up and say 'good luck'. When you're in the call room, you've done everything you need to do and you're in that position to race really fast. We both came away with really good results, it was so good to be out there with her.
"Andy sent me a quick message after my IM to say, 'enjoy the moment' because I still had other races. Jacquie and I set a goal five years ago, that goal was achieved just being here – now the goals are even bigger after these two golds. I'm so proud to be here with her and to be having this experience with her, she's been such an amazing coach for me and I wouldn't have been able to do this without her."
For Grace Harvey, there was no hiding her post-race delight after a brilliant swim in the Women's SB5 100m Breaststroke final secured her a silver medal at her maiden Paralympics.
The Hoddesdon competitor, fastest into the finale, quickly established herself towards the front of a competitive field, turning second to Ukraine's Yelyzaveta Mereshko at halfway.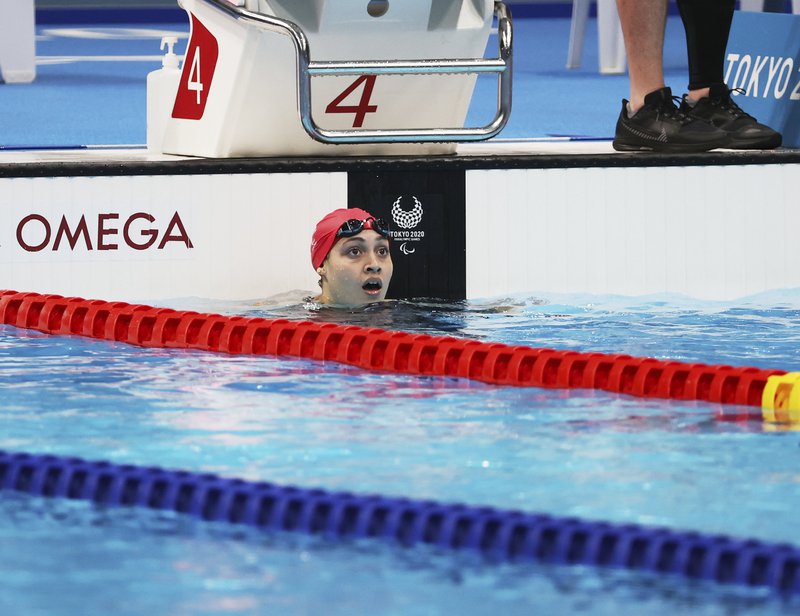 While Mereshko pulled clear, Harvey showed fine composure and technique to keep the rest of the chasing pack at bay, pushing to the wall to claim the silver and record the outstanding result of her career to date.
"I am so happy right now. I just wanted to go out there and enjoy my swim – to come away with a silver, I am so touched! I looked up and was like, 'am I in lane four, is that my name?!' I was so excited! I was like, 'that's placings on the right, lane number on the left – I've come second, I've got silver,'" she said.
"I was in a really good place before the pandemic. We did some stand-up races because we were two weeks out from trials when they got cancelled, and when we got home, I knew I didn't want to be sat there and letting all my hard work of the past 10 years go to waste.
"We got a pool, my dad was there in all weathers, holding on to the tether! I picked up rowing. I loved it, it showed me how much I love training in my sport – and I am so happy I did it. I even kept up the rowing when I went back to full-time training in Manchester, it definitely could've been that breaststroke power coming through. Best decision I ever made."
On a busy day for the Northampton SC athletes, Zara Mullooly qualified for her second Paralympic final in just four days by making the Women's S10 100m Freestyle showpiece.
Mullooly built on a solid heats swim by going more than 0.3 seconds faster and touching seventh in a race that saw Canada's Aurelie Rivard smash the world record to take gold.
"It was just great to make another final, and to go quicker than I went this morning. I knew it was going to be close together, the whole race. It's just so exciting to be here and to have made finals in both my races so far, I'm really happy with the progression from heats to finals," she said.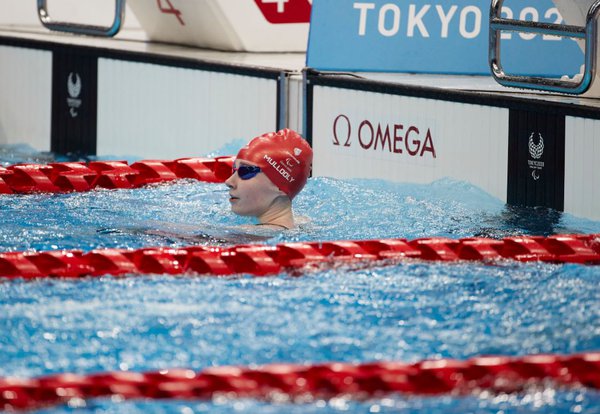 Earlier in the day, Will Perry clocked a personal best time of 1:30.44 in finishing 16th overall in the Men's SB6 100m Breaststroke.
The Paralympic debutant only made his senior international bow for Britain at June's World Para-Swimming European Open Championships, but he is now mixing it with the best from across the globe.
While Perry feels there is more to come, he acknowledged the progress of the PB, as well as explaining the role played by his club, Northampton SC, in getting him to the world's biggest para-sporting stage.
"There's mixed emotions. I've gone quicker last week, by about half-a-second. It's a personal best in competition and I think everyone should be happy with a PB, but I'm just disappointed I didn't go quicker – I wanted that one under 1:30. I raced it well, maybe I was a bit too slow out, but it's a PB so I can't complain about that," he said.
"The integration at Northampton is important. We all work together as one, whether para-swimmer or national able-bodied swimmer. We've got a swimmer going to the ISL, we've got four of us here at the Paralympics. The way they work with us, the way they integrate it, they don't go easy on us. They have perfected that method of training over so many years, since Rio with Ellie (Robinson) – you can see it going up and up."
Lyndon Longhorne is another competing at his maiden Paralympics, and a busy week for the Derwentside ASC man continued with a 12th-placed finish in the Men's SM4 150m Individual Medley.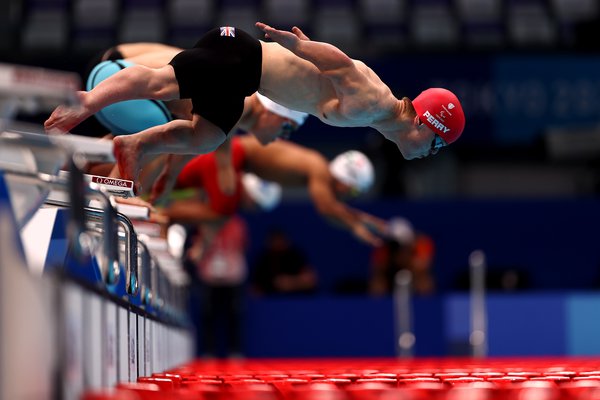 Longhorne put in an eye-catching opening leg of backstroke to lay the platform for his time of 2:52.76, well inside the target he had set himself and not far off his own British record.
"That hurt! I'm really happy with the time, it's not far away from my lifetime best. I was expecting to go under 3:00, that was my target, and I've done a 2:52, so I'm happy with that," said Longhorne.
"I'm just enjoying everything about the Paralympics. The support has been amazing. We wouldn't be here without The National Lottery, and obviously there's a big thanks from me to Paralympics GB for letting me come out here and compete, making my dream come true. I'm enjoying it, getting out there and ready and then preparing for the next three years too."
Stay on track of all the action across the Tokyo 2020 Paralympic Games by visiting our 'What's On?' page.