Britain's para-swimmers won five medals in a brilliant, breathless hour at the Tokyo Aquatics Centre on Friday – with Reece Dunn and Hannah Russell surging to superb Paralympic titles, Bethany Firth claiming a silver and Stephen Clegg and Jessica-Jane Applegate both picking up bronzes. 
Dunn's successful bid for a maiden Paralympic gold in the Men's S14 200m Freestyle – two days after he took silver in the S14 100m Butterfly – also saw him break his own world record at the end of an eye-catching tussle with Brazil's Gabriel Bandeira.
Plymouth Leander man Dunn swam well within himself in the morning's heats, but he was quick to take control of the final, which also featured compatriot Jordan Catchpole alongside him in the centre lanes. By halfway, Dunn's strength and quality through the water had opened him up a substantial lead, and while Bandeira began to claw him back down the final length, the Robin Armayan-coached athlete had done enough to reach the wall first in a new mark of 1:52.40, before showing his delight at becoming Paralympics GB's newest champion.
"After the disappointment on Wednesday, it gave me more fuel and motivation for that race. I had a strong swim this morning, it was a comfortable cruise to see where I was at and into the middle lane. It's amazing – this is the one I trained for and put all my effort into in training. It's a world record as well, so it feels good!" he said.
"I knew he (Bandeira) would be strong in that back 50m, so I needed to put him under pressure for the first 150m, make him burn some energy trying to catch me. I was hurting! The first 150m was strong though, it's not bad with 12 weeks training post-COVID. I've no idea what my family will be doing right now, but I'll give them a call in a bit!"
Catchpole, meanwhile, placed fifth after a solid swim, having also looked very good in the heats. He will be a key asset in the Mixed S14 4x100m Freestyle Relay.
While Dunn is a first-time Paralympic champion, Russell was looking to defend the crown she won in the Women's S12 100m Backstroke back at Rio 2016. 
An impressive start from the 25-year-old gave her a great platform to build on, and that advantage was helped by a perfectly-executed turn at 50m to keep her nearest rival at bay.
It was then down to Russell's staying power down the home straight, the Graeme Smith-coached swimmer keeping her stroke rate high to touch 0.32 seconds ahead of Daria Pikalova, ensuring back-to-back Paralympic golds in this event.
Afterwards, Hannah spoke about just how much this triumph means. She said: "It's absolutely incredible. To defend my Paralympic title here in Tokyo is a dream come true, really! I've had a few difficult years, I overcame them and I trained so hard this past few years, the hardest I've ever trained. To be able to top the podium is surreal.
"For me, taking a bit of time out around 2018 and 2019 was really important for me, it was important for my mental health. I really wanted to prove to people to never give up, always believe in your ability. I thought to myself I really wanted to make Tokyo. I had the support of British Swimming, the support of my family and my close friends and here I am. This is to tell everyone, always believe in your ability!
"I just want to thank all my family at home. If it wasn't for them, I wouldn't be where I am today. My mum, dad, sister, grandparents, extended family, thank you so much. I'm overwhelmed at the moment, but I can't wait to get home and give you all a massive hug."
Stephen Clegg was already a world and European medallist heading into Tokyo 2020 – and the Chris Jones-coached athlete now has a Paralympic bronze to add to his tally after a brilliant swim in the Men's S12 100m Backstroke final.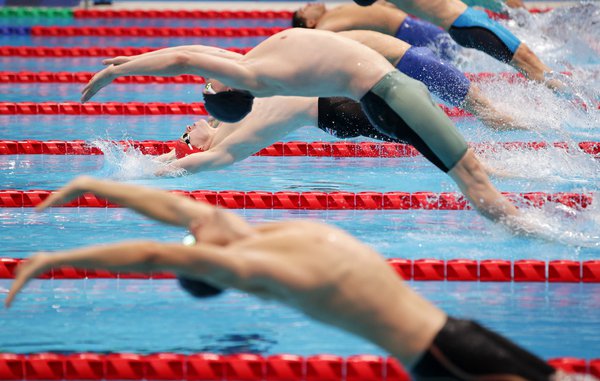 Clegg's primary event is the S12 100m Butterfly, in which he holds a world record, but the 25-year-old proved that every race is a podium opportunity, pacing his efforts well to move from fourth to third after the turn to ensure he was part of a three-way tussle down the home straight.
He ultimately touched in 1:01.27 to beat his own British record and gain that maiden Paralympic medal.
"I was really happy with that. It's more of an event for me to get into the meet, I had a really open mind coming into it, so a medal is amazing and it's a small personal best too – I'm really pleased with that," he said.
"We're all individual athletes (Stephen's brother James is a former Paralympic swimmer, while sister Libby is out in Tokyo with the athletics team). We're all there to support each other. I know my brother will be back home watching me and my sister's back in the village, so I can't wait to go and show her the medal!"
The final GB medal moments of an unforgettable finals session came in the Women's S14 200m Freestyle – with Brits Bethany Firth, Jessica-Jane Applegate and Louise Fiddes all taking part. 
Firth quickly settled into a two-way tussle at the front with Valeriia Shabalina of the Russian Paralympic Committee, as she looked to defend her title from Rio 2016. Firth's quality in the turn kept her right in contention down to the final strokes, but she was just beaten to the touch, meaning a silver medal. That result continues her perfect record of picking up a medal from every Paralympic final she has contested.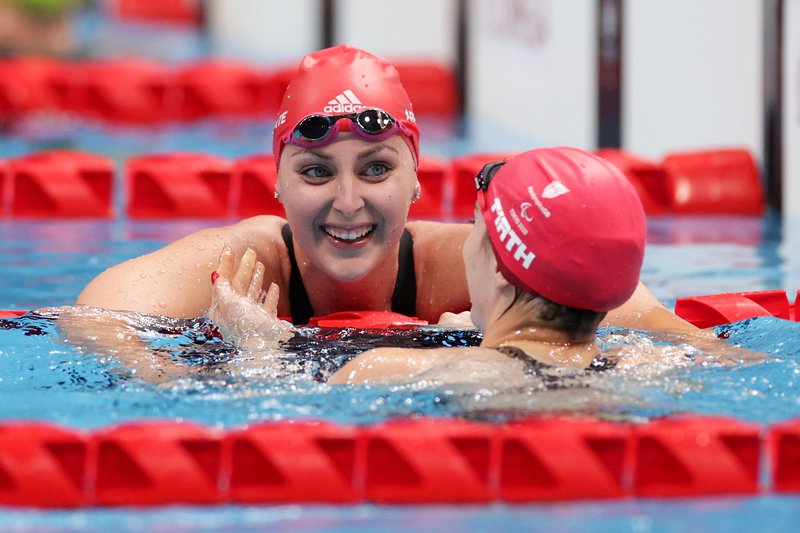 Behind her, Applegate – a four-time European champion earlier this year – showed good control throughout her four lengths of freestyle to make third her own, keeping compatriot Fiddes at bay to take the bronze. Fiddes, whose main event is the SB14 100m Breaststroke, also swam well to finish fourth.
On her silver, Firth said: "It was a really good race, I love it when races are so close. Unfortunately I didn't get the touch, but after the year I've had, I'm still happy with that and I can't wait for all the races to come.
"After this past year, I just decided I wanted to swim for fun. I wanted to see how good my times are here and then I'm so excited to get back into training and hopefully push on to Paris too."
Applegate added: "I came out with the mission of getting on that podium. I'm super pleased with that, it's another season's best, I can't describe the pain I was in in that final 50m but I wasn't letting it go to anybody else!
"To be able to pick up my first medal of this Games, considering everything I've been through, is great. I really want to dedicate this to my friends, family and coach, because I really wouldn't be here without them. I was on the phone to my coach (Alex Pinniger) back in England just before now. The support he's given me, I've phoned him crying in the weeks before and I am so grateful that he has been able to help me through everything."
Meanwhile, Andrew Mullen's third Paralympic campaign continued in the Men's S5 50m Butterfly. The City of Glasgow competitor placed fourth in his heat and 11th overall in an event he has not regularly competed in for some time, as he continues building into one of sport's biggest competitions.

"It's been a really different Games for me. I took a bit of time away from the sport after Rio and fell in love with it again. I'm really fortunate to be back, I'm really proud to be part of the team – I'm one of the elder statesmen of the team now. Not that I'm particularly old, but seeing all these young guys coming up definitely pushes me on to get better on a day-to-day basis and hopefully put in some really strong performances for the rest of this week and the meets that follow," said Mullen.
"When I was a young para-swimmer coming up through the ranks, there was never really anyone in my class that was competing on a world stage. It's important that young people with more severe disabilities have role models and people they can look up to and strive to be similar to. Hopefully if myself and the guys from the Mixed 4x50m Freestyle 20pt Relay yesterday can set a good example, that's a massive bonus and we are privileged to be in that position."
Shortly before the opening heat of day three at the Tokyo Aquatics Centre, there was confirmation that double Rio 2016 medallist Tom Hamer was sadly having to withdraw from all competition at Tokyo 2020 due to a back injury.
On Tom's withdrawal, British Para-Swimming Performance Director Chris Furber said: "The team have supported and helped Tom to manage his injury. We wanted to give him as long as possible but sadly he's just not able to compete anywhere near his best. He has been an integral part of the team and he has pushed everyone on, so we're all sad he isn't able to compete."
Everyone at British Para-Swimming wishes Tom a speedy recovery.