Three double podium spots for British athletes made it a memorable fourth night of Commonwealth Games swimming - including a brilliant one-two for Maisie Summers-Newton and Grace Harvey. 
Summers-Newton took the Women's SB6 100m Breaststroke title ahead of teammate Harvey, with Tom Dean and Duncan Scott stepping on to the podium together for Men's 100m Freestyle silver and bronze respectively, before anchoring their respective Team England and Team Scotland Men's 4x200m Freestyle quartets to medals of the same colour. 
Katie Shanahan (Women's 200m Backstroke) and Abbie Wood (Women's 200m Individual Medley) added a bronze apiece to complete the set of eight medal-winning performances on display across the session, with the home crowd once again creating an unforgettable atmosphere at the Sandwell Aquatics Centre.
In the most emphatic victory of the night, Northampton Swimming Club competitor Summers-Newton lived up to her billing as the outstanding favourite in the Women's SB6 100m Breaststroke. The reigning Paralympic and world champion took no prisoners down the opening length to turn more than five seconds clear of the field, and she maintained that rate homebound to the adulation of that home crowd.
Harvey (SB5) showed a steely determination to be next into the wall, outperforming athletes in the classification above despite recent disruptions to her training ahead of the meet to claim a stunning silver medal.
For Maisie, this was a result that completed the set of Paralympic, world, European and Commonwealth titles - and it is a moment she knows she will never forget.
"It's really special, I didn't expect that roar and it really brought a smile to my face. Trying to spot my family was the hardest part! It's the first time my family have been able to watch me in a few years so it's a fantastic result, I couldn't have asked for more.
"I put the pressure on myself, 100 per cent. But I've now achieved everything I wanted to achieve, so from now it's just progressing on the little things, seeing how much better I can get and having fun."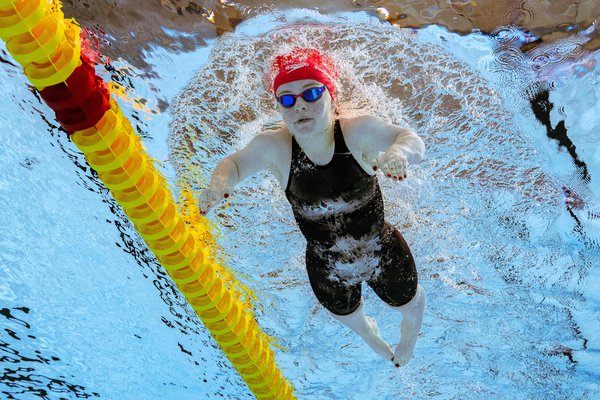 Grace added: "At Tokyo, you walked into the arena and thought 'this is a theatre for sport'. It was so upsetting there was nobody here. Here, you hear the crowd before you come out and it just gets you going!"
Earlier on, the evening session was kicked off by Dean and Scott sprinting to the first medals of the night in a thrilling Men's 100m Freestyle affair. Bath Performance Centre man Dean got out quicker over the first 50m, which ultimately proved to be the deciding factor between the British pair, who clocked identical splits from the turn for silver and bronze behind gun-to-tape winner, Kyle Chalmers (Australia). 
Jacob Whittle took sixth overall in his first individual Commonwealth Games final.
Reflecting on his fifth silver medal of the meet, Tom said: "I'm really happy with that. You can never complain with a medal on the international stage and sharing a podium with two of the best athletes in this sport at the moment is incredible. I'm in great company.
"It's a really interesting meet this one, it's almost not to do with the times, it's purely a racing meet. Sometimes at the World Champs, for example, it's who can do the fastest time but here, it's almost got a slightly different competitive energy to it and it's very much about the racing. I haven't been focusing too much on the times, it's about executing the right race strategy and the race plan.
"In the 200m, I would have liked a bit quicker, but then all of a sudden, I'm PBing on the 100m. It's an interesting place to be in, double bouncing off Worlds."
Scott - who would go on to become Scotland's most decorated Commonwealth athlete of all time later in the day - said: "That's exactly how I thought it would pan out to be honest. The 100m final is always a bit cagey, and it's never usually that fast, but I knew that if I was able to go a wee bit quicker than yesterday then I would be in with a chance of a medal. Those boys were producing good times yesterday so I knew I had to deliver. I'm happy with that."
Having opened the session, the pair subsequently had the honour of anchoring the Team England and Team Scotland Men's 4x200m Freestyle to silver and bronze respectively in Monday's curtain-call event. With James Guy, Whittle and Joe Litchfield swimming well over the first three legs to pass over to Dean in second place, the double Olympic champion laid down a strong effort to give England an attempted chase to the unwavering Australians, who ultimately did enough for the gold.
Behind those two teams, Scott was anchoring the Scottish quartet and posting the fastest individual split of the race - with Dean's effort the next fastest. Duncan's pace moved Scotland up from fifth to the bronze position and a memorable medal, off the back of the groundwork laid by Stephen Milne, Evan Jones and Mark Szaranek in a fine team effort.
Calum Jarvis, Matt Richards, Dan Jones and Kieran Bird came close to the podium in fourth, just missing out on the medals after Scott's late brilliance. 
With British athletes leading to placings of second, third and fourth for the Home Nations, James Guy spoke after the race about the ongoing promise among Britain's 200m freestylers.
"That  was a replica of World Championships. We always knew it was going to be a hard ask to take down the Aussies - looking forward, it's the last time we'll compete as England for a long time. Next time, we'll have Duncan back in that relay, which makes it a bit more fair," he said.
"It was a great race tonight. We had 12 lads from Great Britain competing, and it just shows the depth is getting there from Wales, Scotland and us. It shows that young guys are starting to come through and putting pressure on myself as I get a little bit older!"
Abbie Wood secured her first individual Commonwealth medal with a brilliant swim in the Women's 200m Individual Medley.
The Loughborough Performance Centre athlete had already stood on the Sandwell Aquatics Centre podium twice after contributions to Team England silver in the Women's 4x100m Freestyle Relay and bronze in the 4x200m Freestyle Relay.
Here, it was all down to Abbie - and after a strong butterfly leg, she consolidated her spot in the top three through the backstroke and breaststroke sections. A lead of more than a second over the fourth-placed Rebecca Meder of South Africa at the 150m mark ensured she could bring it home on the freestyle, a raucous reception marking a big moment in Wood's ongoing swimming journey.
"I feel such a weight lifted off my shoulders. After the season I've had, I'm really happy with that and it's a sigh of relief," she said.
"I didn't feel pressure from anyone intentionally but I had my family here. It has been a good step for my confidence that I can do it without a crowd. It's a season's best, I couldn't ask for any more after such a hard cycle post-Olympics. Fourth there hit me so to get it together for this week, I'm really happy."
The 200m IM final also featured Olympian Alicia Wilson, for Team England. Alicia placed seventh on the night.
For Team Scotland's Katie Shanahan, these Commonwealth Games are proving to be a breakthrough meet. The 18-year-old City of Glasgow Swim Team competitor, already a medallist in the 400m Individual Medley on day one, had looked good in qualifying a good lane for the Women's 200m Backstroke final. 
Good pacing across the first three laps left her fourth at the final turn, and clearly with energy still to give on the way to the wall. Down the home straight, Katie picked things up and overtook Australia's Minna Atherton in the closing stages to claim bronze by less than two tenths of a second, clocking a new personal best 2:09.22 in the process. 
"To win a bronze medal and race alongside Kaylee McKeown (Australia) and Kylie Masse (Canada), the Olympic gold and silver medallists, is absolutely amazing, I can't actually believe it," said Shanahan.
"I came into this meet hoping to make a few finals and to have a bit of fun. So to come away with two bronze medals, I really can't ask for much more than that."
Elsewhere in that race, Katie's compatriots Holly McGill and Cassie Wild placed fifth and seventh respectively, with Wales' Charlotte Evans splitting them in sixth. 
Day four's other finals were the Women's 50m Butterfly and Men's 50m Backstroke. In the former, Harriet Jones (Team Wales) dipped inside her PB to clock a 26.20 in a frenetic race, a display that saw her finish sixth overall.
In the backstroke contest, Team Scotland man Scott Gibson produced a performance good enough for sixth, while Wales' Joe Small placed eighth.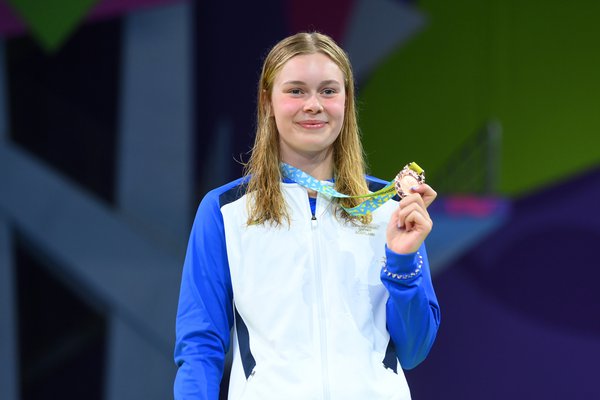 The semi-finals of the Men's 50m Breaststroke saw a whole host of Brits through to Tuesday evening's showpiece.
Adam Peaty - chasing the only major international gold he has not yet secured across an unprecedented career - qualified second-fastest, with Craig Benson (Scotland), James Wilby - fresh from an unforgettable win in the 100m event -  Greg Butler (both England) and Ross Murdoch (Scotland) also booking finals lanes. Archie Goodburn (Scotland), meanwhile, missed out on a slot by 0.03 seconds.
Teammates in the Women's and Mixed 4x100m Freestyle Relay medal moments, England duo Anna Hopkin and Freya Anderson both took their individual places in the 100m Freestyle final after moving things on well from heats to semi-final. 
Anderson was up first in semi-final one, recovering again from her busy schedule to ease her way into the last eight, before Hopkin followed suit with a swim that pleased her much more than the morning's efforts.
Isabella Hindley (England) and Lucy Hope (Scotland) narrowly missed out on qualification, placing ninth and 10th, with Rebecca Sutton (Wales), Evie Davies and Emma Russell (both Scotland) ending 12th, 14th and 15th respectively.
English trio James Guy, Jacob Peters and Jamie Ingram will contest the Men's 100m Butterfly final, Guy having qualified third-fastest from the semis. Lewis Fraser of Wales was the best of the Brits to miss out in 10th. Meanwhile, Molly Renshaw (England) and Kara Hanlon did what they needed to progress in the Women's 100m Breaststroke. Imogen Clark started strongly but could not hold on to the pace to the wall, finishing 10th, with Sarah Vasey two spots back in 12th. 
Click here for full results and schedules. 
For full information on how to follow every big moment from the pool in Birmingham, visit our Birmingham 2022 guide here.