Britain's medal count rose to 39 on the penultimate night, with Brock Whiston on top of the world following a record breaking individual medley performance at the London 2019 World Para Swimming Allianz Championships.
Whiston made up a ten second deficit at the halfway stage, to score a sensational victory in the Women's S8 200m Individual Medley, in a new World Record time of 2:35.30.
True to form, Britain's Alice Tai took the race out quickly and held a comfortable lead at the 100m mark, but Whiston's speciality is breaststroke, and the 22-year old powered her way up through the field to turn first and sprint for home. Whiston took the gold medal and world crown, breaking the world record which had belonged to nearest rival, Jess Long (USA) since June 2012.
Long won silver in 2:40.26, with Viktoriia Ishchiulova (RUS) taking the bronze in 2:45.17.
Alice Tai found herself in unfamiliar territory, being edged out of the medals and finishing in fourth.
Whiston said of her incredible performance:
"It's Incredible. To race Jess and Alice, they're two of the best S8s in the world, so to come away with gold against those two is just incredible. The World Record bit hasn't quite sunk in yet. Jess' World Record is incredible and to now hold it, I couldn't ask for anything more from my first individual event at the World Champs."
Speaking about having to wait to day six before her individual events got started, Whiston said:
"Waiting for my events is all part of sport and I've been able to cheer my teammates on. I wouldn't be in this position if I didn't have a team behind me and now they're up there cheering me. That's why the GB team is so great.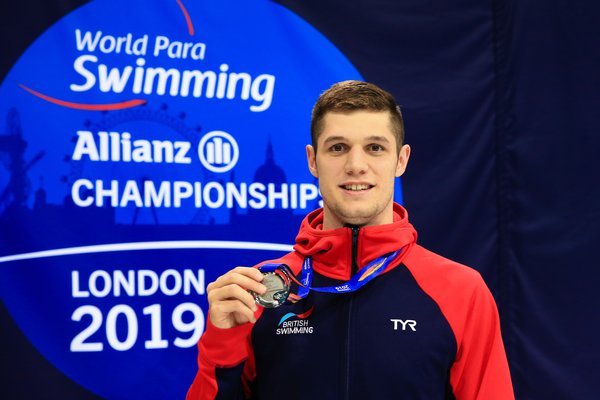 It took a World Record from Dai Tokairin (JPN) to prevent Reece Dunn from securing his third gold medal of the Championships in the Men's S14 200m Individual Medley. Dunn started strongly and was leading after the fly and backstroke legs, however the rest of the field closed in after 150m, with a sprint finish determining the medals. Tokairin took the gold in 2:08.16, with Dunn winning the silver medal in a new European Record time of 2:08.70. Vasyl Krainyk (UKR) picked up the bronze medal in 2:10.42.
Despite missing out on the gold, Dunn was pleased with his performance and said:
"I'm very pleased. OK, a little disappointed that I was pipped for first but I'm happy, especially with getting the new European Record. It's my weakest event and probably only the second meet in ten years I've raced it, the first being in April to secure my qualification."
"I can go away from here with plenty of things to work on, especially my breaststroke technique for the 200m IM, but overall I've enjoyed myself at my first major International meet and in terms of results I couldn't be more pleased."
Tom Hamer finished the final in sixth place with another season's best time of 2:13.62.
Ellie Robinson knew her main rival in the Women's S6 50m Butterfly final would come from a relative newcomer in the form of Yuyan Jiang (CHN). Despite a strong front end performance from Robinson, Jiang took the lead with around 20m to go and secured the gold medal in a new World Record time of 34.86. Robinson won silver in a new season's best time of 35.61, while the bronze medal went to Nicole Turner (IRL) in a time of 36.42.
Despite her disappointment on missing out on the gold, Robinson was already looking ahead and said:
"I knew it was going to be tough against a new Chinese girl who is doing really, really well. I need to use this as motivation as she's not too far in front of me and hopefully I can really push myself that bit more in training."
"This was always going to be close and difficult but I didn't know she would go a 34. Now I've got to make sure I put myself in the best place for Tokyo, so when we stand on the blocks no one knows who is going to win."
In the Women's S14 200m Individual Medley Bethany Firth and Louise Fiddes finished with silver and bronze medals respectively. World Record holder for the event, Valeriia Shabalina (RUS), won the gold in 2:18.78, with Firth improving on her heat time to produce a 2:23.04. Fiddes also showed progression, coming home for the bronze medal in a new personal best time of 2:26.05. Their Great Britain teammate Jessica-Jane Applegate was fourth in a new season's best time of 2:26.91.
Firth said of her race:
"I'm so happy with that swim. It was a tough swim and after this morning my injury is starting to come back so I was just really happy to get in and race the final and come away with a silver medal."
Fiddes was also pleased with her medal and said:
"I could see Jess in the corner of my eye and that gave me motivation to get to the wall. It was extremely painful but it makes all the training worth it."
Toni Shaw picked up her fifth medal of the World Championships, with bronze in the Women's S9 200m Individual Medley. The 16-year old kicked hard down the final 50m moving up from fifth into third and securing bronze in a time of 2:36.93.
Gold went to Nuria Marques Soto (ESP) in 2:34.51 with Sarai Gascon (ESP) taking silver in 2:36.60. Afterwards Shaw spoke of her surprise at winning a medal in the event, saying:
"It's crazy. I definitely wasn't going into this meet with the focus of a medal in the Individual Medley so I'm really pleased. It's great my family are here to see it; my parents and my coach have given me great support."
Sunday marks the final day of London 2019, where Great Britain will be looking to top the medal table.
Live results and the event schedule can be found here and you can catch all the action on Channel 4 here.