Day six heats of the London 2019 World Para Swimming Allianz Championships proved to be a busy one in the pool for Great Britain with Brock Whiston laying down a marker, as she qualified fastest for the Women's S8 200m Individual Medley final with a European Record.
Brock Whiston has had one of the longest waits to start her World Championships campaign. Fresh from her gold medal success as part of Great Britain's World Record breaking Women's 34pts 4x100m Medley Relay team last night, Whiston returned to the pool to begin her individual programme.
The breaststroke specialist used that leg of the race to build an impressive lead, finishing in a time of 2:37.14. The 22-year old was surprised at her pace and said:
"I wasn't expecting to go that fast in a heats swim. A heat swim is just about getting used to the water, seeing how you do and finding areas you can work on. I tried to lengthen the stroke on the last 25 on the front crawl, and to go a 2:37 is pretty impressive. I'm really looking forward to tonight."
Whiston will be joined by Great Britain team-mates Alice Tai and Meg Richter in the final. Tai, who has already won six gold medals in these Championships, said of her heat swim:
"Individual Medley's are not my thing, breaststroke is not my thing so I wanted to make use my strengths and go out as fast as I can. But when I saw Brock overtake me I thought, 'oh no, I do not stand a chance here' as her breaststroke is just crazy good. I'm really not expecting to win it, but a minor medal would be cool."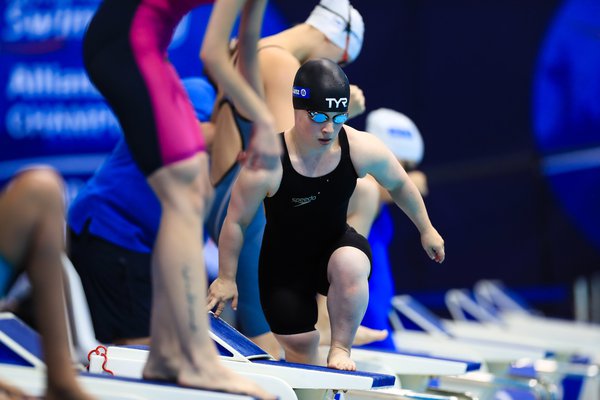 Paralympic gold medallist, Ellie Robinson, qualified fastest for the final of the S6 50m Butterfly, recording a new Championship Record time of 35.72. Nearest rival will be Yuyan Jiang (CHN) and Robinson is looking forward to the race. She said:
"I was happy with that. I saw the time from the Chinese girl in the first heat so I know it will be a tight race tonight. My performance gives me some confidence going into the final because when you have a new swimmer it's a bit unknown; you don't know what they're going to do. I'll focus on myself and make sure I do the best I can."
All three British athletes will contest the Women's S14 200m Individual Medley, with Paralympic Champion for the event, Bethany Firth, qualifying fastest in a time of 2:25.32. Team-mates Louise Fiddes and Jessica Jane Applegate will also be in the mix with all three satisfied with their morning's work.
Firth said of her race:
"I really struggle with butterfly coming back from injury so that's the leg that causes me the most difficulty, I was just trying to see what it was going to feel like for tonight to be honest. I was sure that Louise (Fiddes) was on my heels during the breaststroke and felt that she was coming for me and that made me keep going.
Fiddes was pleased with her performance and said:
"That's the best heat time I've done in that event so that's really good, I'm very happy with that.  Doing a good heat race I can take away things I did wrong and improve on them tonight, maybe even get a little PB."
Applegate also spoke about her heat swim and said:
"That's probably one of the best times I've posted this year. The breaststroke is definitely my weakest stroke so I know I have to put in a lot more hard work on the Fly, the Back and the Free to stay with the field. I leave everything in the pool and tonight in the final I'll give it everything I have."
Reece Dunn and Tom Hamer both progressed to the final of the Men's S14 200m Individual Medley. Jordan Catchpole just missed out on a place, but recorded a new personal best for the event. He said of his performance:
"I'm really happy with a PB. For the first 50 I felt weak but I just tried to build throughout the race and get my strength back.  Overall I'm happy; it was a good heat swim."
Toni Shaw put in another solid performance in the heats of the Women's S9 200m Individual Medley to qualify third fastest for the final. Speaking of her performance Shaw said:
"It's been a good week so far. My main individual events are done and the Individual Medley is definitely not my favourite or my best one, but it's fun to do. The aim was to make the final, I've done that and I'm happy."
Mikey Jones missed out on a place in the S7 100m Freestyle final finishing tenth overall in a time of 1:06.60.
Live results and the event schedule can be found here and you can catch all the action on Channel 4 here.